Teddy Sheringham, My Perfect XI: Who gets the nod over Shearer?
"I'd love to play in this team, but maybe a few years ago..."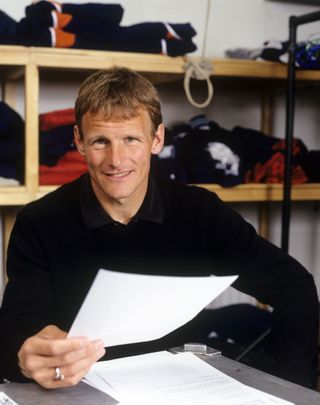 Goalkeeper: Peter Schmeichel
Awesome. He's one of those players you didn't like facing, but loved having in your team. Peter just fills the goal. Thinking back to my first year at Man United, when I struggled, maybe I should have trained against the reserve keepers instead. It's so hard to score against him, psychologically it might have boosted my confidence to get away from him for a while!
Right-back: Cafu
An outstanding athlete. My other three defenders are renowned for their defensive qualities, but Cafu is very attacking so he would complement them well. He can get forward and overlap, but drop back in defence within seconds. He's a great crosser and he can score a goal too.
Centre-back: Jaap Stam
Jaap's a man-mountain, but as quick as a Ferrari. I've heard some critics say he was slow but that's absolute rubbish. As a man-marker, he's the best I've seen. When you play against international forwards like Batistuta, Ronaldo, Inzaghi... their one thought is to score a goal. But one-on-one, Jaap was the man to diffuse any situation. People would try and run him, outwit him and he always had an answer.
Centre-back: Tony Adams
Tony reads the game perfectly, is a great organiser and I think he would be the perfect partner for Jaap Stam. I've played against Tony since my Millwall youth days and we've had some good battles over the years. I've also had the pleasure of playing with him for England so I know all about his qualities. I think he's a great man and I count him as a friend.
Left-back: Paolo Maldini
I've played against Maldini a couple of times for England, including the 0-0 draw in Rome which saw us through to the 1998 World Cup, and he definitely lives up to his reputation. He's good going forward, but more importantly a great defender. I've never seen him ripped apart by a winger.
Right winger: Luis Figo
An exceptionally talented player who's been largely responsible for Portugal's success in recent years. He was voted the 2001 World Footballer of the Year and with good reason. He can run at people, cross, shoot, score from free-kicks... basically, everything you could possibly want from a right winger.
Central midfielder: Roy Keane
You need someone in a team to dictate the pace of the play and Roy does that perfectly. He defends - he's a good tackler and a good header of the ball - and starts attacks, and passes the ball with metronomic accuracy. He works tirelessly and demands so much from his team-mates. When things are tough, like they were when United were 2-0 down in Turin in the 1999 Champions League Semi-Final, Keane gets going. But even when things are going well, he drives the team on.
Central midfielder: Zinedine Zidane
Unbelievable. The ball just seems to stick to his feet. And for a powerfully built man, over 6ft tall, he moves so gracefully. Zidane passes the ball exactly as you'd like to receive it and scores every kind of goal. He even got two with his head in the 1998 World Cup Final. A real big-game player.
Left winger: Ryan Giggs
Finding a left-sided player is so important to the balance of a team. You look for players who have flair or can cross the ball; players who can pass or work hard up and down the flank. Normally, you might get two out of the four, but Giggsy has got all of those qualities and that's why you can't choose anyone above him. His level of consistency is also incredible, which is a key reason why United win so many trophies.
Centre-forward: Romario
He scored two against Man United when we played Vasco da Gama in the 2000 FIFA Club World Championship, and the United lads also told me how he'd destroyed them when Barcelona beat them 4-0 back in 1994. Only a small man, but lightning quick and the ball sticks to his feet. He's so sharp around the penalty box and snaps up those little half-chances that might otherwise go begging.
Centre-forward: Ruud van Nistelrooy
This choice might shock a few people! I've played with and against great strikers like Shearer, Klinsmann and Ronaldo, but I think I've seen enough of Van Nistelrooy this year [his first season at Manchester United] to know that he's the real deal and he'll get even better. He's got strength, pace, power, hunger, he's good in the air, but above all he puts the ball in the back of the net regularly. In my time at United, Ole Gunnar Solskjaer hit the target with remarkable consistency, but this man seems even more ruthless.
Substitute: Teddy Sheringham
Being 35 years old now, I'm going to put myself as sub. I'd love to play in this team, maybe a few years ago... but now I'd be happy to watch and if one of them gets a bit tired I can come on and do my little bit!
Interview: Justyn Barnes. From the May 2002 issue of FourFourTwo.
More features every day on FFT.com • More Man United • More Tottenham
Quizzes, features and footballing fun
Get the best features, fun and footballing frolics straight to your inbox every week.
Thank you for signing up to Four Four Two. You will receive a verification email shortly.
There was a problem. Please refresh the page and try again.