Vinicius Junior one year on: how Brazil's boy wonder is shaping up ahead of his big Real Madrid switch
One year ago today, Madrid announced the €45m capture of a 16-year-old Brazilian without a first-team appearance to his name. Twelve months on he's already dividing opinion, writes Jack Lang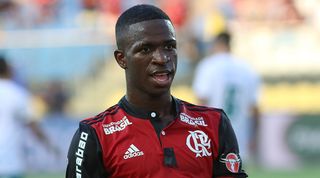 On a muggy November evening in Rio, Flamengo were in deep trouble. Down 3-1 and running on fumes in the second leg of their Copa Sul-Americana quarter-final, the Rubro-Negro were watching their last chance of a trophy slip through their fingers. The fact that their opponents were bitter rivals Fluminense made the situation close to unbearable for those packed into the Maracana.
But some movement on the bench provided a much-needed injection of hope. Finally, after an hour of encouragement from the stands, Reinaldo Rueda gave the fans what they wanted: on ran Vinicius Junior, Fla's teenage talisman, eyes and braces glinting under the floodlights.
What followed was an exhibition – not of perfect decision-making, but the game-changing power of raw talent. Vinicius was electric, helping to tee up Felipe Vizeu's strike three minutes after entering the fray and proceeding to terrorise the Flu defence with a series of quicksilver dribbles down the flanks. The crowd seemed to hold its collective breath every time he demanded the ball – and he demanded the ball a lot.
It was midfielder Willian Arao who eventually put Flamengo through, but few were in any doubt about the identity of the game's chief protagonist. Vinicius had neither scored nor directly assisted a goal, yet his energy had altered the whole feel of the tie, swinging it decisively in his team's favour. "I set the game on fire," he said. While he won't be winning any prizes for modesty, it was a fair assessment of events.
Later that evening, when the dust had settled, SporTV anchor Andre Rizek spoke put it in even concisely: "He's not normal."
Under the microscope
That much became patently clear a year ago today, when Real Madrid confirmed the purchase of Vinicius from Flamengo for an eye-watering fee of €45 million. That announcement, and the attendant fanfare, instantly guaranteed that his development would be pored over in startling detail – both by his new club and by supporters looking to catch an early glimpse of genius.
The consensus in Brazil at the time was that this was a player of huge potential, but one with plenty of rough edges; he had, after all, yet to even train with Fla's senior squad when his image was first plastered on the cover of Marca. Many feared that the extra scrutiny would be more likely to hamper his progress than hasten it.
Those concerns have largely faded in the interim, but his journey has nonetheless been a rollercoaster so far. Perhaps unsurprisingly, the kid who went from virtual unknown to superstar-in-waiting in the blink of an eye last May has crammed an awful lot into his first year as a professional.
Up, up and away
Vinicius's first few first-team outings were not hugely impressive: he looked nervous on debut against Atletico Mineiro and overly eager in the games that followed. Yet the excitement in the stands was palpable, and his first assist, on June 14, was just reward for a lively performance against Ponte Preta.
He would have to wait a little longer for his maiden goal – 14 appearances, to be precise – but an opportunistic effort against Palestino lifted a weight from his shoulders. "Everyone was waiting for that," he admitted, before thoughtfully dedicating the strike to departed coach Ze Ricardo. Three more followed before the year's end, all showcasing the searing pace that makes him a tiring defender's worst nightmare.
The campaign would end in disappointment for Flamengo, who were thwarted by Independiente in the Sul-Americana final, but Vinicius at least had some solace written into his calendar: a trip to Madrid, with his dad and brother, to meet a few of his future colleagues. "It gave me butterflies," he later said. "I met Cristiano Ronaldo, Marcelo, Casemiro – players I had only seen in video games."
The crying game
If that reaction hinted at an endearing, starry-eyed innocence, Vinicius's next major act made clear that he is also very much up to speed with football's more abrasive side.
After curling a stunning effort into the far corner in the clássico against Botafogo, the youngster celebrated by putting his fists to his eyes and imitating a child in tears. Nothing too harmful in that, you might think, but this chororô (crybaby) routine – which dates back to a controversial refereeing decision in 2008 – is like a red rag to Bota players, and a lively discussion ensued in the middle of the pitch.
"It was done in the heat of the moment," Vinicius explained after the game. But that didn't appease Botafogo, who cattily refused to let Flamengo use their Engenhão stadium for the final of the Taça Guanabara the following weekend. A club statement called the celebration "an act of disrespect".
The backlash to the backlash
That struck most as an absurd overreaction, but there was little doubt that Vinicius knew what he was doing, and a straight red card in the next meeting between the sides turned the pressure cooker up another notch. Thoughts naturally turned to Neymar, the country's last boy wonder, whose own disciplinary issues as a teenager had led one coach to tut that Brazil was "creating a monster".
Thankfully, some influential names were on hand to preach calm on this occasion. "Vinicius is a sensational kid going through a delicate moment," said Diego, one of Flamengo's elder statesmen. "We have to understand his mistakes. That daring style of play draws attention, and being sold to Real Madrid means some people have expectations that he is not yet able to meet."
Junior, the former Brazil full-back, was also having none of the backlash: "If I was a relative of his, I would tell him to go [to Madrid] now, because he would have a lot more peace. He's in the eye of the storm: everything he does is being blown out of proportion. He's only 17; hardly anyone reaches full maturity at that age."
As always in football, the best responses are given on the field, and Vinicius drew a line under the affair in sensational style by netting twice off the bench to seal a 2-1 comeback win against Emelec in the Copa Libertadores. "Moments of genius worthy of Ronaldo Fenômeno," swooned AS of the winger, who himself trotted out a nice line with amusing ambivalence: "Lots of people are criticising me, knocking me, but I'm working hard with my head held high."
Room to grow
There have been more nuanced criticisms. "Too much individualism, not enough teamwork," was Flamengo idol Dejan Petkovic's assessment earlier this month, while commentator Francisco Aiello is among those who have noted that Vinicius struggles to reproduce the intensity of his cameo appearances when he starts matches.
Both of those are legitimate concerns, but with an obvious age-related caveat. He doesn't turn 18 until mid-July. Vinicius is still feeling his way into his senior football, collecting milestones – he only opened his account at the Maracana last week – and learning on the job from his mistakes. Consistency will come, as will greater understanding of his weaknesses.
There has been some talk of him joining up with Madrid earlier than scheduled – he will spend next season on loan at Flamengo as part of the agreement – but the player himself seems keen to stick around in Gávea until 2019. "My plan is to stay at Flamengo and really mature," he said in January. "If it's up to me, I'll stay and help those who have always helped me. I have a lot to give."
He has a lot to learn, too. But if this last year is anything to go by, his joyride through the syllabus should be worth watching.
Quizzes, features and footballing fun
Get the best features, fun and footballing frolics straight to your inbox every week.
Thank you for signing up to Four Four Two. You will receive a verification email shortly.
There was a problem. Please refresh the page and try again.