Watford's Andre Gray reveals incredible back tattoo celebrating black history
The Hornets hitman has unveiled his mammoth new body artwork.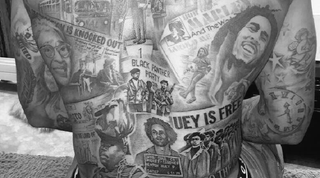 Some serious craftsmanship has gone into Gray's new back tattoo, a complex (and ruddy huge) piece which features various prominent figures from the civil rights movement and beyond.
Muhammad Ali, Bob Marley and Martin Luther King are just a few of the icons from black history who now feature on Gray's body.
Gray declared his new tattoo a "Master Piece!!" [sic] on Twitter – but unfortunately for Watford fans who were hoping for some football-themed inclusions, there's no room for Elton John or Troy Deeney.
The 26-year-old joined Watford from Burnley in a club record £18.5m move in August.
Thank you for reading 5 articles this month* Join now for unlimited access
Enjoy your first month for just £1 / $1 / €1
*Read 5 free articles per month without a subscription
Join now for unlimited access
Try first month for just £1 / $1 / €1