The Week In Chelsea: Terry farewell tainted as Blues go out with a whimper
The departing Blues stalwart did his legacy at Stamford Bridge little justice with a red card as Guus Hiddink's men suffered yet another collapse, writes Garry Hayes...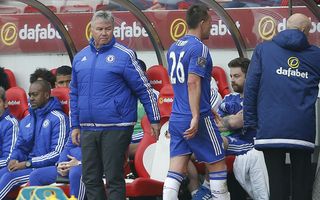 The week in five words
JT has left the building.
What didn't go so well…
From denying Tottenham's title dream on Monday evening, Chelsea came crashing back down to Earth when they travelled north to face Sunderland.
In a quirk of the fixture list, for the second game running the Blues were playing a big role in helping decide the fate of others this term. On Saturday they switched from the title race to the relegation scrap – leaving Newcastle and Norwich cursing their luck that Chelsea couldn't do for them what they did for Leicester days before.
The Magpies and Canaries (there's a birds-of-a-feather pun in there somewhere) found out the hard way that you simply can't rely on Chelsea to deliver this season, though. Blues fans have grown used to it; watching Chelsea collapse has frustratingly become the norm. Twice they threw away the lead against Sunderland before Jermain Defoe scored the winner.
When the Englishman's effort hit the back of the net on 70 minutes, the body language of the Chelsea players said it all. The referee may as well have blown his whistle then, as the game was over.
What went even worse…
Had Mike Jones blown up early, Chelsea fans would still have something to look forward to in their remaining two games. With John Terry now suspended for the remainder of the season, it's killed it.
Indeed, Chelsea can't even get their farewells right these days. We've known since Terry announced to the media in late January that he would more than likely be moving on this summer and, regardless of the situation surrounding Leicester, facing them at Stamford Bridge on the final day was highly anticipated. It was supposed to be Terry's farewell party.
The Chelsea captain was sent off on Saturday for two bookable offences – the last of which came with just 35 seconds remaining in the game. It was his second red card of the season – the first coming way back in August against West Brom – which means he will now miss the midweek trip to Liverpool and Sunday's home match with the newly crowned champions.
Oh, JT.
Quote of the week
"It's sad because it would have been lovely to have had him in our last game at home."
Guus Hiddink summed up the feelings of every Chelsea fan when he acknowledged the disappointment in seeing Terry banned for the remainder of the season. Yes, we're driving home the feeling of grief here.
The need-to-know facts
Gary Cahill was booked after 44 seconds, the second-quickest booking in the Premier League this season (Max Gradel, 37 seconds against Leicester in August).
Diego Costa has been involved in 14 goals in his last 14 Premier League games for Chelsea (9 goals, 5 assists).
Chelsea have conceded 50+ goals in a Premier League season (51) for the first time since 1996/97 when they conceded 55.
2 of Terry's 6 Premier League red cards have come this season (also sent off against West Brom in August 2015).
Video of the week
Sticking with the Terry theme this week, one fan recorded this song in his honour. We think it's to the tune of Billy Ray Cyrus' Achy Breaky Heart. Well, sort of.
Winner of the week
Eden Hazard didn't make an impact on Chelsea's game against Sunderland like he did Spurs a few days previous. But play the 90 minutes he did, which is a big boost to his Euro 2016 preparations. Added to that, Vincent Kompany has been ruled out of the competition with a thigh injury, meaning Hazard will captain Belgium.
Chelsea's diminutive No.10 has been unfit and out of form for much of the campaign. The past couple of weeks have hinted at him rediscovering his best, which Saturday confirmed all the more.
There weren't any goals or assists for him this time, yet just watching Hazard is becoming a pleasure again. He has that zip about him and is back to putting his considerable gluteus maximus muscles – his arse to you and us – to good use by sprinting past defenders.
He has two more games to continue building up his form and fitness. Chelsea's loss this term is looking like Belgium's gain.
Loser of the week
For all of the above. Even for neutrals, not seeing a player of Terry's stature being given a jubilant send-off in front of his home crowd will pull on the heartstrings. It may only be a faint tug, but you would have ice coursing through your veins not to feel for the former England international.
Terry has done it all in football. He's won four Premier League titles and five FA Cups, not to mention the Champions League and Europa League. He played for England 78 times, captaining his country for a period.
Terry has been a massive part of Premier League history, let alone Chelsea's. He doesn't go out with a bang, though. Instead, the last we'll see of the 35-year-old on these shores is him walking solemnly down the tunnel at the Stadium of Light, head bowed in disappointment with thousands of Wearsiders heckling him.
It's not a fitting end to his career in English football.
Quizzes, features and footballing fun
Get the best features, fun and footballing frolics straight to your inbox every week.
Thank you for signing up to Four Four Two. You will receive a verification email shortly.
There was a problem. Please refresh the page and try again.