The Week In Manchester United: Another Premier League week ends in farce
Republik of Mancunia writer Scott Patterson laments another sorry seven days for the club, in which Louis van Gaal saw their Champions League dreams go up in smoke and Old Trafford evacuated due to a false alarm...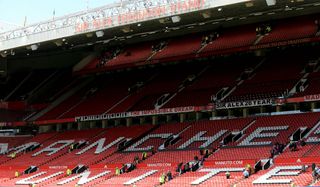 The week in five words
Incomprehensively amateur, embarrassing and unacceptable.
What went well
When the only thing you can be happy about over the past week is the fact a bomb didn't explode at your football ground, you can guess it's been a pretty awful few days for Manchester United. The abandonment of the game between United and Bournemouth thanks to a bomb scare was probably a blessing in disguise for the supporters, who could spend a day in the sunshine instead of watching Van Gaal's 'philosophy' in full flow.
West Ham lost, which means the lowest United can finish is sixth, but that's scraping the barrel to see that as any real highlight.
What didn't
First, United blew a 2-1 lead in the final 15 minutes of their game against West Ham to put Champions League qualification back in Manchester City's hands. Then, on the final day of the season, United's match was abandoned after a suspicious package was found inside Old Trafford. It turns out this device was left there by mistake after security training earlier in the week.
And finally, City picked up the point they needed to confirm they would finish fourth. To add insult to injury, if United win the rescheduled game against Bournemouth, City finish ahead of United on goal difference, for the second time in five seasons.
The Premier League have announced that Saturday's game will be rescheduled for Tuesday night, meaning the team will have just a handful of days to prepare for the FA Cup final on Saturday.
As far as weeks go, this was one of the worst in United's season, and that's saying something. The fans will be hoping next week is the best one, though, to make up for it in some way.
Quote of the week
RECOMMENDED
"You don't always have to make goals, you have to keep the ball in possession." - It's almost as if Van Gaal says the things he know will drive the fans crazy for a laugh. Top trolling from the Dutchman.
Winner of the week
United's matchday staff and the Greater Manchester Police did a fantastic job of evacuating the stadium and keeping everyone safe. It shouldn't have come as any surprise that United's season would end with a farce, given how ridiculous this year has been, and a fake bomb left there by a company who was training United's staff in improved safety is certainly that. But credit should go to the people who ensured the evacuation was carried out so smoothly and calmly.
Anthony Martial scored two great goals against West Ham. He's too good for this current United team and deserves better.
Loser of the week
Had United finished in the top four and won the FA Cup, the United board would have had a big decision to make about Van Gaal's future at the club. While fans wanted him gone regardless of how the season ends, Ed Woodward & Co. might have found it more difficult to justify his dismissal.
But Tuesday night's defeat against West Ham was the straw that should break the camel's back, and the Dutchman has to expect his P45 now.
Quizzes, features and footballing fun
Get the best features, fun and footballing frolics straight to your inbox every week.
Thank you for signing up to Four Four Two. You will receive a verification email shortly.
There was a problem. Please refresh the page and try again.