What the Philippe Coutinho deal says about the current state of Liverpool
Is Liverpool now a selling club or will Jurgen Klopp's patience be rewarded? Matt Ladson of This Is Anfield analyzes a complex fallout to the £142m transfer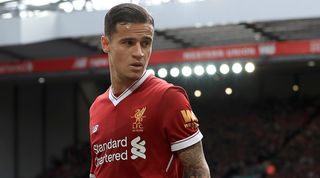 Life as a football fan is often a rollercoaster of emotions, as Liverpool supporters know all too well. They went from the high of record new signing Virgil van Dijk scoring a late winner in the Merseyside derby on Friday evening, to the low of a deal being agreed to sell Philippe Coutinho to Barcelona just 24 hours later.
Just a day before that, manager Jurgen Klopp had told the media that Coutinho was in contention to return against Manchester City this weekend – all while the Brazilian was sat in a London hotel having Hello! magazine-style photos taken as his move to Barcelona was being negotiated. Modern football, eh?
When the deal was confirmed by both clubs on Saturday night, Klopp sought to explain the reasons behind selling the club's prized asset; a player who has contributed 36 goals and 26 assists in the last two-and-a-half years.
Importance of harmony
Klopp spoke of the club's attempts to change Coutinho's mind, but the key line was this: "Philippe was insistent with me, the owners and even his team-mates [that] this was a move he was desperate to make happen." The key term there was 'team-mates'.
Perhaps Coutinho's behaviour around the squad hadn't been to Klopp's liking in these past six months, and therefore the manager deemed it best to let him leave in order to maintain a harmonious environment around Melwood.
Klopp may have publicly praised Coutinho's professionalism and commitment, but those words should perhaps be taken with a pinch of salt. After all, the Brazilian had handed in a transfer request the day before Liverpool's opening game of the season and all but gone on strike with a highly suspicious back injury throughout August.
The Coutinho deal shows us how Klopp places a high value on squad harmony. The German wants a tight-knit group who are all on the same page – evidenced previously by his exiling of Mamadou Sakho, after the Frenchman's behaviour was deemed unprofessional. Klopp places a huge emphasis on the group mentality, and the decision to sell Coutinho underlines that.
Nobody is bigger than the club, basically: Klopp prefers team over individual.
It also shows us that Liverpool's manager isn't afraid of making big calls and controversial decisions. Star men left while he was at Dortmund - namely Robert Lewandowski, Mario Gotze, Shinji Kagawa and Nuri Sahin - so this isn't a situation that's completely new to him.
Are Liverpool a selling club?
The sale of Coutinho, though, will do nothing to deter sceptics of owners Fenway Sports Group, and only fuels suggestions of Liverpool being a selling club who always offload their best players for big profit.
Klopp's assertion that "in the history of Liverpool, key players have left before – but the club always goes on" is flawed by the recent departures of crucial personnel over the last decade; Luis Suarez, Fernando Torres, Javier Mascherano and Xabi Alonso. Add in a perceived failure to adequately replace Steven Gerrard and Jamie Carragher, and you can see why some supporters are feeling frustrated.
Whenever those players have left, Liverpool as a club has gone on – but not as fans would have liked. Selling your best player when you aren't already champions of Europe or England usually ends in your club being set back. It goes on, but it doesn't progress.
Surely, then, there must be a plan for life after Coutinho.
Klopp's a happy chap
This is the major concern that supporters can legitimately have. Liverpool have known about Coutinho's inevitable departure for six months and yet, somehow, they don't seem to have any form of replacement lined up. The most critical fan could say it's a pretty farcical situation.
Whichever way you look at it though, it's difficult to argue that it doesn't weaken Liverpool and their hopes of achieving Champions League qualification for a second season running. It certainly harms both that and their ambitions in this season's Champions League. Coutinho is a difference-maker; a player who can produce the excellence required to unlock a defence with an assist or now-trademark goal from distance.
Another key quote from Klopp was that he has "so much belief in the talent we have here already and even more faith, together with our owners, that we will make continued investment into the playing squad, which will allow more growth and more improvement."
So, faith in the current crop and investment in the squad. The latter is something that needs to be implemented sooner than later, but Klopp has more patience than the watching world (see his misguided faith in center backs which led to the Van Dijk lunge).
There's potential in a deal to bring in Thomas Lemar from Monaco, or moving forward Naby Keita's arrival from Leipzig, but Liverpool would surely have been better getting such deals in place before selling Coutinho and having £142m burning their pockets.
The problem that the Reds now face is that any high-calibre player isn't going to be allowed to leave during the season. Liverpool have sold their best player mid-season, but will find others aren't quite so willing to do the same.
Selling Coutinho could have been placated by getting Keita, Lemar or even Riyad Mahrez in before the arrival of Manchester City at Anfield this weekend. It would ensure that similar options were available in attack. Instead, Klopp appears happy enough to sit and wait for the right player, just as he did with Van Dijk. He won't settle for second best.
The deal to sell Coutinho tells us that Klopp is happy with his squad at present; that he feels the current front three of Roberto Firmino, Mohamed Salah and Sadio Mane is enough to compete in the Premier League and Champions League.
The German perhaps feels that thanks to Alex Oxlade-Chamberlain's development, he has options to play 4-4-2 (with Salah alongside Firmino up front, then Oxlade-Chamberlain and Mane out wide); or 4-3-3 (with Firmino, Mane and Salah). But each of those formations rely upon those three players always being available.
It's an extremely risky decision from Klopp if nobody else arrives, and this next three weeks could make or break Liverpool's season. Injury, particularly to Firmino, would be extremely problematic to navigate.
Ultimately, the deal to sell Coutinho probably tells us more about Klopp than Liverpool as a club. The manager's patience is admirable, but as we all know, it's a rare commodity in football – and nobody else waits around while their rivals are working patiently.
Quizzes, features and footballing fun
Get the best features, fun and footballing frolics straight to your inbox every week.
Thank you for signing up to Four Four Two. You will receive a verification email shortly.
There was a problem. Please refresh the page and try again.