What size football boots should I get?
Choosing the right size of football boots can be a lengthy process, but it could save a lot of money and effort in the future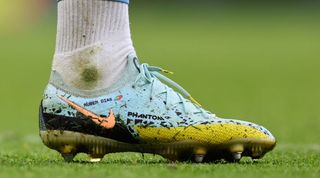 (Image credit: Getty Images)
When it comes to buying football boots, there are plenty of things to consider, but the most important factor to consider is getting the right size to play in - because, let's face it, you don't want a pair of flippers on your feet that are two sizes too big.
Fortunately, this handy guide from FourFourTwo will help you get your size bang on so your football boots are ready to be worn fresh out the box, giving you more time on the pitch rather than trawling the internet.
If you don't yet have a pair of football boots, or fancy ordering yourself some new ones, be sure to check out our guide to the best football boots of 2022.
Looking for something more specific? We've got separate reviews for the best football boots from Nike, Adidas, Puma and Umbro, as well as a list of the best cheap boots and best boots for goalkeepers, defenders, midfielders, wingers and strikers.
First of all, if you don't know the size of your feet, then it's worth taking some time to measure them yourself. Some shoe shops offer this function, but doing them at home is also a possibility.
Using a pencil, paper and a ruler, measuring both feet by drawing around them - one foot might be bigger than the other - will help give you a better idea of what size football boots you should be shopping for.
Stepping onto a piece of paper, start drawing around your foot, keeping the pencil as vertical as possible to get as accurate a result as possible. If someone is there to help you, then even better.
Once you have finished drawing around your foot, measure the two points furthest away from each other on the paper using the ruler. Write down the measured number of centimetres, and repeat the process for your other foot.
Whichever foot is bigger is the measurement you should then use, because that way it won't get squashed in boots that fit your smaller foot perfectly. If you're someone who prefers wearing tighter football boots, add a couple of millimetres to the measurement - if you prefer a bit more space, then add five or six.
Before heading online or to a shop to buy some football boots, quickly search for a table of sizes for feet. Each centimetre measurement corresponds to a UK, US and Euro shoe size, helping give you a better idea of what size football boot you should get. For example, someone with a 28cm foot would most likely fit into a size 9 UK.
Once you know the rough size you should be looking for, FourFourTwo recommends you head to a football boot shop. It's much better to try a football boot on before you buy it, because the size you have in your head might actually be too tight or too loose when it comes to putting them on.
Some trial and error might be necessary depending on which brand you prefer, but you should be all set to find the correct football size for you.
How to choose the right size of football boots when you already know your shoe size
For people who already know what shoe size they are, then the task is a little bit more simple.
Generally, football boots are true to size - if you wear a size 10 UK in all of your other casual shoes, then a size 10 UK in football boots is the best option to start with. However, if you have a mixture of size 10 UK and size 10.5 UK shoes, then opt for the larger size in football boots.
This is because our feet expand when we exercise. If they're already slightly too tight to begin with then by the end of a game your toes could be bruised from pressing against the toe box too firmly, and you could have blisters develop, too.
Obviously, which size you go for depends on personal preference. If you're someone who prefers a little bit of extra space then go a half-size up from your true to size fit. Similarly, stick true to size if you like having the most feeling of the ball when it's at your feet.
Do not go down a half-size. This could cause more problems in your feet than you realise, such as the aforementioned toe bruising and blisters.
Again, if you're still unsure, head to a sports shop to try and find the right size of football boots to get.
Depending on foot width, the majority of football boots suit the majority of players. Those with especially wide feet should consider real leather boots, though. They're able to stretch and give extra room after a couple of times of wear, and will be more comfortable than synthetic alternatives that don't stretch at all.
Thank you for reading 5 articles this month* Join now for unlimited access
Enjoy your first month for just £1 / $1 / €1
*Read 5 free articles per month without a subscription
Join now for unlimited access
Try first month for just £1 / $1 / €1