When club heroes go sour: why Tony Adams is tarnishing his Arsenal legacy
Watching Adams swipe at his former club and Arsene Wenger, while ignoring his own failings, is hard for Arsenal fan Chas Newkey-Burden to bear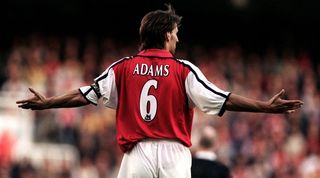 Note: this is an opinion piece, which doesn't necessarily reflect the views of FourFourTwo. In other words: don't come looking for us, Tone.
After volleying the ball into the back of the net, Tony Adams sauntered off in celebration. His 1998 goal against Everton was rich with symbolism and emotion, crystallising triumphs for club and player. The Gunners were minutes from being confirmed as Premier League champions. Their captain's sublime strike seemed to cap Arsene Wenger's revolution on the pitch, and Adams' personal recovery off it.
What a moment to savour. With his arms held out wide, the former 'donkey' of English football seemed Christ-like, reflecting the almost messianic fervour he was held in by many Arsenal fans. As a player, Adams was the icon for Gooners my age.
After his nervous debut as a 17-year-old, Adams blossomed quickly and was made Arsenal's youngest ever skipper at the age of 21. We watched in awe as he became a colossus, the lynchpin of the famous back four which won titles under both George Graham and Arsene Wenger.
He captained a league title-winning team in three different decades and led the club to numerous other trophies, including three FA Cups and a European Cup Winners' Cup. Away from the game, he challenged and defeated his demons.
From an addict who was sent to prison after drunkenly crashing his car into a wall, he eventually gave up the sauce and spoke movingly about his recovery, inspiring many to confront their own issues. Then he founded the Sporting Chance clinic, to help sportsmen and women conquer drink, drug and gambling addiction.
Blotched CV
It makes it all the more disappointing that, since he hung up his boots after 669 games for the club, the man we looked up to for so long has become an increasingly embarrassing, almost tragic figure.
Hurt that he was not invited back to Arsenal in a coaching role, he has swiped at Wenger and the club for years. Far from reining in the gripes as the years have passed, Adams has actually escalated his war of words, particularly while promoting his second book, Sober. Although he can't understand why he's been overlooked by his former club, he offers a theory: "Perhaps Arsene thought I might be too challenging for him," he writes.
Well, it might be that – or it might be something else. Adams' first stab at management came at Wycombe Wanderers. He relegated the club and left after 12 months. His prospects seemed momentarily brighter when he joined Harry Redknapp's Portsmouth as assistant manager. Pompey finished ninth and won the FA Cup, but after Redknapp left and Adams took over as manager, everything went wrong. He lasted just 16 disastrous games.
He then had two brief, undistinguished spells at Azerbaijani club Gabala FC (me neither) before moving to Spain as manager of La Liga side Granada, where he lost all seven of his matches in charge, confirming the club's relegation.
Hearing him bitch about Wenger, you'd think he had a phenomenal coaching CV. Dripping with delusion, ego and entitlement, Adams swipes away in the media like a rejected suitor. The more he talks about it, the more we want to hide behind the sofa.
All downhill
Where did it all go wrong? In Sober, he remembers how in the summer of 2012 he repeatedly contacted the club to ask for a coaching role. He says he texted Wenger three times asking for a job. When he didn't get anywhere with the boss, he approached Wenger's assistant Pat Rice at a party, texted Steve Bould, emailed chief executive Ivan Gazidis and rang Liam Brady.
Still getting nowhere, he approached Wenger again and then wrote a letter to the club's former director Peter Hill-Wood, offering to work for free as a club advisor. He didn't get a reply, but apparently still couldn't take the hint. It's all so needy and embarrassing, like Alan Partridge begging for a second series.
His next application was for a job coaching the U14s, but he pulled out after discovering the pay and other terms weren't to his liking. Eventually, he was offered a role coaching Arsenal's U18s. But, as he recalls in his book, he left after a month – partly because the salary was too low.
Sad
The lionheart who once led the team into battle has deteriorated in front of our eyes, bitter and barely coherent. Some years ago he said Wenger "couldn't coach his way out of a paper bag". In a recent interview he said that "Arsene, essentially, is not a coach". But a few paragraphs later he adds: "He's a great coach, don't get me wrong."
Then he gets childish, complaining about the size of Wenger's salary. "It's not like he's using the money to throw lavish parties for his friends, because he hasn't got none," says Adams. "He's only got a few guys in France. I feel a bit sorry for him."
Oh, Tony.
Wenger, so often the master of the understatement, said he finds Adams' swiping "sad". 'Sad' is just the word. It is always so when heroes become embarrassments; whenever Morrissey comes out with a bigoted rant, or Sir Paul McCartney does another of his lame thumbs-up poses, or whoever it is we're into goes off the boil. A part of us dies.
In 2011, Arsenal unveiled a bronze statue of Adams outside the Emirates. It depicts him in celebration of that Everton goal, a reminder of happier times for all concerned. In truth, the statue doesn't really resemble the heroic Tony Adams. Sadly, neither does Tony Adams at the moment.
Now read...
Thank you for reading 5 articles this month* Join now for unlimited access
Enjoy your first month for just £1 / $1 / €1
*Read 5 free articles per month without a subscription
Join now for unlimited access
Try first month for just £1 / $1 / €1