When Dennis came: What training with Bergkamp was really like
Two decades on from the Dutchman's Arsenal arrival, Adrian Clarke provides the inside line on what it was like to play on a daily basis with and against the attacking genius...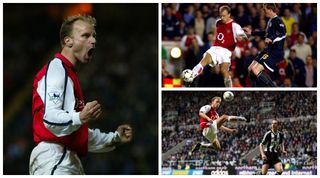 Laughter, shouting and the thud of boot on ball are sounds that have reverberated around the fields of London Colney for decades. Shortly after Dennis Bergkamp signed, Arsenal's training ground also hummed with a lot more spontaneous applause.
It could have been a shot that whizzed into the top corner, a sublime touch that made a defender look silly, or a perceptive pass no one else saw coming. The claps kept on coming for the Dutch master.
"Ahhhhhh love that!" "Stop it, that's brilliant Dennis!" "Too good Den!"
ALSO ON FFT.COM
I'm not exaggerating. First team training sessions were often a daily convention of the Bergkamp Appreciation Society.
It wasn't because he was continental. Anders Limpar, Siggi Jonsson, Stefan Schwarz and [coughs] John Jensen had all delivered varying degrees of overseas flair previously.
Gunners great
There were also trophy winners and full internationals everywhere you looked in the Gunners dressing room. Standards were already very high when he arrived.
It was more that this was the first time a truly world-class footballer at his peak, had been part of the squad. He was on another level. Most of us were blown away.
I know I'd never seen a footballer as technically brilliant in person. I'd quietly study Dennis's attitude, the speed of his feet, his polished first touch, how he demanded that you fizz a firm pass into him, the way he volleyed a ball, and the craftsmanship of his finishing.
I'd often think 'I'm never going to be as good him'. Yet that wasn't as demoralising as it sounds. I was just hopelessly excited at the prospect of playing next to him on a Saturday.
Slow league start
Even though he got off to a slowish start in the Premier League, those of us who worked with him at London Colney knew the club had signed a game-changer.
Psychologically, his £7.5 million signing (a club record by some distance) also signalled the club's intention to get serious again.
Ever since George Graham had been sacked earlier in the year, the first team had free wheeled under caretaker coach Stewart Houston. Although we'd reached the UEFA Cup Winners' Cup final (eventually losing to Nayim's goal from the halfway line in Paris) attitudes over a period of months had slackened. To coin a modern phrase, the flip-flops had been on for ages.
Bruce Rioch's appointment naturally re-sharpened the focus, but the arrival of Bergkamp and David Platt sent out an even more powerful message. The Arsenal board was telling the team itself that the bar was being raised. If we wanted 'in' on that ride, now was the time to buck our ideas up.
I was personally uplifted by that challenge. Training alongside two World Cup stars I'd watched on TV for years was a pretty intoxicating experience, and in a funny kind of way it felt like I wanted to impress Bergkamp and Platt, just as much as the boss. I'm not sure I was alone in that mindset either.
Personal demons
I was at the right age (20), playing well, pushing for a first team place – and eventually I'd get my chance – so looking back on it, that 1995/96 season was an extremely special time for me. They were the days of my footballing life.
Dennis must have had a shock at what he encountered, though.
Tony Adams and Paul Merson were going through a tough time trying to conquer their own personal demons, and in general there was quite a rebellious undertone bubbling away.
With several players openly unsure about Rioch's methods, training could get feisty too – especially when the manager joined in with the five-a-sides. I don't know if the likes of Cruyff, Van Gaal, Michels and Advocaat used to clump their own players each morning, but that's what happened at Arsenal. Our new front man must have been scratching his head in puzzlement!
Some of our ways will have seemed ridiculously old school too.
ALSO ON FFT.COM
Hard knocks
Rioch ran our legs off each day, there were no dietary plans, and we were having egg and beans on toast for pre-match meals. In addition, no one batted an eyelid if someone rocked up for training smelling of booze. As long as you kept up and performed on the pitch, vices were tolerated.
This all changed the following year when Arsene Wenger joined of course, but initially Dennis discreetly watched on (probably in shock) and refrained to judge. As a regular kind of bloke, I suspect there was a part of him that actually enjoyed the relaxed culture while it lasted too.
He definitely liked a laugh. When the banter was flying, Dennis had the timing and the intelligence to cut someone down to size with one, perfectly delivered put down. He was intense and serious about his football, but away from the pitch there was often a relaxed, devilish glint in his eye. His humour was cheeky and dry.
I found him incredibly personable. If he had a choice of chatting to a young pro like me, or one of the senior guys, he wouldn't differentiate. All footballers have an ego, but in conversation his rarely surfaced.
Dennis delivers
In the spring of 1996 I remember Dennis coming into training with a pile of cards addressed to various players. At the time I was out of favour, kicking my heels in the reserves, and it felt like I was becoming a forgotten man. Yet Dennis hadn't left me out.
He handed me a card with my name neatly written on it. I opened the envelope, and it was an invitation to his daughter Estelle's christening that summer in the Netherlands.
I'd only made nine first-team appearances – and he'd missed a few of those through injury – but here was a superstar that still saw me as part of his friendship group. I played it down at the time, but inside I was chuffed to bits.
As a winger I've got to say he was a dream to play with. Wherever I wanted the ball, that's where I'd get it. There was never a hospital pass. His vision and distribution was never anything but precise and thoughtful. He made all of us look better players.
A class of his own
Unfortunately I didn't go on to enjoy a stellar career in the professional game, but I do still take great pride in some of the wonderful footballers I got to play alongside in my younger days.
David Beckham, Gary Neville, Robbie Fowler, Sol Campbell, David Seaman, Tony Adams, Alan Smith, David Rocastle, Paul Merson, and Ian Wright, all shared a dressing room with yours truly at one point or another. It feels like a lifetime ago, but it really did happen!
Yet whenever I'm asked who the best I ever played with was, there's never ever a moment's hesitation.
It has to be Dennis Bergkamp. He was in a class of his own.
Quizzes, features and footballing fun
Get the best features, fun and footballing frolics straight to your inbox every week.
Thank you for signing up to Four Four Two. You will receive a verification email shortly.
There was a problem. Please refresh the page and try again.