When will Florentino Perez take responsibility for the mess he's left Real Madrid in?
Zidane is El Presidente's 11th coach in 12 years over two spells at the Bernabéu, but in reality he's only there after yet another blunder, writes Thore Haugstad…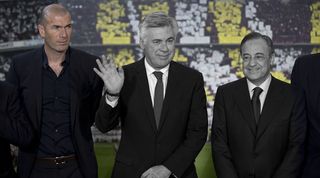 For sympathisers of Real Madrid, one of the most depressing aspects of Rafa Benítez's sacking might be its predictable nature. Already in summer, the traps awaiting the former Liverpool boss were so obvious that some said he wouldn't survive the season. On Monday night, the 55-year-old was fired after a seven-month spell that reflects poorly on him, but worse on president Florentino Pérez.
Many disagreed when Pérez dismissed Carlo Ancelotti in summer. The Italian had forged strong bonds with his players, charmed fans with attractive football and handled the press adroitly. Even after the disappointing sequel to his Décima-winning debut season, his popularity endured. Seven months later, Pérez now finds his club third in La Liga with a coach in Zinédine Zidane whose first-team managerial experience amounts to 18 months with the reserve team in the Spanish third tier.
Zinedine Zidane the Manager: How Zizou positioned himself to lead Real Madrid
That might not have been the situation Pérez envisaged, but discrepancies between vision and reality are nothing new at the Santiago Bernabéu. While the preference for big names is well documented, there can seem to be a blind spot towards the requirements of a healthy team dynamic, which have been undermined by frequent managerial changes and sales of key players. Counting the 12 years Pérez has presided over Madrid, from 2000 to 2006 and from 2009 until now, Zidane is the 11th head coach.
Value for money?
As the boardroom mentality has stayed largely unchanged since 2009, so has the underachievement. During the last six years, Madrid have conducted three of the five most expensive transfers in history, topped the Forbes list of the world's most valuable clubs, and led the Deloitte Money League, which ranks clubs according to income, for 10 years. If resources were translated into results, Madrid would rule the continent.
Yet they haven't even ruled Spain. Excluding shorter tournaments and one-game cups, Madrid have won one La Liga title, two Copa del Rey titles and one Champions League; all while Barcelona have conquered Europe twice and won the league four times.
The treatment of Ancelotti has been a case study in the kind of decision-making that has led to this statistic. While the exits of Manuel Pellegrini and José Mourinho made sense on many levels, fewer reasons were offered over Ancelotti other than the general need for new impulses.
Benítez had the advantage of being born in Madrid, and of having played and coached in the academy, but some of his characteristics seemed unsuited.
Cold and cautious
Particularly his cold and direct approach to man management always looked likely to jar with a squad of egos accustomed to the interpersonal mastery of Ancelotti. Former players had written about how Benítez never gave out praise nor displayed empathy. "All that matters to Benítez is football," Steven Gerrard wrote in his 2006 autobiography. "To Benítez, I am Steven Gerrard, footballer and LFC employee, not Steven Gerrard, flesh and blood, thoughts and emotions."
Most Liverpool stars accepted this style, but Gerrard later wrote that others hated playing for him. Jamie Carragher also had a point when he said that Benítez would have to change his blunt tone if he ever went to a club like Madrid. The fact that Benítez replaced Ancelotti brought the contrast into sharper relief, and the subsequent reports of broken relationships with the players cannot have shocked many of those who knew Benítez well.
The style of play was another issue. A disciple of Arrigo Sacchi, Benítez prioritises team structure above creative freedom, and while the constant accusations of defensive tactics were exaggerated, Madrid clearly became less adventurous. When Benítez tried to conform to the club ethos, such as when picking an uncharacteristically attacking lineup against Barcelona, the results were disastrous.
Neither the squad nor the club philosophy echoed his predilections, and when he described the number of attacking players as a problem following his last game, a 2-2 draw at Valencia, it seemed to underline the mismatch.
The wider point is that Pérez should have foreseen these problems. He knew Benítez favoured a style that did not suit the squad. He knew his impersonal approach could create friction. Yet he hired him anyway, and the results have been as expected.
President under pressure
More fans have recently appeared to grow tired of Pérez. The 4-0 clásico defeat featured chants calling for him to resign, as have other matches.
Beyond the managerial debate, the last 12 months have fuelled such sentiments. In late 2014, Madrid were on a 22-game winning run and had just become world champions in Morocco when the squad's winter holiday was cut short by a friendly against Milan in Dubai. They faced Valencia five days later and lost 2-1. Certain players looked drained over the following months and the team ended the season without a trophy.
In summer, Iker Casillas was shipped out to Porto after conducting his valedictory press conference alone in tears. If that merited criticism, there was also the Sergio Ramos contract saga and David de Gea's botched transfer which got cancelled due to a late fax. In December, Madrid were kicked out of the Copa del Rey for fielding Denis Cheryshev, who was suspended. All these events have done little to favour the Pérez administration.
If the bucks stop with the chief, it's understandable why some want Pérez to go. Whether it will happen is another matter.
In September 2012, he changed the club's statutory demands so that the president would have to be a member for 20 years, as opposed to 10, and be able to guarantee 15% of the club budget with a Spanish bank, without the help of third parties. A construction magnate, Pérez essentially made his competitors ineligible and won the 2013 elections unopposed.
Rivals are now challenging these changes through the courts and aim to force re-elections earlier than the scheduled date of 2017. Should that fail, Pérez may well stay for years to come. If so, chances are that coaches will continue to come and go, all while most indications to date suggest the faults reside not in the dugout, but in the boardroom.
RECOMMENDED
Zinedine Zidane the Manager: How Zizou positioned himself to lead Real Madrid
Quizzes, features and footballing fun
Get the best features, fun and footballing frolics straight to your inbox every week.
Thank you for signing up to Four Four Two. You will receive a verification email shortly.
There was a problem. Please refresh the page and try again.