5 reasons why Rafa Benitez couldn't cut it at Real Madrid
The former Liverpool boss suffered the inevitable axing on Monday evening – but why was his reign so unruly? Lee Roden evaluates...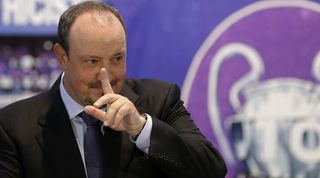 After only half a season in his position as Real Madrid manager, Rafael Benitez has been relieved of his duties, bringing an unceremonious close to a dream that started back in the 1990s when he coached in the club's academy. So how did it all go wrong for Rafa?
1. He couldn't get the best out of Cristiano Ronaldo
With 25 goals in 24 games under Benitez, Ronaldo is currently Real Madrid's top scorer by a sizeable distance, so it may sound absurd to suggest his performances were a contributing factor to the manager's demise. The details, however, are important.
Eleven of Ronaldo's 25 goals in 2015/16 have come against Shakhtar Donetsk and Malmo, who managed a measly three points each in the Champions League, while five came against Espanyol, who have since sacked their manager. Of the Portuguese forward's nine other strikes, none were in the toughest, biggest fixtures against Valencia, Villarreal, Barcelona, Sevilla or Atletico Madrid.
At this stage last year Cristiano had scored against the same key opponents, but under Benitez he has been reduced to little more than a flat-track bully. Attempts to use him as a fixed centre-forward, playing with his back to goal or running off the shoulder of the last defender, were overwhelmingly counterproductive.
It was in stark contrast to the freer role Carlo Ancelotti handed him in the first half of last season, which not only led to goals in the toughest games, but also a significant creative influence. Ancelotti ensured Madrid's biggest potential match-winner came into contact with the ball where he wanted to, leading to an inspired Cristiano when it really mattered. Benitez quite often caused the opposite, and that's clearly a problem.
2. He didn't know how to pick his battles
The Bernabeu dressing room can be a minefield which requires great skill to navigate, particularly when it comes to choosing a team. Keeping as many players as happy as possible is something that Benitez's predecessor Ancelotti excelled at: he not only commanded respect, but also admiration from a squad full of exceptional talents – even if they weren't all starting every game.
Benitez seemed to provoke the opposite reaction. Supporters of the manager's previous clubs won't be surprised to learn that he wasn't very wise when it came to picking his battles. James Rodriguez was one of Madrid's best players last season, but Rafa managed to turn a prized asset into a problem by constantly subbing the Colombian off, leading to a fall-out with the midfielder and provoking the ire of supporters. Ruthlessly freezing out Isco, another hugely popular figure and a major talent, was also a self-defeating move.
Benitez may well have had legitimate coaching reasons for his decisions, but a huge part of managing at the highest level is about being savvy. He wasn't.
3. He wasn't inventive enough to mould an effective team
A bit like milky tea, Rafa's Madrid neither didn't do one thing well. They weren't capable of attacking with the invention and flair you'd expect from a side packed with some of the finest creative talents in the world, yet equally couldn't defend with any great rigour when it really mattered – exemplified by the seven goals they conceded in back-to-back crunch games against Barcelona and Sevilla.
To succeed in Madrid, Benitez would need to marry his modus operandi of organisation and solidity with the creative inclinations of a squad containing at least five No.10s. It was a huge task, but not necessarily an impossible one if he could think outside the box.
Ancelotti's reversion of Angel Di Maria from winger to inside midfielder, for example, was key in Madrid's conquest of La Decima, the Argentine providing energy in the advanced midfield role necessary to protect leggy Xabi Alonso and help drive transitions from defence to attack. The Italian did a similar job on Isco, coaxing enough discipline out of the Andalusian to deploy him successfully as a central midfielder over the duration of 2014.
Solutions aren't always obvious: sometimes it takes some ingenuity to find them. Benitez didn't have that, and it cost him.
4. He was too obsessed with the press
Rafa had enough problems to deal with in his job without getting bogged down in battles with journalists, yet despite having plenty of first-hand experience of how Spain's footballing media machine works, he quickly fell into the trap of engaging it, head on.
In October, the coach was already talking of "(journalists) who don't want things to go well for Real Madrid", and by December that had escalated to full-blown paranoia. Before a league match with Real Sociedad, he claimed that there was a "campaign against Florentino Perez, against Real Madrid and against the coach", adding that in England "the press don't magnify everything or exaggerate like in Spain". To the uninitiated, that would suggest his relationship with journalists was better back in Britain, but anyone who followed his time at Liverpool knows that's no fact.
Former Red Jamie Carragher wrote earlier this season that Benitez has an "unhealthy regard for what appears in the media about him", and considering the Spaniard's actions in Madrid, it is difficult to disagree. While some coaches deliberately manipulate sparring contests with journalists as an effective way of deflecting criticism from players, Benitez's trading of blows only ever seemed to increase the pressure on his team. He still hasn't learned.
5. His boss was Florentino Perez
For all that Rafa could have done more to help his situation in the Spanish capital, there was one contributing factor to his failure at the Bernabeu that he couldn't control – and it's one that plenty of other coaches will be familiar with. So long as Perez is president of Real Madrid, the manager is always going to be fighting an uphill battle.
Florentino's two eras as president can be summed up by two sets of numbers: only seven of 37 major titles available to Madrid have been won, and 11 different coaches employed. The lack of planning from the top is clear in the drastic changes in direction that are a hallmark of his Madrid, with consistency impossible to achieve as a result.
From the attacking flair of Manuel Pellegrini to the discipline of Jose Mourinho, the expressive game of Carlo Ancelotti before reverting back to the more rigid style of Benitez: squads are not built with any kind of strategy in mind, but rather, built according to the whims of an interventionist president. Coaches are at a disadvantage from day one.
Rafa was the latest to find that out. Zinedine Zidane will inevitably be the next.
RECOMMENDED
Zinedine Zidane the Manager: How Zizou positioned himself to lead Real Madrid
Quizzes, features and footballing fun
Get the best features, fun and footballing frolics straight to your inbox every week.
Thank you for signing up to Four Four Two. You will receive a verification email shortly.
There was a problem. Please refresh the page and try again.