Why Barcelona are (probably) back – thanks to one man in particular
Andres Iniesta improved Luis Enrique's team when he came on in Saturday's Clásico at the Camp Nou – even though, writes Thore Haugstad, his team couldn't hang on for a gritty win against Real Madrid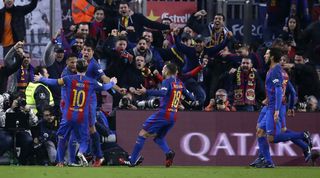 Their title chances may have been dented by Sergio Ramos's late equaliser, but Barcelona could at least take solace from the inspiring return of Andres Iniesta in Saturday's Clásico at the Camp Nou. The silky playmaker came back from injury to warm applause on the hour mark, at which point Barça suddenly seemed to rediscover their mojo, with several slick passages creating chances that should have settled the game in their favour.
That those opportunities were squandered enabled Real Madrid to nick a 1-1 draw and stay six points clear of their bitter rivals, leaving Barça with work to do in La Liga – though if Iniesta hadn't been absent in the last few weeks, the gap might have been smaller. The Catalans have been overrun on several occasions since Iniesta was carried off at Valencia on October 22, their characteristic midfield dominance all but vanishing at times.
In fact, even before the injury, Iniesta's importance had been evident. He was benched when Barça suffered a disastrous 2-1 defeat at home to Alaves in September, and it was the same when Barça went 3-0 down at half-time at Celta Vigo. He came on for the second half, but couldn't prevent a 4-3 defeat. Since his injury, Barça have, among other games, lost 3-1 at Manchester City, drawn 0-0 at home to Malaga and been outplayed in a fortunate draw at Real Sociedad.
The horror show in San Sebastian particularly seemed to underline his influence, with Barça lacking the ability to retain the ball and play their way past high pressure. It was the first league game in which they'd dropped points as well as lost the possession battle since 2008. "We couldn't even string five passes together," Luis Enrique groaned.
A scrappy start
Barça didn't start convincingly in this Clásico. Many had expected Iniesta to return to the starting line-up immediately, but the 32-year-old took his place on the bench as Enrique went with Ivan Rakitic and Andre Gomes alongside Sergio Busquets in midfield. That didn't prove efficient against a cautious Madrid, though, who were largely untroubled in the first half.
Indeed, Zinedine Zidane's deep and compact shape seemed to nullify the MSN trio. Instead of Barça dominating midfield, it was Luka Modric who bossed proceedings as Madrid launched ominous counter-attacks and crosses into the boxed designed to set up Cristiano Ronaldo and Karim Benzema against centre-back Javier Mascherano. In those first 45 minutes, the only shot Barça mustered on target was a Lionel Messi free-kick straight at Keylor Navas.
Even when Barça scored early in the second period, it was hardly of the fluent kind: Neymar lofted in a free-kick that Luis Suarez headed in ahead of Raphael Varane. The game was stop-start and Barça looked set to edge a poor Clásico. Then on 60 minutes, Iniesta came on for Rakitic, and the dynamic appeared to change.
The magic returns
It's difficult to say to what extent this should be ascribed to Iniesta's own play, the knock-on effects his playmaking has on his team-mates, or his mere presence as captain and talisman. Either way, it was notable: in the subsequent three minutes, Barça enjoyed a spell of cohesive possession in which Madrid hardly touched the ball.
Iniesta took place on the left of their 4-3-3, his favoured role, as Gomes shuffled to the right. The Spaniard started combining with Jordi Alba and Neymar down that side, and somehow the positional play throughout the side seemed to get better. Busquets played penetrative passes, gaps opened up in midfield, and, on 64 minutes, Messi found rare space between the lines to play in Suarez, who wasted a promising move with a poor cross.
At that point Zidane tried to tighten things up by bringing midfield battler Casemiro on for Isco, even though Madrid were 1-0 down. Two minutes later Iniesta gave the ball to Neymar, who skipped past Dani Carvajal and blazed from close range. Iniesta then had his own effort stopped, which was one of six that Barça unleashed in the last 30 minutes, having managed five in about an hour before his introduction.
Signs of promise
Despite those missed chances, Barça looked in control as the game progressed, and on 82 minutes Iniesta delivered one of the passes of the afternoon when playing Messi free alone inside the box, only to see the Argentine drag his shot wide. That was the second chance Iniesta had created in 22 minutes on the pitch, and it really should have been 2-0.
Overall, in those final 30 minutes, Barça seemed better equipped to find the spaces between the lines in which they usually thrive. Their four chances in that period all came centrally outside the box, whereas the previous three were square passes from the left.
#FFT100
FourFourTwo's Best 100 Football Players in the World 2016
Unfortunately for Barça, Enrique's other substitutions didn't work quite as well. They lost some control towards the end as Ronaldo and Sergio Ramos both tried their luck, and just before full-time, substitute Arda Turan committed a needless free-kick that Modric planted on Ramos's head for 1-1. Barça pushed for a late winner, but Casemiro cleared off the line to hand Madrid a valuable point.
That left a bitter taste for Barça, but if some of their spells in the second half were anything to go by, there should be better times ahead. They have seemed to lack some of the essence of their play recently – control in midfield, calm on the ball, intelligent penetrative passes – and suffered from poor cohesion and vulnerability to high pressing. The positional play has been lost. With Iniesta back, they seem to have rediscovered it.
Thank you for reading 5 articles this month* Join now for unlimited access
Enjoy your first month for just £1 / $1 / €1
*Read 5 free articles per month without a subscription
Join now for unlimited access
Try first month for just £1 / $1 / €1
Get FourFourTwo Newsletter
The best features, fun and footballing quizzes, straight to your inbox every week.