FourFourTwo's Best 100 Football Players in the World 2016: No.19 – Andres Iniesta
He might be 32 now but the Barcelona and Spain hero is somehow more influential than he's ever been, writes David Cartlidge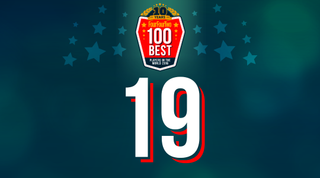 Xavi may be gone, but Andres Iniesta remains – for both club and country. The Spaniard is a key outlet for Barcelona and Spain, bridging the gap between midfield and attack while providing the key to unlocking the most solid defences.
Iniesta's ability to do that time and time again has saved his teams on numerous occasions, and while Spain fell badly at Euro 2016 it was the 32-year-old who came away with plaudits when few others did.
The diminutive midfielder is still a penetrative force with the ball at his feet, and despite his age he retains a decent turn of pace; that ability to change direction and bamboozle opponents is as effective as ever. With Xavi gone, Iniesta has been handed more responsibility and licence to control the team – and hasn't flinched once in his new role. Instead he's showcased even more to remind all why he is one of the best players ever produced by Barça.
Same old Andres
The old facets of his game remain, however; the ability to drive at teams at speed while the ball stays glued to his foot and the penchant for undoing even the meanest of defences. The MSN may steal every headline but the link with Iniesta as their supply line has been vital in their plundering of goals.
Even with one goal to his name, Iniesta's game is about so much more than filling up the stat columns. A two-month injury layoff didn't impact his season as he – once again – produced several remarkable performances.
Perhaps none were better than that at the Bernabeu, when Barça destroyed Real Madrid to win 4-0. Iniesta was subsequently applauded off the field by rival supporters – an honour only awarded to Ronaldinho in recent seasons. He was around to help Barça over the finishing line in La Liga as they secured yet another triumph.
Summer of rough
Then came the summer, and in a flagging Spain side it was Iniesta who offered la Roja hope at Euro 2016. His consistency, and the level of those performances in France, were overlooked thanks to the nature of Spain's displays as a collective. Despite falling apart from within it was their ever-reliable, slight midfielder who kept plugging away and sought to drag them through games.
Vicente del Bosque looked to Barça's string-puller more than ever before and he rarely let his side down. His ability to increase the tempo in what had become a predictable, lethargic Spain side was commendable, and when there was little to no inspiration in the team it was Iniesta who would turn up yet again.
Despite his age the Spaniard has somehow grown even more influential, and rather than drift in games like he once did, Iniesta is instead an integral figure pivotal to the outcome of games. Barcelona and Spain are notably different teams with and without him, so both must be worried of a future without the player.
Injuries generally haven't been a significant factor in his career, though, so there's hope that he'll be around for a while yet. Lionel Messi puts it best: "The hardest thing to do in football is to make it look like everything is easy, effortless – and that's Andres."
The list
FourFourTwo's Best 100 Football Players in the World 2016
Thank you for reading 5 articles this month* Join now for unlimited access
Enjoy your first month for just £1 / $1 / €1
*Read 5 free articles per month without a subscription
Join now for unlimited access
Try first month for just £1 / $1 / €1
Get FourFourTwo Newsletter
The best features, fun and footballing quizzes, straight to your inbox every week.