Why Everton fans shouldn't panic about Romelu Lukaku
The Belgian rejected a new contract offer but it doesn't necessarily mean he'll leave in the summer, says Amit Katwala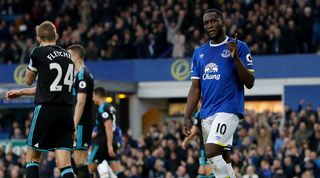 He's still only 23, but Romelu Lukaku might be tired of waiting.
The goals are flowing for Everton – 20 in all competitions this season – and the rumour mill is turning again. It was the Belgian himself who set it spinning, turning down a five-year deal and the chance to become the Toffees' highest-paid player of ever on £140,000 a week.
And this, despite his agent Mino Raiola saying in December that a deal on new terms was "99.9%" completed. Even Ronald Koeman claimed things were "close" just a week ago. The delay has Everton fans and their manager worried, with Koeman joking that he was considering just signing the deal himself to end all the speculation.
So what's going on? Is this simply a ballsy negotiation strategy from super-agent Raiola, or is Lukaku genuinely having doubts about staying at Everton? And will this be a precursor to another drawn-out transfer saga?
Esteemed company
A year ago, this writer interviewed Lukaku at Everton's Finch Farm training ground. There were the same rumours of a move to Chelsea back then, and reported interest from Manchester United too. He talked about wanting to win championships, and pleaded for votes in the PFA Young Player of the Year award.
The Champions League was mentioned, and you suspect it's Lukaku's desire to play in Europe's biggest competition that's driving him to end a largely fruitful spell at Goodison. He's made no secret of that: even last year, the striker gave the clear impression that while he's happy enough at Everton, he would leave in a heartbeat for the opportunity to secure the trophies and accolades that every player craves.
That might explain the contract situation. Everton must know they can't hang on to Lukaku for much longer – he can be underwhelming at times, but only Ronaldo, Raul, Lionel Messi and Sergio Aguero scored more goals for their clubs than he did before the age of 23. He's quick and powerful, and his eye for goal is improving with every game. He also creates space and goals for others by drifting out wide – an unappreciated facet of his game.
"What we like is that strikers find the best position at the time in the game and normally that's around the box," his manager Koeman said after the 3-0 win over West Brom in which Lukaku scored one and helped create two more. "But sometimes if you drop to the left or right, that makes space for other players and that was the message before the game: we need running players.''
Rom's in control
It's been reported that Everton would demand at least £60m to sell Lukaku, and this five-year, £140,000-per-week contract offer feels like an attempt to boost or at least maintain that value. Lukaku only has two years left on his current deal – and by turning down the new terms now he's bought himself the time for other suitors to come knocking.
Lukaku is hugely ambitious, driven and focused. He joined Anderlecht's youth team at the age of 12, but only went to see the first team play once. After that, he promised himself he wouldn't set foot in their stadium again until he was part of the senior setup.
He missed big league games, cup ties and Champions League nights, but he kept his promise. He's been the Next Big Thing since his teens, when he starred in a Belgian television documentary that followed him at school shortly after he signed his first professional contract with Anderlecht at 16.
Lukaku's used to being the centre of attention, but he's smart and grounded enough to keep his options open.
It seemed fairly convincing, speaking to him a year ago, that he'd leave last summer. The arrival of financial heft, in the form of Iranian billionaire Farhad Moshiri, might have persuaded him to stick it out a while longer. You suspect Lukaku's first choice would be to fire Everton into the Champions League himself; if he does want to leave he's remained a model professional, grabbing his best ever Premier League goals haul and still turning up for training (to the amazement of certain newspapers).
Lukaku himself made his ambitions clear in an interview on Wednesday. "Everton as a club have a great history, right? But the future has to be written. You get me?" said the Belgian. "We always talk about the teams of the 1980s and, if you look, it was great. But we, as players, want the fans talking about us instead of us talking about them.
"You can't only be remembered by scoring goals, you want to be remembered by winning trophies. Instead of living in the past, you have to think ahead."
London not calling?
The Champions League, however, remains a pipe dream despite the Toffees' strong season under Koeman.
Having said that, there's no other option that makes complete sense right now.
A return to Chelsea has been mooted ever since Lukaku left. The striker wants Champions League football, and at the moment the Blues look like the only team in England who can be sure of that next season.
You wonder whether it would be the right move for him, though. Antonio Conte's front three only has room for one out-and-out striker – and that's a role Diego Costa won't relinquish without a fight (although, to be fair, he barely does anything without a fight).
The feeling from Chelsea is that Lukaku is not at the top of Conte's list anyway – the Italian is thought to be more interested in re-uniting with Alvaro Morata, after a successful spell together with Juventus. That would turn attentions to the Bernabeu, although again it's unclear how much truth there is to rumours of interest from Real Madrid. Blancos-loving Borussia Dortmund speedster Pierre-Emerick Aubameyang could be on the market this summer, after all.
Is the grass greener?
Manchester United are the other club reportedly looking to make a move, but surely a lot depends on whether or not Zlatan Ibrahimovic (agent: Mino Raiola) is still at Old Trafford next term. Cynics might suggest that the crafty Raiola could be set for another big summer moving Ibrahimovic on again and fattening up Lukaku to replace him at Old Trafford.
A new deal is not beyond the realms of possibility, despite Lukaku turning down this first offer.
"99.9 per cent is not 100 per cent and they are still trying to get the contract over the line," Everton boss Koeman said on Thursday. "Of course I am not happy about that interview [Lukaku gave] because if Everton is not a club with a lot of ambition, then I'm not the manager.
"I spoke with Rom this morning. I know it's difficult, but if you're a player [then] prepare yourself to play good, to score goals. The rest needs to be done by the manager and the board.
"I'm not so afraid about the situation because the player has two more years of his contract. Everyone knows anything can happen in football but you have to respect your contract. His behaviour, except some quotes in this interview, is what I like in a player."
Lukaku is ambitious and he will leave Everton at some point, but he knows how good he is, and is smart and strong-minded enough not to rush into anything that doesn't suit him.
The Belgian has been waiting for a real chance at a superclub for a long time, but he's still only 23. One more season at Goodison certainly wouldn't hurt – but you couldn't blame him for wanting more after that.
Quizzes, features and footballing fun
Get the best features, fun and footballing frolics straight to your inbox every week.
Thank you for signing up to Four Four Two. You will receive a verification email shortly.
There was a problem. Please refresh the page and try again.