Why I hate… football fans who cry about players leaving their club
If the inevitable happens this summer, take a deep breath and don't be an absolute moron, writes Arty Pritchard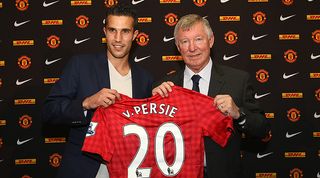 Picture this: You get offered a new job. The wage, benefits and prospects are all vastly superior to what you have in your current role. You've been with your current employer for 15 years, and as you approach your 30s you want to experience something new and exciting.
It's a great opportunity for you and your family. On top of that, the annual bonus being dangled by your would-be suitor could cover your children's tuition fees or pay a deposit on their first home.
Sure, you owe your current employer a lot – they've been great, supported you through thick and thin and helped develop your career. It's a tough choice.
After much deliberation, you decide it's time for a change. Everyone at the company understands your reasoning and you end on good terms. Then they announce your departure on social media.
People start sliding into your DMs, and they're not looking for a hook-up. "U fcking c*** - hope u and ur family die in a car crash." Don't forget that snake emoji now, will you? You also happen to be a muslim. The insults turn towards your race and religion. The local rag gets hold of the story and speculates about your "eye-watering" wages, brandishing you "greedy" and "troublesome".
You leave the office and make your way home. Janice, who works at the Heart Foundation, steps out of the charity shop with a lighter and print-out of your company headshot. She sets it alight and calls you a "disloyal wanker".
Sounds mental, doesn't it? But this is the PG version of what happens to a player when they join a rival for vast sums of money. Now, it's hard to draw comparisons between a ludicrously well-paid footballer and Dave who inputs data for an accountancy firm, but the principle is the same. It's just a human being accepting a new challenge which betters their life.
Before the kind of maniacs who call football phone-ins to demand their club flay the manager and players after a narrow defeat start sliding into my DMs, I am fully aware that not all footballers have earnest intentions for moving between clubs.
Some of them do just want more fame and money so they can strut around their garish mansions wearing pants made from the whiskers of Siberian tigers – and while that doesn't sit right with me in a world poisoned by financial disparity, it's their prerogative. Their life, their money, their pants.
I find the idea that they somehow owe the fans lifelong loyalty, even if it's detrimental to their own life experience, utterly baffling. Yes, players should be extremely grateful for the passionate support they receive, but let's not forget they do actually work for their money. They're not training, playing, dealing with media scrutiny and abuse from fans for free. Sure, it's a pretty sweet deal – the top players are getting paid a fortune to play football, which is every child's dream – but that doesn't mean they should lead their life to please fans. It doesn't mean fans own them.
What really yanks my chain is the knee-jerk reaction to a player's transfer. With absolutely zero knowledge, other than what they've skim-read on clickbait articles churned out by journalists chasing clicks from Margate to Mordor, said fan now wants that player to contract gangrene.
Here's a rational thought. Maybe said 'Judas' is leaving the club because they've fallen out with the manager or their team-mates. Maybe they want to experience a new culture. Maybe they want to join a club that's built to win. Maybe they're having personal issues. Maybe more money means they can help society – like Didier Drogba, who has helped build hospitals in his native Ivory Coast. Maybe it's not any of these reasons. Maybe they just want to swim in their money like Scrooge McDuck.
Fans don't know, and because they don't know, they shouldn't assume that their departing football player is a disloyal turncoat hell-bent on destroying the club.
Don't mistake this as some holier-than-thou rant. During my time as an Arsenal fan I've seen a host of world-class players leave for pastures new – Emmanuel Petit, Marc Overmars, Nicolas Anelka, Ashley Cole, Patrick Vieira, Cesc Fabregas, Sami Nasri, Robin van Persie, Thierry Henry and Alexis Sanchez to name but a few. They all left to either join a bigger club or a team that was trying to build a new force in world football.
In my younger years, I was less than complimentary about their so-called "betrayal", but I never once considered sending them abuse. That's just mental. As I've matured and gained perspective, I realise how absurd it is to even direct anger at someone for basically getting a new job.
I understand that football isn't a regular job. I love that it's an emotive sport, I'm aware that our hard-earned cash helps pay wages, and that as fans and players of the same club we are bound by a powerful, emotional tie. We're fighting for the same cause – the glory and honour of the crest sewn onto the chest of the shirt.
When a player kisses the badge or declares their allegiance and then departs for a rival club, that's undeniably jarring. They probably deserve a bit of stick, not a death threat. And guess what? Sometimes players lie. And sometimes, just like us, they change their minds.
Don't make out like you haven't told your boss you love your job while an email with your CV attached is speeding into the inbox of a recruiter; or you told them you had a cold, when really you were going to meet with the boss of a rival firm for coffee to "explore your options".
People will happily ignore their own indiscretions before castigating someone else for essentially doing the same thing.
I love the rivalries ingrained in football, and the debate and passion triggered by our loyalties. I love the heroes and villains that dominate the narratives of football's soap opera. But I don't like stupidity. I don't like hatred that crosses the line. I don't like hypocrisy. And I don't like the clowns who take to various social media platforms to spout ill-informed, irrational nonsense just because a player decides to leave for another club. You don't know them, you don't know the reasoning, and you certainly don't own them.
So this summer, when you see your star player holding up the shirt of his new club and posing for the cameras, don't hit Twitter to send him vicious abuse. In short: don't be a dick.
Then read…
ARCHIVE The truth behind the transfer window rumour mill, by those in the know
FEATURE How WhatsApp changed football
While you're here, why not take advantage of our brilliant new subscribers' offer? Get 5 copies of the world's greatest football magazine for just £5 – the game's greatest stories and finest journalism direct to your door for less than the cost of a London pint. Cheers!
Quizzes, features and footballing fun
Get the best features, fun and footballing frolics straight to your inbox every week.
Thank you for signing up to Four Four Two. You will receive a verification email shortly.
There was a problem. Please refresh the page and try again.