Why I hope Leeds don't get promoted to the Premier League – by a Leeds fan
Impossible to get tickets, not on TV, an inability to compete at the top and mercenary journeymen ruining the burgeoning culture at Elland Road. Phil Fraser admits what no Leeds fan should – he doesn't really want to leave the Championship...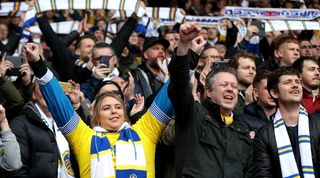 I'm a Leeds United season ticket holder and I don't want Leeds to go up.
WTF, right? We've spent 15 long, painful, desperate years in this grim, disgusting wilderness, and now when we are looking like we may finally do it. So why would I say that?

Don't tar and feather me yet: just hear me out.
We won't be able to compete
For those of us of a certain age, we expect the Mighty Whites to seriously compete at the top end of the (top division) table. Yes, it was a very long time ago now since we did so – but it's hard-wired into our DNA.
Leeds United are a top team – not in the 'last sleeping giant' media twaddle we have been patronisingly fed since the turn of the millennium, but in a real and proper sense. In the past, we've been to London, Liverpool and Manchester expecting to win – and have done so regularly. We didn't go to enjoy the day out and hope we put in a performance, as we've had to endure with all the cup draws over recent years.
If we go up there is not a cat-in-hell's chance that we'll get anywhere near the top six.
The last time we went up, it was a different era. The gap between the top two divisions wasn't the filthy lucre filled chasm that it is today. I, for one, don't want to be up there if we can't truly compete at the top end of the table.
Reduced away tickets
The huge away day trips of 6,000+ fans at the likes of Blackburn and Bolton will all be a thing of the past.
The ruling for the allocation of away tickets in the Premier League is as follows: 3,000 tickets or, if the capacity of the home club's stadium is less than 30,000, such number of tickets as is equal to 10%. Basically, we'll get 3,000 or less every week.
Obviously, lots of our younger fans will want to go to the raft of big grounds we haven't visited in their (supporting) lifetime. Add in lots of "where were you when we were shit?" types, and then factor in an inevitably higher number of season ticket holders than now who will have first option to buy away tickets.
3,000? To put that in perspective, we just sold 5,500 tickets for Preston on a Tuesday night in 30 minutes.
We could even see every single league game being a loyalty game. Doesn't sound much fun, does it?
Reaching the magical 40 points mark
What is the point of being in a competition when your sole aim is to not get kicked out of it? It drives me to tears hearing one spineless manager after another trot out this drivel of a sentence. Where did ambition, drive, determination and dreams disappear to?
What is the point of any challenge if you are not going to aim for the summit? Take a look at no-mark sides like Watford, Bournemouth, Burnley and even 'proper' clubs like Newcastle and West Ham. All they want to do is survive. I don't want the famous Leeds United to turn into that.
Not being on TV as much

While it pisses us off with the changed dates, ridiculous start times and messed up travel arrangements, it is great to see Leeds on TV all the time.
Yes, we moan about it but, let's be honest, it makes us really proud.
This season I have watched Leeds in a bar in Spain, at a pub down South and on a iPad in Australia! If we go up, we'll no longer be the gogglebox magnet we currently are. We are the Championship's biggest draw (get over it, Villa) but once we are up our drawing power – and I say this begrudgingly – is dwarfed by the legions of Singapore Reds and Malaysian Blues that Sky targets for its bloated product. Yes, we'll still get live games but do Sky, BT or Amazon need to show our mid-table clash live and exclusive from Vicarage Road?
Mercenary non-descript journeymen who don't care

For every Pontus Jansson there are a hundred Marco Boogers.
The stinking cesspit of excessive moolah that is the Premier League attracts each and every half decent (and sometimes not even that good) money-grabbing leech of a footballer. Their slimy, Machiavellian agents will pimp their mercenaries to us and a dozen other teams, signing where the spondoolichs is the biggest.
Will players like that 'get' Leeds like Pontus does? Will they even try to comprehend our heritage? Will 'side before self' even register as they collect their hefty wad every month?
And don't think it's just 'Johnny Foreigner' that will come, play averagely, take his heft wage and leave, destroying all that Marcelo Bielsa has built. Non gracias/grazie/obrigada.
However
I was at Goodison in 1990. It still ranks in my top 10 games. The chants of "United are back" were deafening.
I still get a tingle down the spine thinking about it... a tingle the likes of only Beckford (twice), Matteo, Chapman, Ormsby, Flynn and Clarke can generate. To not experience that mix of pride, fear, hope, joy ever again for our beloved Whites would be unimaginable.
Oh, fuck it... "Nah nah nah nah nah, LEEDS ARE GOING UP, GOING UP, LEEDS ARE GOING UUUUP..."
NOW READ… Why Birmingham City's obscene overspending threatens to derail the entire Championship season
Subscribe to FourFourTwo! 6 issues for £19
New features you'd love on FourFourTwo.com
Quizzes, features and footballing fun
Get the best features, fun and footballing frolics straight to your inbox every week.
Thank you for signing up to Four Four Two. You will receive a verification email shortly.
There was a problem. Please refresh the page and try again.