Don Revie's dossiers: The truth behind the Leeds legend's famous case studies
With his detailed files on every player, the Leeds legend showed Jose, Pep and even Marcelo the way. But with this obsession for the opposition bordering paranoia, not everyone approved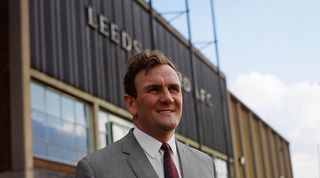 Everywhere he looked, he could see the ghost of his predecessor. From the mementos lining the corridors of Elland Road, through to the glittering array of silverware in the trophy room that he had won by "cheating". It was Don Revie's team, Don Revie's loyal backroom staff, and in the manager's office sat on Don Revie's former desk sat a pile of Don 'bloody' Revie's dossiers.
When Brian Clough arrived at Leeds in the summer of 1974, he immediately set about trying to remove all traces of his predecessor from the ground. He banned all mention of Revie's name and burned the dossiers that had become synonymous with Revie's success at the Yorkshire club.
Many of Clough's new players had learned how to destroy their rivals using the information meticulously collated on opposing teams that was contained within these files. Even cynical senior professionals like no-nonsense centre-half Jack Charlton had bought into the idea of the dossiers. Yet desperate to eradicate all connections to his former foe, Clough banished all talk of the dossiers for good in one fell swoop.
It was a wildly misplaced move. What Clough had failed to realise was that, at a time when typical pre-match preparations in English football amounted to little more than 10-minute pep talk, a cup of tea and a Rich Tea biscuit, Revie's pre-match ritual of reading players selected snippets of information on the strengths and weaknesses of the players they were about to take on was light-years ahead of rival management tactics.
Or were they, as his critics would later suggest, a waste of time? A result of deep paranoia rather than a desire for preparedness that would later undermine his reign as England manager? Reports to be read or rubbish to be burned?
Early days
Revie's association with the use of revolutionary tactics began during his playing days. Renowned for his vision, creativity and ability to pick a pass, Revie was employed by Manchester City manager Les McDowall as a deep-lying centre-forward and destroyed Birmingham City in the 1956 FA Cup Final.
The 'Revie Plan' helped to shape the way that football was to be played in the latter half of the 20th century, and the tactical ingenuity displayed by McDowall stayed with Revie as he embarked on his first managerial job at Elland Road in 1961.
From the outset, Revie implemented radical new ideas around exercise, nutrition and team bonding. In addition to regular games of bingo and carpet bowls, he hired ballet dancers to teach the players better balance and movement. But what attracted the most attention during his time managing Leeds and England is the infamous dossiers, which were elevated to a mythical status by the media.
The first known instance of a dossier being used was in the 1963/64 season, when Revie asked first-team coach Syd Owen to look at a young player he was interested in signing. Owen's forensic analysis of the player's strengths and weaknesses was declared a masterpiece by Revie and it would provide the blueprint for the rest of his managerial career.
He realised that a team armed with this type of detailed analysis of opponents would have the upper hand, so Revie implemented a policy of creating dossiers on all opposing players.
Detailed descriptions
The duty of compiling the dossiers was entrusted to members of his faithful backroom staff, including Owen and assistant manager Maurice Lindley. Their handwritten notes were then passed on to Revie and his right-hand man Les Cocker, and typed up by their secretary Jean Reid.
Although the use of pre-match preparation notes wasn't an entirely new concept, nobody had attempted to compile dossiers as complex as Revie's, which contained layers of vital information, covering shooting and dribbling skills, how strong players were in the tackle and how well they used the ball in possession.
Opponents were so fearful of Revie's dossiers that they would go to great lengths to stop his backroom team compiling them. "You heard stories that sometimes Maurice and Syd found it difficult to get into away grounds," says former Leeds and Scotland winger Eddie Gray. "I think there were occasions when they had to pay to enter through the turnstiles to get into grounds."
Regardless of the surreptitious methods Lindley and Owen had to resort to, it was crucial that they supplied Revie their detailed analyses so that he could start arming his players with the information necessary to defeat the opposition.
Sometimes the players would be given these dossiers to read ahead of matches and then be quizzed by Revie to make sure they'd taken the information on board. Vital details would also be reinforced during the pre-match team talk, according to Revie's son Duncan: "So, for example, he might say to Jack Charlton: 'The centre-forward can head the ball much more strongly from his left-hand side than he can from the right, and if he tries to dribble past you show him onto his right foot and not his left...'"
Did it help?
The detailed analysis of a Finnish international winger, in one of the rare dossiers that has been disclosed in public, gives a flavour of the documents' tone.
"5ft 7in tall, average build, right-sided, but can play off left. Has good control. Plays where the ball is. Likes to be on the ball. Always looking for the ball – fairly clever – turns quickly – not brave. Dribbles off his right. Keeps the ball well. Cannot tackle."
For some players in particular, this methodical analytical approach provided invaluable information.
"It was really helpful to know what people were capable of, especially playing in goal," says former Leeds and Scotland goalkeeper David Harvey.
Fellow Scotland international Peter Lorimer also found the dossiers useful, adding that they came into their own when Leeds were playing unknown foreign teams in Europe.
"Nowadays if a British club is playing a European side, they're able to get films of the opposition so that they can sit and watch them during the week. But we didn't have that available to us at that time," says Lorimer. "Thanks to the dossiers we were able to build up a good mental picture of what to expect before we got on the pitch, so they were really important."
Despite their undoubted usefulness, Lorimer feels that on occasion the material helped create too much respect for players who couldn't compete with a famously ruthless Leeds team filled with 11 internationals.
"Sometimes we would play a team in a cup match that were maybe two or three leagues below us, but we would still have the dossiers," recalls Lorimer. "We used to joke, 'Are we playing a non-league team or Real Madrid?'"
Very superstitious
One of the main criticisms of Revie's management was that his own phobias and rituals stopped his team from being as successful as they should have been. The overly superstitious Revie famously had a fear of ornamental elephants and feathered birds, and once summoned a gypsy to Elland Road to remove a curse that he believed had been placed on the ground to stop his side winning. He continued to wear a 'lucky' blue suit despite its threadbare condition.
The Earl of Harewood, who was Leeds president during Revie's tenure, believed that the manager's superstitious nature and negativity at times hindered the team's progress.
"I think Don's weakness was the fear of not knowing everything there was to be known about the opposing side," he recalled. "That might have been carried to excess. The players may have been able to read more danger into situations than possibly existed."
Despite such criticism, it was difficult for Revie to desert the 'fail to prepare, prepare to fail' motto that have served him so well throughout his managerial career. Indeed, he continuously strived to make sure that the dossiers were as accurate as possible. Thankfully, his famed attention to detail meant that the dossiers were "98% accurate", says Harvey.
"The dossiers were very thorough and he never got his information wrong," adds former Leeds and England star Norman Hunter. "He never made any mistakes. He wouldn't allow that. That was just the way that he managed."
Well... almost
That's not to say that the odd mistake didn't slip in from time to time. "The one time I remember Don getting it wrong was when we played Real Zaragoza and he had the pitch watered because he didn't think the Spaniards liked to play in the wet, but we were two down after 10 minutes at Elland Road," recalls Gray.
Due to Revie's meticulous nature, errors such as this were few and far between. The pressures upon his team of dossier-compilers even extended to match officials, according to Dave Cocker, son of Revie's right-hand man Les. Referees were watched ahead of the club's European matches to see what sort of offences they clamped down on, and what they would allow sides to get away with.
Unbeknown to many of his players, Revie also scrutinised his own team, according to Duncan Revie. "I was going through my dad's stuff three or four years ago and I came across about 10 brown A4 folders dating back to 1964.
"The folders contained information about the performance of each Leeds player during a game in 15-minute blocks. So next to Billy Bremner's name it would say how many passes he completed in the first 15 minutes, how many tackles he made and what his work rate was like. He had that for every single player, so he must have had 11 people in the stand taking notes. On his own players!"
Cocker, who has kept copies of almost every dossier created by Revie and his dad from their days managing Leeds and England, says that he also has material which gives detailed breakdowns of the coaching staff's assessment of Leeds players.
"I've got dossiers on how the Leeds players need to react and operate against certain players depending on their own strengths and weaknesses," he says. "I've even got dossiers on former players like Norman Hunter from his time at Bristol City, and on Leeds players that were being looked at for England in 1974/75, when Don was managing the national team."
Lieutenant Bremner
While the majority of players bought into Revie's fastidiousness, not everyone was a convert. In his autobiography, former keeper Gary Sprake referred to the dossiers as "mind-numbing".
"Syd Owen would pass them on for Revie to read out, they would last about an hour, by which time the lads would be bored silly. I was – although nobody would dare tell any of the coaches this, and certainly not the boss."
Even Revie's loyal servant Billy Bremner sometimes struggled to maintain his concentration when the contents of a dossier were being relayed to the team. In Andrew Mourant's book Don Revie: Portrait of a Footballing Enigma, Bremner reveals: "I'd look, though I wasn't taking a lot in. But I thought I'd better pay attention because if he said to me 'what was I saying there?' and I wasn't paying attention, he wouldn't be too pleased. The only time I would listen was when he was talking about continental players I didn't know."
Despite the Scot's cynicism, it was important that he was aware of the contents: Bremner was the man charged with carrying out Revie's instructions on the pitch.
"Never in the history of the game has so much preparation gone into matches before they even start," said Revie, in Bernard Bale's biography of Bremner. "Yet even the best-laid plans often require some reappraisal out on the park, and that's where a captain like Billy Bremner proved his value.
"One of his major jobs was to be able to read the situation out there and adjust tactics to the situation. Our pre-match discussion had laid down guidelines for the game, but we had to expect our opponents to formulate plans of their own to stop ours from working smoothly. If our team ran into trouble, Billy had the responsibility of changing or adapting the tactics."
No exceptions
Bremner and Sprake weren't the only ones who struggled to give the dossiers their undivided attention. Revie's pre-match preparations were so thorough that players would sometimes have to sit and listen to a lengthy dossier even if Leeds had played the team recently.
"Sometimes you had dossiers on players you'd played against two or three weeks earlier and you already knew them inside out, but you'd still sit there and listen because there might be a bit of information in there about set-plays that had slipped your mind," says Hunter. "If we had to sit there for three quarters of an hour listening to a dossier that may have been boring because we already knew the contents, then we were all prepared to sit there and listen. It was how Don was as a manager and we got used to it."
Although they may have become second nature to the Leeds team, Revie's methods were so forward-thinking that opposing players didn't know what to make of them.
"I remember talking to some of the guys at Celtic when I was away with Scotland, and they used to laugh at the amount of effort that we'd put into things like preparing to defend free-kicks at Leeds," says Lorimer. "When an opposing player stepped up to take a free-kick against Celtic, everyone in the wall would just charge and shout, and try to frighten the player to death..."
Unfortunately for Revie, when he took over the England job from Sir Alf Ramsey in 1974 – taking his dossiers with him – he wasn't able to command the fierce loyalty that his Elland Road charges had previously given him.
'Any idea on three down...?'
Throughout his tenure in charge of the national team, there were a number of dissenting voices in the England camp who didn't buy into Revie's methods. World Cup winner Alan Ball – who was made captain of the national team by Revie, only to later be ruthlessly dropped – was one of the most vocal critics, starting a campaign against the England manager in the national press deriding Revie's methods. "I know Ball said that he used to do crosswords on the back of the dossiers," recalls Duncan Revie.
Some of his team-mates also found the extensive tactical drills in training, combined with the exhaustive reading, too much to take on board. "Eventually with Revie your mind was full of too much – you could end up a nervous wreck," said former England striker Mick Channon.
"Some would take the dossiers seriously, though to others they were a joke. Revie should have just said they were there if we needed them – that's the way he meant them, to be fair to him. He was misunderstood. Players aren't really that intelligent. They didn't need all that. They just want to play football."
Kevin Keegan, who was made captain of the national side by Revie, was one of his manager's most high-profile supporters. The future England boss believed that the documents were particularly useful when it came to informing players about teams from lesser-known nations.
"I would say 75% of the England players bought into the dossiers idea, but the other quarter didn't. And unfortunately for Don, the press picked up on the 25% and ridiculed him as a result," Keegan wrote in the foreword to Richard Sutcliffe's authorised biography, Revie: Revered and Reviled.
Ahead of the times
Even some former Leeds players believe that the attention the media paid to Revie's research, particularly during his time as England boss, was unwarranted.
"To be honest I think the role the dossiers played in our success was exaggerated," says former midfielder Johnny Giles. "With every successful team people want to know the secret, so they look for superficial things like the dossiers, or what players had for their pre-match meal, or even the playing bingo before matches when we were away from home.
SEE ALSO
FEATURE Explaining Marcelo Bielsa: How the Argentine came to influence football's greatest managers (opens in new tab)
ANALYSIS Financial Fair Play vs fairy tales: the Football League's intractable fiscal conundrum (opens in new tab)
"But what made Don so successful at Leeds was years of good practice. Getting the best players in, and then providing the right environment for good players and good characters to flourish. It wasn't the dossiers, it wasn't the pre-match meals and it wasn't the bingo. They weren't the reason for Don's success at Leeds and they weren't the reason for his failure at England."
Revie's controversial departure from the England post to take on the financially lucrative role of managing the United Arab Emirates national side in 1977 led to vilification from the Football Association and media. But although his reputation was sullied, Revie's legacy lives on today in the forward-thinking coaches who use the same pre-match analytical tools as he was 50 years ago.
"My dad was way ahead of his time in areas like nutrition, exercise and pre-match planning," says Duncan Revie. "Today it's de rigueur, but what he was doing back then was incredible."
This feature originally appeared in the July 2013 issue of FourFourTwo. Subscribe (opens in new tab)!
Thank you for reading 5 articles this month* Join now for unlimited access
Enjoy your first month for just £1 / $1 / €1
*Read 5 free articles per month without a subscription
Join now for unlimited access
Try first month for just £1 / $1 / €1
Get FourFourTwo Newsletter
The best features, fun and footballing quizzes, straight to your inbox every week.