Why Liverpool can't win the Champions League until Jurgen Klopp fixes one continual problem
A magic recipe for winning the Champions League has materialised over the last four years. Sadly for Liverpool, it contains ingredients they do not have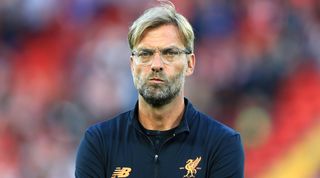 The Reds kick off their continental campaign this week against Sevilla, whom they met in the Europa League final of 2016. Liverpool raced into a 1-0 lead at half-time, then unravelled in a 3-1 defeat.
At first it looked a freak collapse, but it has since fitted into a worrying pattern of mysterious capitulations. This pattern is what undermines any hope of Liverpool lifting the trophy.
Targeting the title might feel overly optimistic anyway, but let's not forget that Liverpool lost none of their 10 league games against their top-six rivals last season. They tend to lose to small teams, not big ones. A tournament in which Barcelona replace Burnley should be ideal.
Yet nobody conquers Europe without being able to protect leads – a flaw that makes Liverpool look doomed. Most teams struggle when they concede the opening goal. For Liverpool, the problems often start when it's they who score first.
Klopp valley
The first symptoms appeared long before the Sevilla debacle. Earlier that season, Liverpool had drawn seven league games at home under Jurgen Klopp; in six of these, they scored first. They had twice led by two goals. On those two occasions, their victors were not fellow top-four challengers, but Sunderland and Newcastle.
Last season went no better. Liverpool lost 18 points from winning positions, more than all but four Premier League teams. By comparison, Tottenham lost five. Liverpool also threw away points against big sides, squandering 1-0 leads at Tottenham, Manchester City and Manchester United. This makes a huge difference: hand Liverpool the ability to protect leads and you are looking at a red-hot title contender.
What are they doing wrong? One factor is that their high-octane style precludes total control over a game. Nobody can run like mad for 90 minutes. Since Liverpool play more frenetically than, say, the Barcelona of Pep Guardiola – who could rest with the ball and thus dominate from start to finish – they are bound to suffer slumps.
This creates a more inconsistent performance pattern; a valley of highs and lows. That might explain why Liverpool have staged so many thrilling comebacks under Klopp, yet also lost so many leads.
Clearly anyone can see out a lead when they score late to seal a fightback. The challenge for Liverpool comes when asked to defend a lead for longer periods.
Cracks and creaks
Take their opening-day visit to Watford. They went 1-0 down, then 2-1, but struck back to lead 3-2. There were 30 minutes left. What to do next?
Liverpool often choose to counter-attack. Their whirlwind transitions can rip teams to shreds on a good day – see the 4-0 win over Arsenal – yet their number of lost leads also denotes flaws. This directs attention towards their defensive structure, which has not been solid enough to fend off opponents during slumps. Particularly late on in games, Liverpool struggle to clear fusillades of long balls and free-kicks.
The other English candidates handle these tests better, partly because they are more robust. As an example, Antonio Conte can play three centre-backs, wing-backs who are both over 6ft, and a goalkeeper who wouldn't have looked out of place in the NBA. Chelsea score, close ranks and win, because their defensive structure holds up over 90 minutes. Since switching to 3-4-3 almost a year ago, they have dropped just seven points from winning positions.
At Spurs, Mauricio Pochettino protects his strong backline with Victor Wanyama, Mousa Dembele and Eric Dier. At Manchester United, Jose Mourinho can name a line-up that averages over 6ft 2in.
As a team based on pace and dynamism, Liverpool have a different profile altogether. They have goalkeepers who flap at crosses, small full-backs and a fast but fragile midfield. When they come under pressure, their defence often starts to creak. Opponents have a fair chance until the end; just ask Watford, who made it 3-3 from a corner in stoppage time.
Three beasts
While this issue would undermine Liverpool in any competition, it looks particularly hard to overcome in the Champions League, where good defending is practically the only way to slay the beasts that are Barcelona, Real Madrid and Bayern Munich.
Any prospective finalist is bound to come up against one of these – the trio have shared the five last titles between them. The games they've lost have usually been against one of the other two giants; only five times over the last four years have another team eliminated them. Each time their victors have been either Juventus or Atletico Madrid.
This brings us back to the magic recipe. To reach the final you either need the dazzling talent of the three giants, or the grit to repel it. The teams who have taken on the trio at their own game – by playing open, attacking football – have lost.
What has served Juve and Atletico so well is a mix of power, guile and discipline that has helped them withstand long periods of intense pressure. This quality is a necessity when at the Camp Nou or the Allianz Arena (and we might even be adding the Parc des Princes to that list soon, given the newly acquired attacking might of PSG).
The Sevilla lesson
In other words, Liverpool will need to show something special to upset the odds. They should make it out of their group alongside Sevilla, but in bigger games they'll need ruthless efficiency to compensate for their creaking defensive structure.
Over the last four years, when Juventus and Atletico have knocked out a title favourite, they have never conceded more than twice over the two legs. Shipping three goals at Watford hardly bodes well for a prospective trip to the Bernabeu.
For that same reason, more pragmatic teams such as Chelsea and Manchester United stand a better chance than Liverpool of making a deep run.
Lost leads in Europe are not easily regained. Liverpool have already learned that the hard way – and might soon be about to do so again.
Quizzes, features and footballing fun
Get the best features, fun and footballing frolics straight to your inbox every week.
Thank you for signing up to Four Four Two. You will receive a verification email shortly.
There was a problem. Please refresh the page and try again.