Why Real Madrid's transfer ban is actually a good thing for them
By Kiyan Sobhani published
The inability to splash out on big signings for the next two windows could mean Madrid develop their own talent and build a more balanced squad, says Kiyan Sobhani...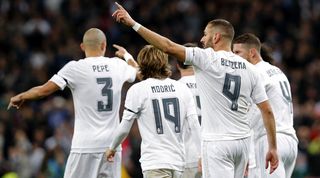 Based on recent history, Real Madrid completely fit the profile of a club that would get slapped hard with a transfer ban. They have no dull moments – that much is well-known.
This season los Blancos have already suffered an embarrassing fiasco in the Copa del Rey when they were eliminated by default in last 16 after fielding the ineligible Denis Cheryshev. They pointed fingers at everyone but themselves but ultimately had no one else to blame. About a month after the official Copa exit, Rafa Benitez was sacked. That decision wasn't so surprising, but Thursday's news that Real Madrid were to be slapped with a transfer ban was.
So said CEO Jose Angel Sanchez anyway, in a press conference. "We received the news from FIFA this morning. It was completely unexpected and we were really surprised," said the 86-year-old.
Real Madrid will fight this to the death, with everything they have – and with confidence. They are the love that loves to appeal, but that they're so sure of their innocence is somewhat odd given the severity in which FIFA hit them with the ban. Madrid might win the battle, but would it really be a terrible thing if they don't?
Chop and change
Year after year, Real Madrid prove themselves the antithesis of continuity. Signing big players every summer has its perks, but it can also delay silverware, tinker with cohesion and disrupt balance. Signing players isn't necessarily bad, but when it reaches a certain extremity it can do damage. If the transfer ban stands, Florentino Perez will still be able to satisfy his managerial sacking criteria, but that's about all the 68-year-old megalomaniac would be able to do.
RECOMMENDED When will Florentino Perez take responsibility for the mess he's left Real Madrid in?
But just imagine how intriguing it could be to see this Real Madrid core mesh together through two transfer windows; how good might they be if they had no distractions, no disruptions, and nothing to focus on but strengthening the system they currently have.
Being Real Madrid manager is tough business. They might seem spoiled with the pool of talent at their disposal, but it creates problems having a squad so deep and unbalanced, with the bulk of signings coming in the form of central and attacking midfielders.
A case in point: Real Madrid offloaded their deep-lying playmaker, anchor, and supreme organiser Xabi Alonso in 2014. Alonso was replaced with a maestro in Toni Kroos, but the German thrives when playing in front of a defensive midfielder or two, not as the focal midfield anchor himself. That's a tough scenario for any manager to accommodate. The house was crumbling, and Florentino decided to buy a pool.
Carlo Ancelotti had to reinvent Kroos, and it wasn't the first time he had to do so under Perez's wing. He transformed Angel Di Maria from an attacking midfielder to high-octane two-way central midfielder when the club sold Mesut Ozil (a No.10) and replaced him with Gareth Bale (a winger). The Kroos experiment wasn't nearly as successful.
Patience is a virtue
In hindsight, things may be ironing themselves out over time. Gareth Bale looks as sharp as ever, and Real Madrid have a more than adequate replacement for Ozil in James Rodriguez. But Kroos – who does a fantastic job distributing the ball from his defensive midfield role and has begun to adjust – still doesn't look entirely comfortable in his new position, particularly without the ball in a defensive scheme.
If Real Madrid fail to win a trophy this season, but are patient and organic in their approach as they watch the team develop, mature and improve over the course of the next year, it might teach them an important lesson – that it's perfectly fine to lose, and that there's no need to make panic acquisitions.
Growing pains are completely natural – that's a big lesson in itself. Plus, has there really ever been a more perfect time in Real Madrid's history to be given a transfer ban? The team is young, laced with talent and tremendously deep in most positions.
Gaps appearing
Of course, the situation isn't entirely ideal either. Real Madrid don't have proper replacements for Marcelo and Karim Benzema. To an extent they need to upgrade their defensive midfield position too, although this is rather trivial as Kroos will play there regardless and Casemiro is a fine understudy.
Fabio Coentrao returns from his loan spell at Monaco at the end of the season. It's a mystery as to why Madrid loaned the Portuguese left-back out in the first place, but they did, and will truly feel his absence if Marcelo is out for an extended period of time. If the transfer ban stands, Zinedine Zidane will welcome Coentrao back with open arms – under the rules of the ban, all players on loan may return at the end of their loan spells.
The striker situation is more complicated, and, to be blunt, completely problematic. Real Madrid struggle when Benzema doesn't play, and they haven't been able to find a solution to their over-reliance on him. They've tried pushing Cristiano Ronaldo up the pitch as the No.9, but he becomes uninvolved and struggles in that position – particularly when playing without a striker like Benzema who can hold up the ball and drop back deep to create.
Benzema's role within the team is quite difficult to replace as he's a huge component of Real's offensive flow – not to mention his continually improving trait of pressuring defenders without the ball, which is hugely conducive to BBC's success. This season to date, Benzema is averaging a goal per game in La Liga – the highest mark in his career.
The Morata mystery
In the current squad, Jese is the most natural replacement, but he's raw and inconsistent. His youth-team counterpart Alvaro Morata is a whole different story, though. Morata has proven himself as a legitimate world-class striker – one who can unquestionably slot in as the striker in the first team if needed.
The only way Morata could head back to the Bernabeu under the transfer ban rules is if he is signed during this window. And even in this unlikely scenario, would he accept it? The Spaniard left Madrid in search of a starting role – one he couldn't (and won't) attain so long as Benzema is at the helm. But the 23-year-old's form has been disappointing this season and he's currently fighting for a place in the Juventus starting XI with Mario Mandzukic and Paulo Dybala.
The road that Real Madrid will go down in the near future is unclear, but intriguing – there will be ample interest to see how this current crop of players will develop and mesh together in the next couple years. There seems to be a certain wisdom in letting the club go through some turbulence while sticking with this core. The pay-off after next season may be worth it, and the transfer ban could turn into a blessing if Real Madrid play their cards right.
RECOMMENDED
Thank you for reading 5 articles this month* Join now for unlimited access
Enjoy your first month for just £1 / $1 / €1
*Read 5 free articles per month without a subscription
Join now for unlimited access
Try first month for just £1 / $1 / €1