Why selfless superstar Pedro is a dream player for Jose Mourinho and Chelsea
Lee Roden tells Blues fans what to expect from their new attacker after pipping Manchester United to the Barça attacker's signature...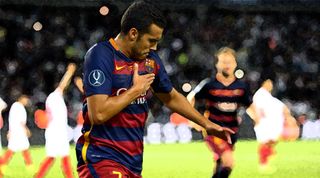 FACT FILE
Date of birth: July 28, 1987
Place of birth: Santa Cruz de Tenerife, Spain
Height: 5ft 5in
Club apps: Barcelona (321 apps, 99 goals)
International: Spain (51 apps, 16 goals)
Honours: La Liga (5), Copa del Rey (3), Champions League (3)
Players of Pedro Rodriguez's class do not become available very often.
While his shunning of the spotlight and lack of extroverted tendencies make it easy to forget, the Tenerife native is, after all, a World Cup and multiple Champions League-winning forward. A man who ousted Thierry Henry from the Barcelona team, and who outlasted David Villa, Zlatan Ibrahimovic and Alexis Sanchez. The first player ever to score in six competitions in one year.
He is a superstar striker without any of the baggage that comes with other players of his ilk. Someone who has won everything, yet is still hungry enough to look for a more regular challenge elsewhere instead of collecting an excellent pay cheque under less pressure at a club where he will always be endeared. Tactically, there isn't a more disciplined footballer playing today. Simply, he's an absolute luxury for any coach, and in particular, a coach like Jose Mourinho.
Manager's man
Two Champions League finals sum up Pedro's unique brilliance well. The first, on the Wembley turf against back in 2011, saw him play a vital role to the success of Pep Guardiola's side, yet also one that most players would have seen as a thankless task. It is easy to place too much focus on his opening goal from that game, but just as important in understanding Pedro's class was his role in the rest of the final.
Tasked with stretching play and staying out wide in order to buy space for Andres Iniesta to exert an influence, he only attempted two shots in that final, and made fewer touches than the goalkeepers. Lesser competitors would have gotten bored and gone looking for interplay with team-mates, but not Pedro, who stuck to his task diligently, making endless runs off the ball and constantly pushing opponents back.
Proof that this unusual selflessness at the highest level is still intact came in the more recent Champions League final against Juventus. Coming on in the dying minutes of added time, when the ball broke to the forward on the edge of the Juve area, he had a yard of shooting space and every right to take it.
Undoubtedly aware that his time at Barca was coming to an end, the goal would have been the perfect way to sign off for someone with a bigger ego, not to mention a great way of increasing his profile in the summer market. Not Pedro, who instead chose to tee up Neymar and allow the Brazilian to take the glory.
Pep Guardiola's mentor Juanma Lillo calls him "the facilitator", former Barça academy coach Laureano Ruiz instead goes with "the (electric) fan". Neither nickname really rolls off the tongue in English, but both terms sum up what Pedro gives a team: oxygen, an easier life, regularity.
Looking back on Luis Enrique's comments over the course of a difficult year on an individual level for the player paints the picture well. "He always delivers, he's an example to his team-mates and he trains with perfection. He's unquestionably professional, a top player, and plays far less than he deserves."
The Barça coach isn't the type to hand out praise needlessly, so the affection in his words carries genuine weight. It is hard to imagine another footballer who has won upwards of 20 trophies playing a supporting role with such minimal fuss. These kind of players are one in a million, and it is really no surprise that a coach who places as much emphasis on collective effort as Mourinho is keen.
Good habits
The Chelsea boss will see the ultimate team player in his new signing, but as someone who has been on the receiving end of his scoring ability while both Real Madrid and Inter manager, he will see much more too. Faultless as a piece in the team puzzle, Pedro is also a very good individual in his own right – forwards simply don't last six full seasons in the Barcelona first team unless they are.
Truly two-footed, he is not only happy shooting from either boot, but also dribbling. Opponents struggle to guess which side he will take his first touch on, and by extension which direction his run will lead, adding a useful unpredictability to his attacking game.
When he is given the confidence of regular minutes he will happily finish first time on either foot, and can shoot from both inside and outside the area. With little to no variation between his level on the left or the right flank, Chelsea are effectively signing two footballers rolled into one: a top-class left winger and a top-class right winger. Possibly even a wing-back or central forward, if need be.
This Stats Zone image shows how Pedro is adept on either flank, played on both the left and the right to good effect as he was in these two victories last season.
Pedro is still in possession of the same hunger to reach a loose ball that is more typical of a teenager making his debut than a world champion, and his habit of scoring important, late goals is directly linked to that desire, a trait that has endeared him with Barça fans from day one.
His time at the Camp Nou is bookended by big goals. Consider the La Masia product's breakthrough season in 2009: when many players looked like they were treading water in the 114th minute of Barcelona's UEFA Super Cup clash against Shakhtar Donetsk, it was Pedro who had the drive to tuck away the decisive goal, slotting the ball into the net despite his legs giving way halfway through the shot (as showing below).
In the Club World Cup final a few months later, Estudiantes stopper Damián Albil seemed determined to thwart the Spaniard's night, with chance after chance denied by the keeper.
ALSO ON FFT.COM
Instead of letting his head drop, the Barça man continued to probe, and the reward came in the 89th minute when he was the smartest and sharpest in the area. Faster off his toes than Albil, he sent a looping header into the net for a vital equaliser that allowed the Blaugrana to make history by sealing their sixth trophy of the year.
Lionel Messi took the glory with his chested winner, but Pedro made it possible in the first place. Appropriately, it was also Pedro who was first to react last week, when Messi's free-kick broke in the Sevilla area in the 115th minute of the UEFA Super Cup. Another goal in extra-time in a final from the man who persists when others give up; a fitting way to draw time on his Barca career, and a perfect glimpse of what Chelsea can expect.
Thank you for reading 5 articles this month* Join now for unlimited access
Enjoy your first month for just £1 / $1 / €1
*Read 5 free articles per month without a subscription
Join now for unlimited access
Try first month for just £1 / $1 / €1