Why West Ham fans sing 'I'm Forever Blowing Bubbles'
By Paul Brown
It's a Tin Pan Alley waltz from a Broadway revue, so why has "I'm Forever Blowing Bubbles" become so associated with West Ham? Paul Brown investigates...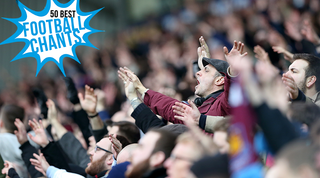 The catchily optimistic ditty I'm Forever Blowing Bubbles was a Tin Pan Alley song that debuted in Broadway revue The Passing Show of 1918, before becoming popular in Britain's music halls in the 1920s. Crowd-pleasing music hall numbers, such as Pack Up Your Troubles and It's a Long Way to Tipperary, were the pop songs of their day, and were lustily sung wherever crowds gathered, including at football matches.
The rather dubious official version of how West Ham fans came to adopt Bubbles as their anthem revolves around 1920s schoolboy footballer Will Murray, nicknamed 'Bubbles' due to his resemblance to a character in a well-known painting used to advertise Pears' Soap. During a schools match at West Ham's Boleyn Ground, Murray's headmaster serenaded his pupil with I'm Forever Blowing Bubbles, and other spectators joined in. Those spectators, so the story goes, went on to sing Bubbles at West Ham matches.
SING Which is your favourite football chant? Bubbles? We're counting down the best this week #FFTBestChants#WHUFCpic.twitter.com/D7QWtm6LRh
— FourFourTwo (@FourFourTwo) March 20, 2016
50 Best Football Chants
It's entirely possible that West Ham fans did sing Bubbles in the 1920s, although there's no record of them doing so. If they did, it seems unlikely to have had anything to do with a schoolboy and a soap ad. There is a record of Bubbles being sung by Swansea fans ahead of an FA Cup win over Bury in January 1921; West Ham lost to Swansea in the cup in the following January, in an epic tie that went to two replays, so it's possible the song could have been picked up then.
But the first recorded instance of West Ham fans singing Bubbles didn't occur until 1940, at the Football League War Cup Final at Wembley, where the Irons beat Blackburn 1-0. The song was also sung in air raid shelters and underground stations during the Blitz, and its popularity during the war helped cement its lasting appeal among West Ham fans.
Check out where Bubbles finished in our 50 best football chants here
Quizzes, features and footballing fun
Get the best features, fun and footballing frolics straight to your inbox every week.
Thank you for signing up to Four Four Two. You will receive a verification email shortly.
There was a problem. Please refresh the page and try again.