Wiki Geeks: Meet the men keeping football's Wikipedia pages up to date
If your club is linked with a non-league striker dubbed 'the new Vardy', the online encyclopedia is likely to be your first port of call. But who the heck is updating that goal tally? And, more importantly, why?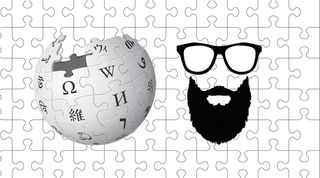 Tom Parry-Jones, TV production co-ordinator/researcher
Supports: Manchester United
My first edit was on the Manchester United article, to correct Adam Eckersley's position from just 'defender' to 'left-back'! I am a United fan through and through, so when I found there was a way I could make the club's Wikipedia page a little better through my own knowledge, I jumped at the chance.
I think I do OK at maintaining impartiality when it comes to my editing. Obviously my focus is primarily Man United, but I think the key is remembering to stick to the facts.
A few years ago, I banded together with a few fellow United fans, and over the course of what was actually only a couple of weeks, we managed to create articles for every single known player who's ever played a professional game for the club, as well as an article for every season in the club's history, starting with our first entry in the Lancashire Cup in 1883!
THINGS WIKIPEDIA TAUGHT US
That Port Vale goalkeeper Sam Johnson saved three penalties and then scored the winning penalty on his debut in professional football
The amount of time I spend editing has dropped over the last few years, but back when I was in uni, it was practically my life. I have stacks upon stacks of football books at home to use as sources to back up my edits.
One of the articles I'm most proud of is the one for Old Trafford, which appeared on Wikipedia's front page on the stadium's 100th anniversary. Maybe there's a little bit of self-satisfaction involved in my reason for editing, but it's primarily about keeping an accurate archive of football history.
Sometimes the 'anyone can edit' policy can open the door to vandals and trolls who have nothing better to do than to put ridiculous 'facts' on articles about well-known players. Sometimes you'll see some stuff updated on Wikipedia before the major news outlets have even had a chance to investigate the story. Some people are so desperate to report a new signing for their club that they'll update the articles on the player and the two clubs before a contract has even been discussed.
I'd like to think that fans appreciate the work that goes into maintaining Wikipedia's football pages. The amount of traffic we get on articles about the big clubs and players is certainly a testament to the value people place on the work we do, especially during big tournaments like the Euros. For example, after the group stage finished we had more than a million views on the Euro 2016 article in one single day, which I put down to people wanting to know what all of the last 16 match-ups would be, because of the convoluted nature of the tournament this year.
I work for a TV production company, and our producers and researchers use Wikipedia's articles as a resource. I think that we provide a valuable service to football fans everywhere.
Next: "The weirdest thing was that several media organisations, including Fox Sports, ran quite detailed stories about this football player who didn't exist"
James Wilson, Project manager
Supports: AFC Sudbury
I think my first edit was made back in 2005, adding some information to the article for Southport FC. Later the same day I created an article for Nelson FC, and it's just gone on from there. At the moment I probably spend around half an hour to an hour every day editing football articles.
When I first started editing, my main motivation was to fill the gaps in Wikipedia's coverage of non-league football, as there wasn't really anywhere on the web that brought together all the information about non-league clubs in one place. Now it's more about trying to improve existing articles.
There's a huge variation in quality. Some articles on clubs say little more than which town they're from and which league they play in, while others are huge walls of text, obviously written by keen supporters, that go into every minor detail of some glorious Midweek Floodlit Cup victory from 2011.
I've collaborated on football articles with editors from all over the world, including Austria, Tanzania and even the Faroe Islands. Any information added to Wikipedia must be verifiable, which means someone must be able to confirm that information from another source, and that source has to be reliable.
A reliable source is one that has some form of editorial oversight, so FourFourTwo or BBC Sport would be considered a reliable source, while someone's blog generally wouldn't be.
THINGS WIKIPEDIA TAUGHT US
That Liverpool, striker Paul Walsh received months of treatment from an ultrasound machine that had been broken the entire time
Vandalism is one of Wikipedia's biggest problems, and I think it's more of a problem for low-profile clubs and players. Articles on big clubs and their well-known players will be watched by dozens of editors, so any vandalism will be spotted quickly. But articles on non-league clubs or obscure players might have no one watching them, and vandalism can go unnoticed for years in some cases.
One of the strangest things that I've come across on Wikipedia was the case of Azeem Azam. I stumbled across his article in 2013 when I was checking out the edits of a guy who'd been identified as being paid to write articles for third parties, and it just didn't add up.
The article claimed Azam was an English footballer who'd played for Monaco and Real Betis, but when I checked out the sources, that wasn't true. I decided to investigate further and contacted Nottingham Forest, as he had supposedly played for their academy team, but I was told they had no recollection of this guy ever being there. The Wikipedia article ended up being deleted after it was concluded that it was a hoax. The weirdest thing was that several media organisations, including Fox Sports, ran quite detailed stories about this football player who didn't exist.
Next: "There is one particular footballer I can think of who likes to trumpet his own rather modest achievements"
Craig Harris, Clothing company owner
Supports: Port Vale
I spend on average one or two hours per day editing Wikipedia, although it can vary from a couple of minutes at a time to a whole weekend, depending on what needs doing. I mostly edit Port Vale articles. Vale have never exactly had a team of superstars, so the quality and length of articles on players was minimal to non-existent before I came along.
My first edit was on the article of former Port Vale midfielder Danny Sonner. He was a favourite of mine – I still have a Vale shirt with his name on somewhere. And I recently had a message from a friend of the late John Green, who played for Vale in the 1960s. The friend said John had been touched that someone who didn't know him had taken the trouble to put his career stats on Wikipedia. That was nice to hear.
Of all the football articles I've worked on, the ones for Paul Gascoigne and Stanley Matthews were the most challenging, as how do you summarise men like that?
THINGS WIKIPEDIA TAUGHT US
That, when growing up in Ireland, future Stoke forward Terry Conroy was arrested by a plain-clothed policeman for playing football in the street
I'm a member of the Football WikiProject community, which essentially aims to improve the standard of the 280,000 (and counting) football-related articles on Wikipedia. It's somewhere editors can ask for help or advice, but most importantly it's there to establish 'conventions' or rules. It's important for any website to be consistent, and readers should find that articles for different footballers are all written in the same kind of way and all presented in the same kind of format.
Wikipedia has a notability requirement that all subjects must meet before they can have an article. For footballers, the convention the WikiProject came up with is simple. If a player has played a first-team game in a fully professional competition, then they are considered 'notable'. However, that doesn't stop non-notable players from trying to add themselves to the database.
For example, the Scottish Highland League goalkeeper Fraser Hobday made the papers on a slow news day for his dedication to updating his own article, which was so detailed that it was longer than Neymar's!
According to Wikipedia guidelines, you shouldn't edit an article about yourself, but I've seen some suspicious edits where phantom goals are added to the stats tally or criminal convictions disappear. There is one particular footballer I can think of who likes to trumpet his own rather modest achievements, but I'd better not mention his name here!
For any footballers reading this: if you want to improve your article, the best thing you can do is submit a few photographs, as they can be difficult for editors to get hold of.
Next: "One of my favourite complaints came from a guy who'd created an article on his own team that played five-a-side down the local leisure centre"
Chris Matterface, Business intelligence manager
Supports: Gillingham
I don't mean this in an 'I am so hip, I was there before it was famous' way, but I first stumbled upon Wikipedia before it was particularly widely known. I think I was just Googling something and it came up in the results. I hadn't heard of it before. I didn't immediately start editing football articles.
I thought there were probably already plenty of football experts on the site so one more wasn't needed. But I started to do a few bits and bobs here and there and pretty soon I was editing almost exclusively on football.
I've been an editor for more than 10 years, and an admin – with the ability to block malicious users and delete unsuitable articles – for eight. In total, I have now made more than 60,000 edits. My first football-related edit was a very minor format fix on the article for my own team, Gillingham.
The amount of football content now on Wikipedia is pretty staggering. In fact, those of us who edit the football topics have had disputes in the past with other editors who think there is too much football content and it should be cut back. As it stands, we must be getting close to having an article on every player who has ever played in the Premier League or English Football League.
There are also articles, of varying size, on every club to have ever competed in the FA Cup. It would be nice to have that level of coverage for every country, but that isn't the case yet, simply because people tend to edit what they know and we have more editors who know more about English football. But I hope that one day we'll get there.
THINGS WIKIPEDIA TAUGHT US
That Ralph Milne worked as a casual labourer in the same season that he played for Dundee United in the semi-final of the European Cup
Football invokes some strong passions in people, and in the modern age, one way that manifests itself is in people thinking it is funny to put fake or downright offensive content on articles about teams or players they don't like. I guess it's the hi-tech equivalent of scrawling graffiti on walls. Luckily, vandalism generally gets spotted by the editors and fixed pretty quickly.
One of my favourite complaints came from a guy who had created an article on his own team that played five-a-side down the local leisure centre, and the article got nominated for deletion. During the discussion, he was told that one of the main reasons the article was up for deletion was that there were no reliable sources to prove that the team ever existed. He replied that in that case, we had to immediately delete the article on God, because it couldn't be proved that God exists. It made me chuckle, but needless to say, the article on his five-a-side team got deleted and the one on God didn't.
This feature originally appeared in the September 2016 issue of FourFourTwo. Subscribe!
Thank you for reading 5 articles this month* Join now for unlimited access
Enjoy your first month for just £1 / $1 / €1
*Read 5 free articles per month without a subscription
Join now for unlimited access
Try first month for just £1 / $1 / €1
Get FourFourTwo Newsletter
The best features, fun and footballing quizzes, straight to your inbox every week.