Willian: Chelsea's shining light in a season of darkness
By Edward Stratmann published
The Brazilian midfielder has shown some great form for the Blues, despite the current malaise...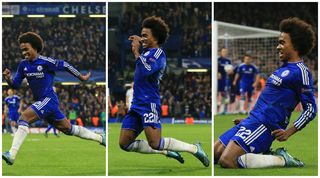 In what's been an absolutely horrific start to the 2015/16 season from the defending champions, there's been little to cheer about for Chelsea's supporters. Positives have indeed been hard to find. One man, however, deserves special praise for the way he's knuckled down and gone about his work with unyielding desire and determination. That man, of course, is Willian.
The Brazilian has been nothing short of brilliant this campaign. Despite Jose Mourinho's side's disastrous set of results, Willian's fighting spirit and leadership has been a real upside for the Blues.
Freedom to roam
Predominantly deployed on the right, Willian's versatility and flexibility has meant it hasn't been uncommon to see him pop up on the left or even play as a No.10, like he did against Bournemouth. His ability to adapt to different roles within matches has seen him able to interchange seamlessly with his team-mates across the Chelsea frontline and inflict plenty of headaches for defenders all over.
Willian's many successful take-ons against the Cherries last weekend
Willian is an absolute nightmare for defenders to come up against, for he never stands still, thus ensuring his adversaries never get a chance to settle into a rhythm when marking him. No matter how hard his opposition have tried to devise plans to stop him, once out on the pitch, he's such an elusive proposition.
Many have tried to nullify him, but his multifaceted skill set, outstanding stamina and his aforementioned flexibility have seen him dismantle the many challenges that he's been confronted with.
To further elaborate on his movement, although his tireless work-rate is a key factor in his ability to find space in the attacking third, where his persistent vertical and lateral buzzing always sees him search to supply his colleagues with an outlet, the subtlety attached to his work here is equally important.
Array of talents
Willian's quick processing and unpacking of moves before they unfold allow him to anticipate where best to position himself in relation to his team-mates and the opposition.
This is well documented when he drifts infield to take up positions in between the opposing team's defensive and midfield lines to exploit the tiny openings which can be so fruitful in unlocking defences.
Upon receiving possession in such areas, he can then use his underrated passing game, which consists of a delightful range of flicks and one touch lay-offs, to set up players with his precise, intricate deliveries.
The Brazilian's dribbling, scoring and creativity were in full effect against Maccabi Tel Aviv last month
Moreover, occupying such dangerous zones allows him to coalesce with the likes of Eden Hazard, Oscar, Diego Costa and Cesc Fabregas within close proximity, something that greatly assists his side in their quest to carve out meaningful goalscoring opportunities.
Furthermore, whenever Chelsea have a goal-kick, a regular tactic of theirs is to hit up the towering Branislav Ivanovic and hope that he can propel the ball forward with flick-ons. Willian's reading of the play in such instances is a joy to watch. However simple this may look, his little darts to get away from his marker and manoeuvre himself into the perfect location to inherit possession is testament to his vast intellect.
Blessed with physical and technical gifts, whenever defenders have attempted to impose themselves upon him, his strength and low centre of gravity has meant he's extremely challenging to outmuscle.
Moreover, his frighteningly sharp ball control, trickery and wicked changes of pace and direction allow him to wriggle free from the vast majority of troublesome situations he's confronted with.
It's fascinating to watch him with his man on his hammer, as one moment his marker thinks they've got him covered, and then in an instant he's masterfully jinked away.
Set-piece threat
One aspect of his armoury that simply can't go without being mentioned is his free-kick taking ability. Willian's pinpoint accuracy from dead-ball situations has kept his side alive in many games this term. He's already netted six times from direct free-kicks, with four coming in the Champions League.
Those four strikes in Europe have seen him equal the great Juninho Pernambucano's record, who also scored four in the 2005/06 campaign during his stint with Lyon.
Juninho was overjoyed at Willian's achievement, saying: "It's good it's a Brazilian, and from this new generation of good players. It's gratifying for me because when I scored these four goals, no one said anything. I'm being remembered by what Willian has achieved; he has everything to beat the record."
Juninho then proceeded to explain that he believes Willian is just behind Neymar in quality. Quite lavish praise indeed considering what a special player the Barcelona superstar is.
Gary Cahill, speaking recently, was also quick to acknowledge how outstanding Willian's been to date. "From the start of the season he has been fantastic. He's taken it up to another level," he said.
"When he gets a free-kick anywhere around that 18-yard box you get the feeling there is going to be a goal now. We see him in training practising them and it's not luck, he works hard on them." While he's justifiably drawn the plaudits for his free-kick taking, the former Anzhi and Shakhtar star's about so much more.
Hard work
On top of all his attacking talents and defensive guile, he always put in an exemplary shift. He'll track back to help his full-back, press with purpose and intensity and is never afraid to fly into a tackle. His all-round contribution has been immense this season. No one could blame the 27-year-old for the current predicament Mourinho's men find themselves in; he's given his all every time he's stepped on the pitch.
Willian's attacking and defensive effect - showing his successful tackles and attacking play against Aston Villa
After his unheralded role in Chelsea's title triumph, it's marvellous to see him finally receiving some richly deserved credit. It's little wonder why Willian's ensured he's the first name on Mourinho's team-sheet, for he parlays power, finesse, creativity and an unyielding appetite for hard work unbelievably well.
Willian certainly hasn't been a passenger this season, he's set a sterling example of how best to go about getting his team out of their uninspiring rut. Now it's time his team-mates all followed his lead.
Thank you for reading 5 articles this month* Join now for unlimited access
Enjoy your first month for just £1 / $1 / €1
*Read 5 free articles per month without a subscription
Join now for unlimited access
Try first month for just £1 / $1 / €1
Quizzes, features and footballing fun
Get the best features, fun and footballing frolics straight to your inbox every week.
Thank you for signing up to Four Four Two. You will receive a verification email shortly.
There was a problem. Please refresh the page and try again.