Women's World Cup Final Preview: USA vs Japan
Women's World Cup Final | Vancouver | Mon 6 July | 12am (BST)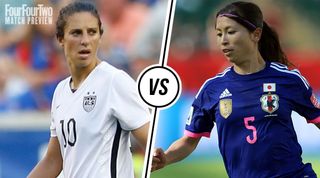 Billed as
2011 Women's World Cup Final: The sequel (USA's revenge).
USA RESULTS
USA 3-1 Australia (Group)
USA 0-0 Sweden (Group)
Nigeria 0-1 USA (Group)
USA 2-0 Colombia (L16)
China 0-1 USA (QF)
USA 2-0 Germany (SF)
JAPAN RESULTS
Japan 3-1 Switzerland (Group)
Japan 2-1 Cameroon (Group)
Ecuador 0-1 Japan (Group)
Japan 2-1 Netherlands (L16)
Australia 0-1 Japan (QF)
Japan 2-1 England (SF)
The lowdown
Four years ago in Frankfurt, Japan, who had never been past a World Cup quarter-final, shocked the world when beating two-time winners USA on penalties in the 2011 final.
When Saki Kumagai stroked home the deciding spot-kick, a nation that was still suffering from the Tohoku earthquake and tsunami four months earlier rejoiced, while a stunned USA returned home under a cloud of overconfidence.
This time around there is no 'them and us' feel to the final. Japan have won every game, while the USA haven't conceded a goal since the opening fixture and beat world number one Germany in their semi-final. Four years ago, in the hours before kick-off, TheNew York Times wrote "destiny has taken hold for the Americans, and it would be hard for them to lose now". There should be no such brashness this time.
The two sides' style of play tends to mirror their attitude as a nation: the USA with their up and at 'em, let's go, sling it forward thrust, compared to the quieter, patient and precise passing game of the Japanese (one move in the semi-final against England totalled 23 passes). Both squads are full of players from the 2011 final, too. Japan used 14 players in the showpiece four years ago and only one (Karina Maruyama) is not present in Canada. The US have 10 of the 13 they used to call upon in Vancouver.
Credit, though, must be given to the USA who have had to reach the final the hard way. Japan will be the third nation they have faced from the top five of the FIFA world rankings, and their 'Group of Death' containing Australia, Nigeria and Sweden was navigated with minimal fuss. Goalkeeper Hope Solo, one of the most outspoken players in the women's game, has let her football do the talking and is in line to reclaim her best goalkeeper award from 2011.
Japan's grip on the trophy has been fragile at times, none more so than in the semi-final against England where the most freakish of freakish own goals from Laura Bassett secured victory (sorry, no more mentions) and they have won all six of their matches by just a single goal. In head coach Norio Sasaki they have a man always brimming with confidence, commenting after the win against England that Bassett's misfortune (OK, last mention) made no difference as Yuki Ogimi, loitering behind the defender, would have scored anyway.
Sakai may have faith in his team but he'll not want to look at the head-to-head against the USA. In 31 meetings, Nadeshiko have won just once (2011 final counting as a draw) and have only kept two clean sheets. But while the personnel may be the same, the attitude seems different.
Japan came of age in Frankfurt, they fear nobody and are a game away from retaining their title. The USA have never feared anyone and although the bravado may be toned down, they have a score to settle having been so sure of victory in Germany. It makes for an intriguing final and if it's anything like the roller-coaster of four years ago, where Japan twice came from behind, we're in for quite a ride.
Key battle: Carli Lloyd vs Aya Miyama
With over 350 caps between them, the two captains have played pivotal roles in Canada and are set to meet again. Lloyd is the USA's Lampard. A popper-upper, a scorer of big goals (has done so in all three knockout matches) and the driving force in midfield. Voted as the sixth best player in the world in 2012, Lloyd has a personal agenda at play after missing her penalty in the shootout defeat four years ago and, having already scored twice from the spot in Canada, won't shirk the opportunity if called upon again. If Abby Wambach does not start, Lloyd will wear the armband and there's no greater captain in the women's game.
Pushing Lloyd close for that 'greatest captain' accolade is Japan's Aya Miyama. Similar to her American counterpart, Miyama has inherited the armband from legendary midfielder Homare Sawa and, just like Sawa in her pomp, glides around the midfield with minimal fuss, pulling strings and picking passes. Deadly from set-pieces, Miyama has scored six World Cup goals, of which three have been free-kicks and two penalties, and her precision could be crucial in what is likely to be a tight final.
LAST FIVE MEETINGS
USA 2-1 Japan (Olympics, 2012)
Japan p1-1 USA (World Cup, 2011)
Japan 2-4 USA (Olympics, 2008)
USA 1-0 Japan (Olympics 2008)
USA 2-1 Japan (Olympics, 2004)
The managers
England does have a representative in a World Cup final, and no, it's not the referee. Born in Folkestone but departing across the pond in 1981, USA boss Jillian Ellis is a quiet, unassuming leader (that's the Brit in her). Asked about how to win the World Cup, she replied: "you find a way". Bringing some calmness to proceedings may be just what is required for the USA to win their third title.
Japan's head coach Sasaki was in charge when they lifted the trophy in 2011 and has gone about his business in the same way in 2015. He likes to talk about himself in the third person, too.
"I don't think the players are overconfident, but it seems like the coach is very confident," he quipped to the press prior to the semi-final, and he won't fear the opposition in the final either.
ALSO ON FFT.COM
Facts and figures
This is the first time that the same two nations have competed in successive World Cup finals (male or female).
USA have not conceded for 513 minutes, the second longest run in World Cup history behind Germany's 679.
Japan have won all six of their games and all by a single goal.
FourFourTwo prediction
Japan to play pleasing on the eye football and win friends, but not the World Cup. 2-1 USA.
More on the 2015 Women's World Cup on FFT.com
Continental continues to support the growth of women's football in England. From grassroots sponsorship and community programmes, to the FA WSL, women's FA Cup and England Women's team, Continental is committed to providing a pathway for the next Duggan, Aluko or Carney.
Quizzes, features and footballing fun
Get the best features, fun and footballing frolics straight to your inbox every week.
Thank you for signing up to Four Four Two. You will receive a verification email shortly.
There was a problem. Please refresh the page and try again.