Adidas unveil remake of Zinedine Zidane's iconic gold 2006 World Cup Predators
Zinedine Zidane's Adidas Predators from 2006 are back and they're oh so beautiful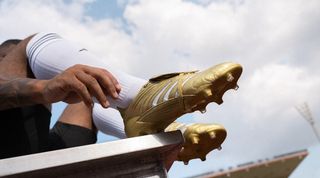 (Image credit: Adidas)
Adidas have brought back Zinedine Zidane's 2006 World Cup Predators: this is not a drill.
Forever the lasting image of the 2006 World Cup (opens in new tab) is Zizou trudging past the trophy down the tunnel, having just been sent off for a shocking headbutt on Marco Materazzi in the final against Italy.
However, another enduring image of that tournament is Zidane gliding effortlessly around the pitch in a pair of gold Adidas Predator Absolutes, an absolute classic pair of boots (pardon the pun) on the feet of one of the game's most genius players. The Frenchman tore Brazil apart while wearing them, and even had the audacity to Panenka a penalty in the World Cup final with gold on either foot.
Named 'The Comeback pack', the boots are intended to highlight how Zidane returned to the national team for the 2006 World Cup, coming out of retirement for one last show.
As Adidas describes: "An icon returns to lead his team to the final of football's greatest competition.
"Celebrating one of the game's most memorable comebacks, these limited-edition adidas boots reintroduce the golden Predator Absolutes France's legendary captain wore during that famous campaign."
Adidas never made the golden boots available for sale, though, making this the first time fans will have the opportunity to be able to lace up in such an iconic football boot. They will set collectors back £250 (opens in new tab) for anyone lucky enough to get their hands on a pair, though, and they are in limited quantities due to being a limited-edition release.
The special edition model features the same combine upper of the original 2006 version with the sole plate of the current Adidas Predator 20 model, offering a hybrid design of classic and modern technology. Of course, the classic fold-over tongue is the main highlight of the boot - quite simply, they're mesmeric.
The Predator Absolute is the second of four special edition boots rolling out across October and November that celebrate famous adidas boot designs of past World Cup tournaments. Last month, Adidas revealed the Predator Edge 94+, a special edition Predator Edge+ designed to reflect the original 1994 Predator.
Thank you for reading 5 articles this month* Join now for unlimited access
Enjoy your first month for just £1 / $1 / €1
*Read 5 free articles per month without a subscription
Join now for unlimited access
Try first month for just £1 / $1 / €1