'Arsenal won't dominate their Champions League group': Former Gunners captain heeds warning ahead of opening game
Arsenal have been drawn against Sevilla, PSV and Lens, but one former skipper doesn't think they'll finish first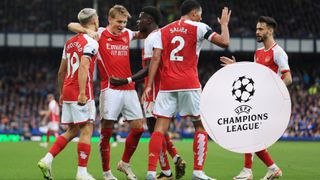 (Image credit: Getty Images)
Arsenal return to the Champions League for the 2023/24 season after more than six years away, and are favourites to finish top of Group B to qualify for the knockout stages.
Former Arsenal captain William Gallas, though, doesn't believe the Gunners are guaranteed to comfortably qualify from their group, which also contains Sevilla, PSV and Lens.
Picking out Spanish side Sevilla, who reached the Champions League after winning the Europa League once again last season, as Arsenal's main threat in the group, Gallas thinks the lack of experience Mikel Arteta and his players have on the elite European stage could impact their performances in the competition.
"I wouldn't be so confident that Arsenal will dominate their Champions League group," Gallas told Genting Casino. "Sevilla is a very strong team. After watching the Europa League final, I saw a team that is very comfortable on the European stage.
"I think they will finish in the top two of the group. It's very difficult to play against Sevilla – they play good, intense football. Technically, they are really good. Don't forget, Sevilla also has a lot more experience than Arsenal at this level.
"I'm confident that Arsenal will qualify from the group, that is for sure, but they will finish behind Sevilla."
With a large amount of the Arsenal squad set to make their Champions League debuts against PSV on Wednesday night, Gallas highlights the pride each player will be feeling ahead of kick-off.
"The players who haven't played in the Champions League will realise that all of the sacrifices they made as young people to become professional football players was worth it," Gallas said.
"Playing in the Champions League is a dream for any professional, football player. They will be a lot of thoughts running through the players' minds while the Champions League anthem is playing. They will be very proud of themselves because, you have to make huge sacrifices to make it in football.
"It's not easy making your breakthrough. They need to enjoy the moment because they deserve it."
More Arsenal stories
Mikel Arteta has revealed the strange marriage metaphor he's used to motivate Kai Havertz. The Basque boss used another bizarre analogy recently to explain his tactics against Manchester City.
The Arsenal manager has had to defend Havertz already this season, notably after the 2-2 draw against Fulham.
Meanwhile, Brentford striker Ivan Toney has revealed he would be interested in a move to Arsenal in future.
Thank you for reading 5 articles this month* Join now for unlimited access
Enjoy your first month for just £1 / $1 / €1
*Read 5 free articles per month without a subscription
Join now for unlimited access
Try first month for just £1 / $1 / €1