Jaap Stam reveals the truth about his Manchester United exit – and how David Beckham tried to stop it
The Dutchman lifts the lid on his infamous exit from Old Trafford in an extensive interview within our new issue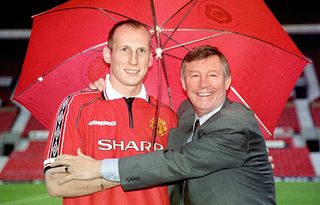 (Image credit: PA)
Jaap Stam has admitted to FourFourTwo that his 2001 transfer from Manchester United to Lazio was as much of a shock to him as everyone else.
Stam has answered a broad range of readers' questions in the July 2020 issue of FFT – a Brazil special out in shops now and available to order online with free delivery – and speaks at length about how his departure really went down almost 20 years ago. 
SUMMER SALE Just £9.99 for the first six months with a FourFourTwo subscription
The trouble began after a series of prickly extracts were published from his autobiography in The Mirror, sparking a chain reaction of events which led to Alex Ferguson informing him at a petrol station that he had been sold.   
"When a paper buys the rights to publish extracts from a book, they can make up their own headlines – and that was what troubled me," Stam told FFT. "I asked them [The Mirror] to let me know in advance, but they didn't do that. 
"It kept me awake at night, as I was wondering what would be in the paper the following day. Initially, Ferguson had told me not to worry about it, but on Wednesday – the morning of the match – I was informed that I should report for talks with him the next day, because he wasn't happy about some of it. 
"After the game, I went home and reported the next morning at 8am, because I was keen to resolve the matter. I said, 'You know what's in the book – nothing bad'. But he maintained that he wasn't happy. A week later, I was left out for a game against Blackburn. On the day, he called me to say I wasn't in his squad because of the book hassle. He felt it might calm down if I wasn't playing. We had a few conversations, although none of them were really satisfactory. 
"A bit later that week, I was driving home from training when my agent phoned, telling me I'd been sold. I was like, 'What?!' He said, 'Yeah, they'll contact you in a minute'. 
"Moments later, Ferguson called me and asked where I was. We lived in the same area, and he told me to wait for him so that we could have a chat. I pulled into a petrol station and he met me there. When he arrived, he got in my car and told me that the club had accepted an offer from Lazio. It was a big shock."
OFFER A digital FFT subscription from only £2 per issue!
Stam reveals more details about those circumstances and addresses his relationship with Ferguson in the magazine, but also explained that Manchester United team-mate David Beckham tried to intervene upon his arrival in Italy. 
"Just after I arrived in Rome, I got a call from David Beckham," he said. "The United squad had spoken about it, and he expressed the general feeling among them that I should stay. 
"My departure was a big blow to everyone, as nobody expected it to happen. It was nice to hear that from him, and it showed how close we were as a group. That made it tough to leave, but given the situation at the time, I felt it was better for me to go."
FEATURE Bruno Fernandes's remarkable story – the Manchester United star's rise, told by those who know him
GUIDE Premier League live streams: How to watch every game on this week
Get the July 2020 issue of FourFourTwo now: a Brazil special featuring Rivelino, Rivaldo, Roberto Carlos, Firmino's rise, Robinho's fall, Socrates at Garforth, Marta's amazing story and more!
Quizzes, features and footballing fun
Get the best features, fun and footballing frolics straight to your inbox every week.
Thank you for signing up to Four Four Two. You will receive a verification email shortly.
There was a problem. Please refresh the page and try again.