Jurgen Klopp backs recent Liverpool arrival to fill gap left by departing Roberto Firmino
Firmino is set to leave Anfield this summer after eight years as a Reds player, with the Brazilian reportedly heading to Barcelona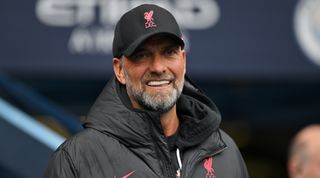 (Image credit: Will Palmer/Sportsphoto/Allstar via Getty Images)
Jurgen Klopp has backed Cody Gakpo to step into the void left at Liverpool this summer by Roberto Firmino – who is set to join Barcelona after his Reds contract expires.
Gakpo made the move from PSV to Anfield in January and has quickly made himself one of Liverpool's main men in attack.
And Klopp, while acknowledging that Firmino is one of a kind, has no doubt that the 23-year-old Dutchman will step up to fill the experienced Brazilian's shoes. Speaking after the Reds' 3-2 win over Nottingham Forest on Saturday, he said:
"If you watched international football over the last five, six years as a footballer and you love football, and if you are in a similar role, have a similar job to do in the game and you didn't pick up anything from Bobby Firmino, that would be a bad decision, to be honest.
"We play in public, so you can watch all the games. I think Bobby in this role is an inspiration for pretty much every player in a similar position, so that's clear.
"Cody is 23 years old; he was captain of his former club. I had no clue how that happens that early and then when he arrived here you realise, 'Ah OK, he's a super-smart kid, really open and a real team player' and stuff like this – on top of that, a really good footballer.
"He can play this position; can play wide; can play the centre. The real nine, a bit higher up, he can play that as well; [second] striker, can play that as well. So, he can create his own way there on the position, so it's not like we have to do it exactly [the same] because nobody can do it like Bobby, because nobody is Bobby."
Firmino, an integral member of Liverpool's 2019/20 Premier League title-winning team, is said to have agreed terms with Barcelona having rejected the chance to remain with the Reds.
Thank you for reading 5 articles this month* Join now for unlimited access
Enjoy your first month for just £1 / $1 / €1
*Read 5 free articles per month without a subscription
Join now for unlimited access
Try first month for just £1 / $1 / €1