Manchester United ownership takeover takes fresh turn - as prospective buyer considers new offer: report
Manchester United have been up for sale since November 2022, and a resolution might finally be nearing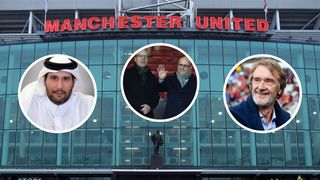 (Image credit: Getty Images)
The Manchester United ownership situation could take a fresh turn in the near future, after one prospective candidate has grown tired with the Glazer family failing to progress in negotiations over a potential sale.
The Glazers announced in November 2022 they were considering selling the club as part of "exploring strategic alternatives". Given the family's almost unanimous unpopularity with the club's fanbase, the news was greeted favourably, to put it mildly.
Sir Jim Ratcliffe's Ineos Group and Qatari Sheikh Jassim bin Hamad Al Thani both submitted offers to take control of Manchester United, with the former seeking a majority stake while the latter wanted 100 per cent ownership.
The bids were believed to be worth around £5bn, but the Glazers have since stalled on making a decision over prospective negotiations in the preceding months.
After growing frustrated with the seeming lack of inaction from the Glazers, however, Ratcliffe is now reportedly open to buy a minority stake in Manchester United in order to break the impasse, according to Sky News.
After more than 10 months after opening negotiations to purchase a majority stake Manchester United, the report now suggests that Ratcliffe is now seeking around a 25 per cent share of the Premier League club.
With the Glazers reportedly wanting a valuation of at least £6bn, Ratcliffe's Ineos will therefore have to spend a minimum of £1.5bn for his offer to even be considered, let alone accepted.
Ratcliffe's proposed new offer would allow the Glazers to maintain majority ownership of Manchester United, with the British billionaire then in contention to take over the club at a later date.
It would also play into what the six Glazer siblings want as an outcome, too. Avram and Joel would continue to operate as co-chairmen and oversee the majority of the club's business, while Kevin Glazer, Darcie Glazer, Edward Glazer, and Bryan Glazer would dilute their ownership stakes through Ratcliffe's offer and get closer to ending their relationship with Manchester United - which is ultimately what they want.
More Manchester United stories
Man United have been linked with a move for a £70m Bundesliga defender who has ties to Erik ten Hag.
And Barcelona could offer two out-of-favour stars a way out of Old Trafford in January.
Meanwhile, Ten Hag has said he understands why fans booed during the defeat to Palace.
Thank you for reading 5 articles this month* Join now for unlimited access
Enjoy your first month for just £1 / $1 / €1
*Read 5 free articles per month without a subscription
Join now for unlimited access
Try first month for just £1 / $1 / €1