Manchester United new manager odds: The favourites to replace Erik ten Hag
Manchester United new manager odds are here: and the club could be waving goodbye to Erik ten Hag sooner than expected - here's who's in line to take over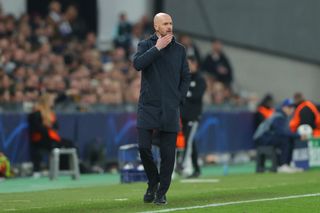 (Image credit: Getty Images)
Manchester United new manager odds are here, as the club continued their dreadful start to the 2023/24 season with another loss on Wednesday night in the Champions League, leaving Erik ten Hag under increasing pressure to face the sack.
Falling 4-3 to Copenhagen in Denmark, Manchester United have now lost more games than they they've won this season in all competitions. Indeed, they have now won eight matches compared to nine defeats - with most of those victories not exactly convincing, either.
As a result, reports are naturally ramping up linking the Dutchman with the Old Trafford exit door. While he seemed untouchable at the end of last term, having secured Champions League qualification and the League Cup, his star has waned as the Red Devils struggle with performances on the pitch. Plenty of high-profile managers are in line to replace Ten Hag at Manchester United, with FourFourTwo here to detail the favourites below.
Manchester United new manager odds (from Betfair): 1. Zinedine Zidane: 7/2
Taking over at Manchester United while they're in disarray doesn't seem like an enticing enough prospect for Zidane, but the Frenchman is the favourite to become the next manager.
Invariably linked with the biggest jobs in world football whenever they become available, Zidane is certainly picky when it comes to choosing his next home. Despite having plenty of offers, he has only ever managed Real Madrid on two separate occasions, winning two La Liga titles and three Champions League trophies.
The 51-year-old hasn't managed since leaving Los Blancos in 2021, though, and could be eager to get back into coaching after an extended period off. Manchester United's stars could respond well to his methods, too, with a seemingly divided squad desperate for some consistency in performances.
2. Graham Potter: 4/1
Potter has been out of work since April, when Chelsea sacked him. Though linked with a number of jobs abroad, the Englishman's preference seems to be staying in the Premier League. The opportunity to manage Manchester United, therefore, could prove too good to turn down.
While ownership issues and a fractious squad could be reminiscent of his time at Stamford Bridge, Potter now has a wealth of experience behind him to call upon when issues inevitably arise at Manchester United. Time off from football will have helped him reset and come back reinvigorated, too, after cutting a forlorn figure at Chelsea towards the end of his reign.
Though not the most exciting option, Potter could prove a shrewd choice and, arguably most importantly for the Glazers, simple to conclude.
3. Ruben Amorim: 10/1
Perennially linked with a Premier League job, Manchester United could well take the risk on Amorim and hand him the keys to Old Trafford. At just 38-years-old, Amorim has been hugely impressive ever since winning Portugal's league cup final with Braga in 2020 against Porto, just three weeks into his first senior managerial reign.
Now at Sporting, the Portuguese boss has a league title on his CV, too, having developed an attractive possession-based style of football in Lisbon.
At this stage, Manchester United don't have anything to lose, either. Having had experienced managers, a club legend and now a dynamic coach, trusting in youth and developing with a young boss could be the way to go for the club.
4. Roberto De Zerbi: 12/1
The current Brighton boss seems like the obvious successor to Pep Guardiola at Manchester City, what with his penchant for radical tactical ideas that actually bear fruit on the pitch. But there's no telling how long Guardiola will stick around and, with respect, De Zerbi will have ambitions to manage one of Europe's elite sooner rather than later.
That's where Manchester United come in. While the club's structure off the field is worlds apart from the one the Italian enjoys at Brighton, De Zerbi could still be lured to the club with the promise of coaching better players. He's transformed the likes of Solly March, Danny Welbeck and Lewis Dunk into some of the best Premier League players in their position - imagine what he could do with the plethora of underperforming talent at Old Trafford.
Whether De Zerbi would want to take on such a drastic task, though, remains to be seen.
5. Hansi Flick: 12/1
Hansi Flick would've expected to be preparing Germany for a home Euros next summer half a year ago - but now he's out of work and available for hire after being sacked as the national team manager.
He's clearly an extremely competent boss, though, despite losing his job so soon to Euro 2024 - his 81.4 per cent win ratio at Bayern Munich highlights that. Winning the treble with the Bavarian giants in the 2019/20 season is certainly a standout moment, and came only after Flick took charge midway through the campaign, in November no less.
That experience could be pivotal in Manchester United courting his services. Flick has proven he is able to quickly adapt to a tense situation and come out the other side with great success.
More Manchester United stories
A United wonderkid has been linked with a shock move to Manchester City, while a Dutch coach has told the fans to "stop living in the past".
Meanwhile, Manchester United have green-lit insane swap deal involving Antony.
Thank you for reading 5 articles this month* Join now for unlimited access
Enjoy your first month for just £1 / $1 / €1
*Read 5 free articles per month without a subscription
Join now for unlimited access
Try first month for just £1 / $1 / €1