Why Newcastle United were in trouble with UEFA ahead of Champions League game against AC Milan – after breaking rules
Newcastle United broke UEFA rules on Monday, just a day before they kick-off their Champions League campaign in Italy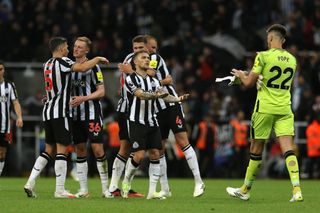 (Image credit: Getty Images)
Newcastle United are in trouble with UEFA ahead of their return to the Champions League and their game against AC Milan at San Siro on Tuesday night, after turning up to their pre-match press conference two hours late on Monday.
UEFA rules stipulate that Champions League sides must hold their pre-match press conference between 12pm and 8pm the day before their game. Newcastle United manager Eddie Howe and star player Sandro Tonali, though, only managed to speak to media at 9pm on Monday, two hours after they had originally planned to.
The Magpies are expected to escape punishment from Europe's governing body, however. With a storm hitting the Italian city in the early evening on Monday, Newcastle's flight was delayed by two hours and 20 minutes.
Given Newcastle United had no control over the delay, UEFA are only expected to issue them with a warning. Newcastle opted to train at their own training ground before their flight on Monday, rather than head earlier to Milan and train at San Siro the night before the game.
Eddie Howe is confident the disruption to preparations will not have an adverse impact on Newcastle's first game in the Champions League in 20 years.
"It's just part and parcel of the job that we do," Howe said in the press conference when he finally arrived. "It's not out of the normal that that can happen. This was a weather problem, but we've been in similar situations.
"It's something we're used to, although it's a slightly later arrival time than we would have liked for the players. It's no big deal, though."
Facing AC Milan, who lost to city rival Inter 5-1 on Saturday, Howe is relishing the opportunity to test his managerial acumen on the elite European stage. The game is also set to be the first Champions League fixture he has ever attended live, but he insists he isn't placing too much emphasis on that.
"It is a game of football and I think that's just how we have to approach it," Howe said. "Yes, it's a special game and we have to be at our best.
"I've always been too busy working to take one in," Howe said. "But it's not something I've given any thought to.
"Yes, it will be a very proud moment for me. I think it will be a very proud moment for everyone connected with Newcastle to be back in the Champions League after a long period away."
More Newcastle United stories
AC Milan legend says fans will applaud Sandro Tonali when he returns with Newcastle United in the Champions League.
Former Newcastle United defender Federico Fernandez insists players never discussed human rights issues at the time of the club's Saudi takeover.
Newcastle United's long-serving physio on the 'volcano' that was the takeover and Eddie Howe's Keegan-like arrival.
Thank you for reading 5 articles this month* Join now for unlimited access
Enjoy your first month for just £1 / $1 / €1
*Read 5 free articles per month without a subscription
Join now for unlimited access
Try first month for just £1 / $1 / €1