Real Madrid manager Carlo Ancelotti reveals secret behind Jude Bellingham's insane goalscoring form
Real Madrid once again benefitted from a Jude Bellingham goal in the dying embers of a game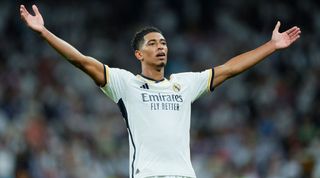 (Image credit: Getty Images)
Real Madrid manager Carlo Ancelotti has highlighted the main reason behind Jude Bellingham's goalscoring record after he bagged again on Wednesday night.
Since signing for Real Madrid from Borussia Dortmund in the summer, Bellingham has scored six goals in six games, with his latest strike a 95th-minute winner against Union Berlin in the Champions League.
Operating in an advanced midfield role for Real Madrid, Bellingham is arguably the best player in the world right now, based on current form. Ancelotti is clearly excited about the development of the 20-year-old, too, suggesting his intelligence is what sets him apart from his team-mates and the opposition.
"Bellingham has quality," Ancelotti said after his Champions League winner. "That is very important.
"He seems to be lucky as well, because this goal is similar to the one against Getafe, but he has been there. He almost always comes from the second line and he's smarter than the others."
Bellingham also spoke about his incredible start to the season, too, highlighting the mindset the Real Madrid squad currently have to keep fighting until the last kick of the game.
"It was just that mentality that we have shown all season that even if there are setbacks we just keep going until the end and I always believe there will be chances and it is just about being in the right position to take them."
He added: "It's even more special than I thought. I get goosebumps just talking about it now. I'm just so grateful to be at this club.
"I talk about the staff and the players but there is the fans as well who as you arrive to the stadium are there in their thousands just to get a glimpse of the bus and then they are there before the warm-up.
"You don't really understand how big this club is until you are here."
More Real Madrid and Jude Bellingham stories
Why Jude Bellingham is the best player in the world right now.
Wimbledon champion Carlos Alcaraz explains how Jude Bellingham can emulate his success at Real Madrid.
Aleksandar Mitrovic claims "Al-Hilal are a bit like Real Madrid".
Thank you for reading 5 articles this month* Join now for unlimited access
Enjoy your first month for just £1 / $1 / €1
*Read 5 free articles per month without a subscription
Join now for unlimited access
Try first month for just £1 / $1 / €1