Sancho: Why I left Manchester City for Borussia Dortmund
Jadon Sancho has told FourFourTwo that he swapped Eastlands for Dortmund because the German giants give youngsters a chance to shine.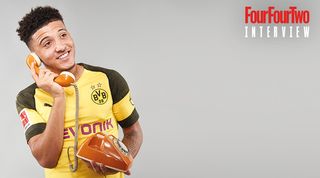 The then-17-year-old was one of City's brightest prospects and highly rated by coach Pep Guardiola, but decided against signing a new deal in the summer of 2017 due to doubts about the amount of game time he'd get with the Premier League champions.
Instead he took the brave decision to move abroad and join Borussia Dortmund for £8 million, becoming the first Englishman to play for BVB in the Bundesliga a few months later.
The youngster's career has skyrocketed in 2018/19; Sancho has recorded six goals and nine assists in the league, a goal against Atletico Madrid in the Champions League, and even an assist on his first start for England against the USA at Wembley.
"Everyone's said I exploded in 2018 and, honestly, that's how it feels," he tells FourFourTwo magazine exclusively in our March 2019 issue, having been made the youngest cover star since Lionel Messi in late 2005.
"It's been the best year of my life. If you'd told me a year ago that I'd be talking to you now, I'd have thought you were crazy."
Leap of faith
Sancho could have easily stayed in England – Arsenal and Tottenham wanted to bring the Camberwell whizz-kid back to London – and while he admits moving to BVB was a "big risk", he was confident that he wouldn't have to wait long to make his mark.
"Why Dortmund? It speaks for itself: youngsters get opportunities," he says. "You've got to thank Dortmund, because it's unheard of for a team that gets 80,000 fans at every home game to put so much faith in youngsters. It was crazy how many clubs wanted me – it shows how well you're doing, but I always felt Dortmund was right for me.
"Of course it was a big risk. I wasn't guaranteed playing time, and I had to prove I was good enough to fit in with their side. A few people weren't sure when I first told them about Dortmund, but I felt this was the best journey for me. Just try it, you know? I like trying new things, so it didn't really faze me. A few asked me, 'What if it doesn't work out?' but I never thought about that. And look at how it's worked out now..."
Read the full interview with Jadon Sancho in the March 2019 issue of FourFourTwo magazine, out in shops on Wednesday! It also features exclusive chats with Gareth Bale, Edin Dzeko and Andriy Shevchenko. Plus we present our six-point plan to become an incredible interim manager, visit QPR as they hope to banish their FA Cup Third Round hoodoo, go One-on-One with Nigel Winterburn and hear from football's ultimate journeyman, Sebastian Abreu.
Order a copy, then subscribe!
Thank you for reading 5 articles this month* Join now for unlimited access
Enjoy your first month for just £1 / $1 / €1
*Read 5 free articles per month without a subscription
Join now for unlimited access
Try first month for just £1 / $1 / €1