VAR audio of Luis Diaz disallowed goal for Liverpool against Tottenham 'to be released'
The Reds were furious after the calamitous error cost their team a perfectly good goal in the teams' Premier League clash on Saturday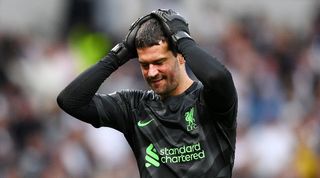 (Image credit: Getty Images)
Audio from the controversial VAR decision to disallow a Luis Diaz goal for Liverpool against Tottenham in the Premier League on Saturday is set 'to be released'.
Diaz thought he had given Liverpool the lead as he netted with a fine finish in the first half at the Tottenham Hotspur Stadium on Saturday, but the assistant's flag was raised for offside and the game promptly restarted following a quick VAR check.
But the Colombian had looked to be onside in the replays and the body responsible for refereeing professional games in England, PGMOL, admitted after the game that they had made a mistake.
The organisation blamed the blunder on "significant human error" and it emerged that the VAR team had told the referee Simon Hooper that their check was complete, believing the goal had originally been given to the Reds.
Instead, the official understood there was no need to change his on-field decision and the effort did not count. Once play resumed, there was then no way the call could be reversed.
Liverpool released a strong statement on Sunday night in which they called the PGMOL explanation 'unacceptable' and asked for measures to be taken to avoid similar such mistakes in future.
The PGMOL have promised a "full investigation" into the events in north London on Saturday, when Liverpool also had two players sent off in the last-gasp 2-1 loss to Spurs.
And according to ESPN, the VAR audio will be released at some stage, which should provide transparency and potentially a change in the rules going forward to ensure more effective processes are in place.
More Liverpool-Tottenham stories
Tottenham vs Liverpool: why was Luis Diaz's goal wrongly disallowed by VAR?
Reds boss Jurgen Klopp blasts 'unfair' and 'crazy' decisions in Saturday's Premier League clash, while Spurs boss Ange Postecoglou admits he is not a fan of VAR.
EXCLUSIVE: Tottenham defender Micky van de Ven on Saturday's epic win over Liverpool and life in north London so far.
Thank you for reading 5 articles this month* Join now for unlimited access
Enjoy your first month for just £1 / $1 / €1
*Read 5 free articles per month without a subscription
Join now for unlimited access
Try first month for just £1 / $1 / €1