Why it's impossible to win the Champions League with Lionel Messi, Kylian Mbappe and Neymar Jr in the same side
Mauricio Pochettino and Christophe Galtier both encountered the problem at PSG, but Messi is now leaving the Ligue 1 club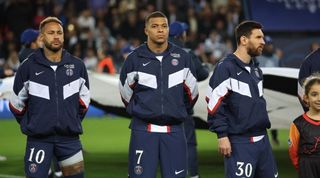 (Image credit: Getty Images)
When PSG added Lionel Messi to a forward line already containing Kylian Mbappe and Neymar Jr in 2021, the club's objective seemed clear: win the Champions League.
In the two seasons since, though, the French side crashed out of Europe's elite competition in the last 16 on both occasions, leading plenty to suggest it was impossible to win the Champions League with all three in the starting XI.
Incoming Chelsea manager Mauricio Pochettino had to deal with the situation during the 2021/22 campaign, and with Messi leaving for Inter Miami at the expiry of his contract in the French capital, his departure could actually prove a blessing in disguise for the club.
"Pochettino was good at man-managing the stars, there was no tension," L'Equipe writer Pierre-Etienne Minonzio tells FourFourTwo.
"But he also felt trapped, because if you play all three of them, it's impossible to win the Champions League – at least two of them don't work when you don't have the ball, and in Europe that means you're dead.
"Pochettino never had the courage to put one on the bench for a big game. Maybe he knew he didn't have the power to do that, because [PSG president] Nasser Al-Khelaifi wouldn't be happy."
In the one season Pochettino did manage with all three stars in the team, PSG succumbed to a Karim Benzema-inspired Real Madrid at the Bernabeu, the Frenchman bagging a 17-minute hat-trick to turn the tie on its head. This loss, ultimately, proved the end for the Argentine, with his dismissal confirmed at the end of the season.
"In Pochettino's first season, they reached the Champions League semis and players felt that his calm management style helped them," Minonzio says.
"So it was frightening that in spite of that, he couldn't prevent the team falling apart under pressure at the Bernabeu. That's why he didn't keep his job. At PSG, if you lose before the Champions League quarter-finals, you have to leave."
Thank you for reading 5 articles this month* Join now for unlimited access
Enjoy your first month for just £1 / $1 / €1
*Read 5 free articles per month without a subscription
Join now for unlimited access
Try first month for just £1 / $1 / €1