"Yeah, but then they lost..." – Eden Hazard criticises Germany for protesting ahead of World Cup 2022 defeat to Japan
Belgium forward Hazard says players are in Qatar to "play football", not protest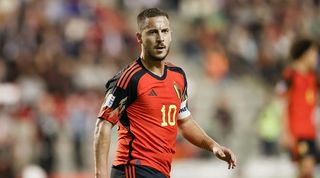 (Image credit: Getty)
Belgium captain Eden Hazard has taken aim at Germany for protesting FIFA's policy over OneLove armbands instead of focusing on football.
The Real Madrid forward claims World Cup 2022 stars are not in Qatar to take political stances but to play the game, and inferred that Germany would have been better off focusing on beating Japan.
Hansi Flick's side slumped to a shock defeat against the Asian nation, after protesting against FIFA in the build up to the game. His players had been angered by the decision to ban captain Manuel Neuer from wearing his OneLove captain armband, in support of LGBTQ+ rights.
It wasn't about making a political statement – human rights are non-negotiable. That should be taken for granted, but it still isn't the case. That's why this message is so important to us.Denying us the armband is the same as denying us a voice. We stand by our position. pic.twitter.com/tiQKuE4XV7November 23, 2022
European nations including England and Wales looked set to wear OneLove armbands throughout the tournament, only for FIFA to ruld that those who wore the armbands would be subject sanctions. The u-turn saw captains abandon the plan.
Ahead of the Japan match, Germany's opener in Qatar, the players posed with their hands over their mouths, referencing that they felt silenced by FIFA.
Hazard was asked for his thoughts on the gesture following his own side's win against Canada.
"They would have done better not to do it and to win," he told reporters. "We are here to play football – I am not here to send a political message.
"People are better placed for that. We want to be focused on football."
Thank you for reading 5 articles this month* Join now for unlimited access
Enjoy your first month for just £1 / $1 / €1
*Read 5 free articles per month without a subscription
Join now for unlimited access
Try first month for just £1 / $1 / €1