'Ronaldo averaged a game every 4.3 days'
By Alec Fenn published
Wales' head of performance Tony Strudwick on how GPS monitoring revealed Cristiano Ronaldo's physical capacity and the challenge of measuring workload in international football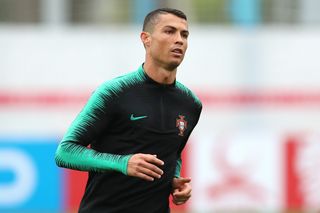 How integral is GPS monitoring to your job?
It's huge, there's been exponential growth in GPS monitoring over the past 10 years. We monitor load, so how much workload the players do every day. We really want to peak and maximise their performance on game day, so that's why we use it. Every professional club, even down to non-league teams, will wear some kind of wearable tech to act as a record of performance. Premier League teams have a minimum of one or two sports scientists, which enables them to work with players individually.
How different is the challenge of managing load for Wales compared to Manchester United?
At a club you have a consistent number of players training in a consistently similar way. For an international team you've got a diverse blend of players coming from different clubs with different training philosophies and playing styles. Some of them are playing in different countries as well. That's a challenge and why you have to monitor as much information coming into the camp. we need to establish what's their typical workload in a week, the day before a game etc. We have to maximise everyone's individual response. The head coach also wants to enforce his way of playing and that change of stimulus is something you have to be on top of.
How do you work around the challenge of travelling and playing abroad?
China was an eight-hour time shift so we put a strategy in place for sleep. We found out the optimum time to sleep and train and worked around that. When you go to the east the idea is to lie in a bit longer and not train too early. LA was the opposite, eight hours to the west, so we were able to train earlier on in the day. Using a bit of scientific input to put your training together is very important. Even at club level in the Champions League, time zone shifts and travelling fatigue is a big issue. Planning and managing the event, when to travel, eat, etc, is critical to whether you're successful or not.
Is your role more about getting players ready to play with Wales?
There are two schools of thought. You can have these micro bursts when they're coming into camp and work them hard but I believe you have to just get them as ready to play as possible. With the length of time you have, it's so small, unless you have a 3-4 week camp ahead of a major tournament, that's different. During the season, you might only have them for a week or less so it's readiness to play, keeping them fresh and transferring your principles of playing to the players. You might meet up on a Sunday. Some may have played on the Sunday or the day before, so they'll have a day off. You may have a game on a Thursday so between that you just have to make sure they're ready to play.
How do you keep players fit between games at major tournaments?
It's really important; you have to manage individuals throughout the squad, keeping them fit. They'll have to do additional work, the day after games sometimes. Certain sessions will be tailored individually to them to make sure they've got enough work in to be ready to play 90 minutes if called upon. That's the way we're heading, it's more individual. You could play seven games in 28 days at a World Cup, so you're not going to have the same 11 players playing. How you manage that squad is very important. We learnt a lot from Alex Ferguson. He's always have a squad of 26 players. He'd manage and manipulate and keep the plates spinning, rotating them. If Ryan Giggs hadn't played for 10 days he needed to be hit with an extra stimulus. Monitoring becomes important; we need to make sure he hits certain targets. Alex managed it perfectly. In his final season he made an average of five changes per game. He managed the squad perfectly.
Physically, who are the most impressive players you've worked with?
The most important metric is player availability, the ability to play week in week out. We use a metric called days per game. Cristiano Ronaldo averaged a game every 4.3 days. That's impressive. His availability was 90-95%. We've had some great athletes in terms of strength and power – Zlatan Ibrahimovic has got the records. Some of the tests were specific to Manchester United. Power output and jump height. We had Morten Gamst Pedersen who would consistently hit 14 or 15km a game. That was freakish. He had incredible endurance capacity, his V02 max was well above 70ml. He could do it week in week out as well. Endurance wise he's the most impressive specimen I've worked with.
Which are the most important metrics for footballers?
I tend to look at five parameters. One is robustness, availability. Some people aren't built to train every single day. That's critical. At the top level speed differentiates the top players. Physical and mental speed of thought. Looking at players that can hit 9m/s. Power, the jump height, which is also linked to speed. The other one is more around runnability and endurance, that's critical. We'd look at metres per minute covered per game. We have a five-minute running test, which measures average distance covered over a five-minute period. The last one is movement. Ronaldo and Giggs are fluid and efficient in the way they move. The big guys are hitting speeds of 35km per hour, that's sharp. In the training we'll hit them at 90% of their top speed. They need to be exposed to that so they can reproduce it during a game.
Tony Strudwick was talking at the launch of the new PLAYR GPS device, available for £200 from www.playrsmartcoach.com
Thank you for reading 5 articles this month* Join now for unlimited access
Enjoy your first month for just £1 / $1 / €1
*Read 5 free articles per month without a subscription
Join now for unlimited access
Try first month for just £1 / $1 / €1
Quizzes, features and footballing fun
Get the best features, fun and footballing frolics straight to your inbox every week.
Thank you for signing up to Four Four Two. You will receive a verification email shortly.
There was a problem. Please refresh the page and try again.