10 great statistics that perfectly sum up this Premier League season
We let Daniel Storey fiddle with some numbers to bring you these tell-tale facts from the top-flight campaign to date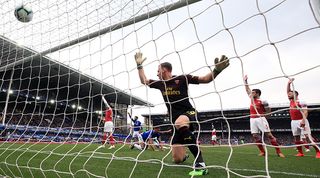 1. The gap between best and rest getting bigger...
Leicester's astonishing title victory in 2015/16 might have been a wonderful event for English football, but it caused a reaction. No longer would the owners of Big Six clubs accept any trespassers on their turf. Boosted by increased broadcasting revenues, they resolved to spend bigger and better on transfer fees and wages. The rest have struggled to keep up.
This season, the Big Six clubs have played 71 home games against non-Big Six teams. Of those 71 matches, they have won 60, drawn eight and lost just three. The Big Six have scored 181 goals in those games, and conceded just 49.
2. ...but Wolves could have got closer
Wolves's owners had a dream. Promotion to the Premier League formed part of that, but it was merely a step along the path to Champions League football. And while Wolves have fallen far short of that ultimate aim in their first season back at the top table, we have seen plenty of evidence to indicate that they mean business.
Wolves sit third in a table of results involving each of the top six clubs, having lost fewer intra-Big Six games than Arsenal, Chelsea, Tottenham and Manchester United. Sort out the form against Premier League strugglers, and they can improve further.
3. Draws are old hat
The number of stalemates in the Premier League has fallen off a cliff. In 2015/16, 28% of Premier League games ended in a draw. This season that figure sits at 18% – a monumental drop.
There seems to be three obvious explanations for the fall. The first is that, as the top six have become more dominant, their home records have improved inordinately. We have also seen a rise in the number of intra-Big Six thrashings rather than dull draws – think Liverpool 5-1 Arsenal and Manchester City 6-0 Chelsea.
Finally, with the top six so far ahead and Fulham and Huddersfield quickly cut adrift, the Premier League 'rest' had relatively little to lose in games against each other. You might as well push for three points if the impact of defeat is lower.
4. Arsenal's old habits die hard
Limp, dismal away performances were the standout aspect of Arsene Wenger's final two years in charge. When the going got tough on the road, Arsenal got… scared.
Unai Emery has improved plenty at the Emirates – on a limited budget – to give Arsenal a fighting chance of qualifying for the Champions League again, but their old troubles remain.
They're the only Premier League club yet to keep a clean sheet away from home this season – a remarkable statistic given the defensive issues at Fulham and Huddersfield. Until that improves, Arsenal will have the handbrake applied to their progress.
5. Manchester City's perfect goal
It's the most predictable type of Premier League goal.
Pep Guardiola instructs his players to pass in short triangles in the opposition half, moving as they give and receive the ball to create space. Eventually, an overlap out wide in the final third will appear, leading to a wide player near the goalline in the area. That player will then play the ball across goal or pull it back to a waiting Sergio Aguero or Raheem Sterling, who can stab home.
For shots from outside the box, Manchester City rank below Leicester and are only nine ahead of Fulham. For shots from inside the box, City rank first and are 57 ahead of second place. Guardiola knows what works, and he has no intention of changing it.
NEXT: This is how Liverpool have done it...
6. Liverpool's bouncebackability
Liverpool's title assault might have been founded on the defensive improvement provided by Virgil van Dijk and Alisson, but more impressive still is their response to going behind.
Only Manchester City have conceded the first goal of the game fewer times than Liverpool. And yet no team in the Premier League has taken more points from losing positions than them.
That is extraordinary. Last season, Liverpool conceded first in nine matches and took eight points from those games. This season, Liverpool have conceded first in seven league games, but taken 16 points from those matches. The only game in which they conceded first and lost was at Manchester City in January. That's why they're in the title race.
7. No standout top scorer
In 2017/18, Mohamed Salah set a record for the most goals in a 38-game Premier League season. But Salah was run all the way to the line. He and Kane both reached 30 goals, while two other players (Jamie Vardy and Sergio Aguero) hit 20.
This season, a notable drop. With barely a month left of the campaign, no player has reached 20 goals. While the top two scorers in the division were nine ahead of the rest last year, currently there are 15 players within seven goals of being the league's top scorer.
The key is goals being shared around, helped by injuries to Kane and Aguero, and Salah's form tailing off slightly. In the whole of 2017/18, 14 players managed 12 or more Premier League goals. Fifteen players have already done so this season.
8. Fulham's abysmal defence
Fulham are strong candidates to be crowned new holders of the 'worst ever Premier League team' award. They may have gained more points than Huddersfield this season and Derby in 2007/08, but neither of those teams spent £100m on shiny objects they believed would take them into the top half.
Fulham made the stupid mistake of investing in attack and midfield but failing to address the problems in a defence that conceded more goals than any other team in the Championship's top five last season.
They have paid the price spectacularly. The Cottagers are on course to concede 88 league goals. That would be one below the all-time Premier League record for a 38-game season, again set by Derby in 2007/08. Everyone involved should be thoroughly ashamed.
9. Chelsea's new passing fad
This has been an awkward, unideal first season for Maurizio Sarri at Chelsea; some supporters are angry that he is even still in charge. But while some of the Italian's decisions have allowed goodwill to quickly seep away (particularly the lack of minutes given to Callum Hudson-Odoi), it's difficult not to feel some sympathy for him.
Chelsea appointed their new manager three weeks before the Community Shield, gave him one new permanent signing that fitted his style, and are now third in the Premier League and favourites for the Europa League.
One thing that certainly can't be doubted is how much Sarri has altered Chelsea's style. Last season, the Blues ranked fifth in the Premier League for passes completed, with 17,922. This season, they rank second only a fraction behind Manchester City. They have already completed 19,761.
10. Huddersfield's heads are down
This has been a rotten season for Huddersfield. They have lost arguably their most successful manager since Herbert Chapman, were effectively relegated by Christmas and have barely even reacted to that disappointment with some fighting spirit.
But most disappointing is how unable they've been to respond to in-game setbacks under both David Wagner and Jan Siewert. The Terriers have conceded the first goal in 23 of their 33 league games to date. In those 23 matches, they have taken a single point.
Then read…
FAN'S VIEW The Slip, five years on: Why Chelsea are no longer the enemy for Liverpool in 2019
QUIZ! Can you name the 59 outfield players with 30+ Premier League appearances this season?
Quizzes, features and footballing fun
Get the best features, fun and footballing frolics straight to your inbox every week.
Thank you for signing up to Four Four Two. You will receive a verification email shortly.
There was a problem. Please refresh the page and try again.