4 GIFs demonstrating how Atletico's dogged defensive work in the channels limited Bayern
The Madrid side are a defensive powerhouse, and we've picked out four clear examples of how they repel attacks. Watch and learn, Premier League...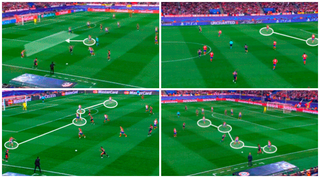 During their four previous Champions League games against Juventus and Benfica, Bayern scored a total of nine goals. Seven of these originated out of play in one of the wide channels – with a player like Arjen Robben or Douglas Costa cutting inward, an inswinging cross to a header, or a ball not properly cleared off a cross into the box.
In Wednesday's Simeone vs Guardiola matchup, Atletico Madrid took a noticeably different approach to combat what has been Bayern's greatest offensive weapon so far in the Champions League: initiating threatening play in the attacking third from out wide. Atletico Madrid's full-backs willingly conceded their cohesiveness as a backline to be able to apply pressure to either Bayern wingmen. 
Full-backs man-mark
In the GIF below, Atletico's right-back Juanfran sacrificed the typical spacing between a right-back and centre-back in exchange for putting immediate pressure on Costa. In this case, the Brazilian – potentially used to receiving the ball with more space in front of him, was perhaps caught off guard and allowed the ball to roll out of bounds for an Atleti throw-in.
In the next case, even before the ball was played, Atletico Madrid's left-back Filipe Luis was already so stretched from the left of the centre-backs that he became much more connected to his midfield team-mates than his fellow defenders. In this instance, Filipe Luis ended up poking the ball away. 
The third example below demonstrated yet another time where Atletico worked hard to eliminate Bayern from moving the ball from one side to another at the expense of creating a defensive vulnerability in the space between their right-back and right-centre-back. Juanfran closed down Costa's space so quickly and aggressively that as Bayern tried to change the point of attack, they were unable to even swing the ball all the way out wide to the former Shakhtar man.
Space conceded centrally
In the examples above, you'll notice the huge distances that opened up between the centre-backs, Jose Gimenez and Stefan Savic, and their respective full-backs. Bayern Munich had to attack more centrally as a result: more often than they have done in previous games, to try to exploit the space Atletico Madrid conceded using these tactics (you can't cover every single blade of grass on the pitch after all, no matter how hard you work).
However, Atletico also had a response for that. Below are instances where a Bayern player would move into the space between Juanfran and Gimenez, and an Atletico central midfielder would drop back between the two defenders. This movement from Simeone's side maintained a cohesive defensive shape and continued to force Bayern into attacking situations not rooted in wider play. 
The game did ultimately fall in Atletico Madrid's favour. That isn't to say that Bayern didn't have their chances, but David Alaba's rattling of the crossbar from range was a close call Atletico were prepared to live with given the defensive tactics they employed. 
More features every day on FFT.com • More Atletico Madrid • More Bayern Munich
Quizzes, features and footballing fun
Get the best features, fun and footballing frolics straight to your inbox every week.
Thank you for signing up to Four Four Two. You will receive a verification email shortly.
There was a problem. Please refresh the page and try again.