4 La Liga newbies who can take their teams to the next level this season
By Simon Harrison published
Simon Harrison introduces four summer signings to Spain's top flight who are capable of dragging their sides up a notch...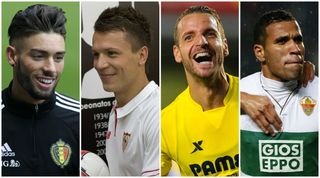 Yannick Ferreira Carrasco (Atletico Madrid)
FACT FILE
Date of birth: September 4, 1993
Last club: Monaco (103 apps, 20 goals)
All clubs: Monaco
In terms of Diego Simeone's offensive incomings over the past few months, Ferreira Carrasco was perhaps the one with the biggest accompanying question mark. Jackson Martinez has proven his worth for Porto in both the Portuguese top flight and the Champions League, while Luciano Vietto had a fantastic first season in La Liga and arrived with the coach's personal recommendation. The Belgian inbound from Monaco, however, came with a good reputation in France, immaculately tamed hair and a double-barrelled surname. As Los Colchoneros look to reinvent themselves and try to evolve from the Simeone stereotype of two banks of four and goals from dead-ball situations, Carrasco is the perfect man to lead the revolution. Blessed with fantastic dribbling ability and the elegance to beat a defender without even touching the ball, the Belgium international brings something refreshing to the table.
In terms of attitude, there will be no divide between the former Monaco forward and his new team-mates, as his work rate is unquestionable. The variance lies in how he plays the game, and the flair he can add into the mix. Instead of bringing Raul Garcia into the fray in the second half and going direct, Simeone can instead point to his flashy new catalyst and perhaps admit to himself that he won't know exactly how Carrasco could change the game. While Garcia's game is predictable and well known to fellow La Liga personnel, a new maverick might not give tiring defences such an easy time. Over the course of a long campaign, the Belgian could help secure some valuable results.
Yevhen Konoplyanka (Sevilla)
FACT FILE
Date of birth: September 29, 1989
Last club: Dnipro (210 apps, 45 goals)
All clubs: Dnipro
Konoplyanka must have had a very busy summer of travel, if the transfer stories were to be believed. After being linked to a whole host of big European clubs, the Ukraine international chose to settle at what has become the home of shrewd transfer business, Sevilla. After losing last season's top goalscorer Carlos Bacca to Milan, there is a void to be filled at Estadio Sanchez Pizjuan.
That's not to say that Konoplyanka is going to be a direct replacement for the Colombia international. As showcased during his Europa League run with Dnipro, which resulted in a final clash between his former and current employers, the 25-year-old can both create and score goals from the left side.
While his former club flew his native flag in continental competition amid ongoing conflict, Unai Emery bids to wage a different kind of war this season. With Kevin Gameiro, Ciro Immobile and Fernando Llorente needing frequent service to reach Bacca's tally of 23 goals, the consistent importance and productivity of Sevilla's supporting cast has reached new heights.
Capable of dribbling at pace and dragging his team 30 yards upfield under his own steam, Konoplyanka has the potential to be a game changer. Whether it be to carry out a brisk counter attack, or to weave his way infield to commit players who are defending more rigidly, the Ukrainian wideman appears to have the full skill set required to be a real menace.
NEXT: Spurs fans, look away now...
Roberto Soldado (Villarreal)
FACT FILE
Date of birth: May 27, 1985
Last club: Tottenham (76 apps, 16 goals)
All clubs: Real Madrid, Osasuna (loan), Getafe, Valencia, Tottenham
A laughing stock, everyone scoffed. After spending two years in England, Soldado inspired no kind of confidence nor belief from Spurs' supporters. A nice guy though he may have been, the former Valencia hitman had lost his way. Those rare few who had 'Goaldado' emblazoned proudly on their home shirts had perhaps considered peeling off their customisation long before the time came for the London club to sell.
In the wake of Luciano Vietto trading El Madrigal for Estadio Vicente Calderon, Giovani dos Santos heading to LA Galaxy and the more low-profile sale of Gerard Moreno to Espanyol, Villarreal needed a deal that had scope to patch up the deep wounds in their attack. Immediately, the curse on the Spaniard appears to have lifted, with two opportunistic finishes being taken in his opening two La Liga appearances with Marcelino's men. Goals were one thing that the Yellow Submarine looked to be missing ahead of the season's curtain raiser, but the very likeable Soldado looks to have rediscovered his love for football once again.
During his inaugural minutes in a yellow shirt, his smile has shone. If you are to type his full name into a Twitter search, the recommendation suggests 'fails'. Come May, that tailored search might instead read 'goals'.
Away from the spotlight of the Premier League and with the expectation attached to his previously large transfer fee alleviated somewhat, Soldado can play with a greater freedom. With no reputable figure at the head of Villarreal's attack previously, a mid-table finish looked likely. Now, Marcelino might just be able to plan for a raid on the Europa League places should his reinvigorated forward keep firing.
Jonathas (Real Sociedad)
FACT FILE
Date of birth: March 6, 1989
Last club: Elche (36 apps, 14 goals)
All clubs: Cruzeiro, Ipatinga (loan), Villa Nova (loan), AZ, Brescia, Pescara (twice), Torino (loan), Latina, Elche (loan)
On a budget like Real Sociedad's, Jonathas was as close to a multi-purpose solution as they could have hoped to get.
The Brazilian striker won't be about to take anything for granted; his debut La Liga season arrived after he'd shown fleeting glimpses of quality in several different leagues. Jonathas has plied his trade in his native country, the Eredisivie, as well as bouncing between first and second division football in Italy. Even after firing Elche to safety after netting 14 goals, his former employers were still doomed to play in the Segunda thanks to financial woes.
Real Sociedad, meanwhile, have previously thrown money away trying to find themselves a reliable goalscorer.
Alfred Finnbogason was bought last summer for £5.5m, with Haris Seferovic picked up for around £2m in 2013. Carlos Vela was drafted in for nearly £10m in 2012. While all three arrived with doubts surrounding their injury records and experience in a top European league, Jonathas already has that foundation.
Physically tough enough to hold off opponents and battle for possession both aerially and on foot, the Brazilian has already showcased a relatively complete skill set during his short time in Spain. Add in his eye for goal and Jonathas should be helping David Moyes' men battle it out for a top-half finish.
Thank you for reading 5 articles this month* Join now for unlimited access
Enjoy your first month for just £1 / $1 / €1
*Read 5 free articles per month without a subscription
Join now for unlimited access
Try first month for just £1 / $1 / €1
Quizzes, features and footballing fun
Get the best features, fun and footballing frolics straight to your inbox every week.
Thank you for signing up to Four Four Two. You will receive a verification email shortly.
There was a problem. Please refresh the page and try again.