Christian Pulisic, 17, is already the present and future for the United States
By Paul Tenorio published
Americans love jumping on the hype train too early, but Christian Pulisic should be playing significant minutes at the Copa America Centenario. Paul Tenorio, of FourFourTwo USA, tells you why...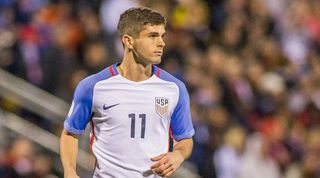 There is the type of hype we are used to seeing around American soccer "saviours", and then there is Christian Pulisic.
It has been a comparatively hushed response stateside as the 17-year-old Pennsylvania native first broke into Borussia Dortmund (opens in new tab)'s first team, then earned a starting job and started scoring goals.
Unlike the bluster that accompanies most teenage prospects, many of whom are hyped for their potential when they sign youth contracts with European teams, Pulisic's ascendance has been met with what feels like a contract across the country: don't ruin this one.
Bubble-wrapped no more
The excitement about what Pulisic may become – the United States men's national team's first actual superstar since Landon Donovan, and maybe even more considering his role with Dortmund – has fans treating Pulisic the way a child would carry their mother's most expensive crystal.
The more Pulisic plays for Dortmund, however, the harder it is to hold back. It's hard to overhype a prospect who is already starting to prove himself on a stage as big as the Bundesliga.
This summer may end that caution for good.
Donovan's breakout moment at senior level came in the 2002 World Cup, when the bravado and confidence of a then-20-year-old oozed onto the fields in South Korea. Pulisic may have his chance to replicate that sort of impact on home soil during the Copa America Centenario.
The moment likely won't be too big for a player who has looked thoroughly in command for one of Germany's biggest teams in one of the most competitive leagues in the world, scoring in the past two matches.
The confidence kid
What Pulisic has shown this season with Borussia Dortmund is creativity and an unafraid attacking mindset. He plays on his front foot, his first touch is almost always towards goal, and he has a proclivity for challenging defenders 1-vs-1.
Watch his touches against Hamburg, the game in which he scored his first career Bundesliga goal. Pulisic is constantly making defenders work, accelerating into the spaces they leave for him and taking on defenders – sometimes successfully, sometimes not. He covers an average of about 7.5 miles and makes 42 sprints per game.
"Christian's a super lad with exceptional quality," Dortmund team-mate Matthias Ginter told bundesliga.com. "We're hoping he can keep this going."
Pulisic's first goal was exciting for many reasons. It starts from a short corner, and he never stops moving. He overlaps after his first pass, and then cuts into the box when he doesn't get the ball, picking out space between defenders. Pulisic receives a pass and takes one touch inside to set up his near-post finish, a shot that surprised the goalkeeper.
It's first-class movement and finishing … and he's 17 years old. It makes you wonder whether the U.S. can afford not to start the youngster in this summer's tournament.
Positivity pays
While Jurgen Klinsmann's lineups have changed often and his formation choices have hardly been more consistent, the ideas behind how Klinsmann wants to play haven't altered much. The German professes to prefer a "proactive style" of soccer, but the U.S. are still a counter-attacking team. Even against CONCACAF opponents, recently they haven't looked like a team that will build slowly through possession.
The U.S. are most effective in transition, and have looked most dangerous in the past few years through the likes of Fabian Johnson's crashing runs from the wings. Watch his goal against Turkey in the lead-up to the 2014 World Cup.
Klinsmann has searched for a right winger to complement Johnson on the left, one capable of those same type of in-cutting runs. Graham Zusi, DeAndre Yedlin, Gyasi Zardes and Alejandro Bedoya have all played there.
The philosophy fits perfectly with Pulisic's skill set.
READ THIS
Behind enemy lines at Schalke: When our Dortmund fan went to Gelsenkirchen (opens in new tab)
Pulisic's development should help make some decisions across the team, namely allowing Yedlin to drop back to his preferred right-back spot. Klinsmann may even be tempted to play Pulisic on the left, where he has started for Dortmund, utilising inverted wingers with Johnson on the right cutting onto his effective left foot.
The prospect of Johnson and Pulisic driving in from the wings with Jozy Altidore as a target striker causes massive defensive issues for opposing teams, and most importantly should open up the middle of the field – where the U.S. are still looking for the right creative answer at No.10.
Klinsmann most recently played a 4-3-3 against Guatemala with Kyle Beckerman holding behind Michael Bradley and Zusi. Up top, Clint Dempsey and Zardes flanked Bobby Wood.
New blood
What might make more sense at the Copa America, however, is a reversion to the team that was used most effectively in the 2014 World Cup against Portugal: a 4-2-3-1 with two holding midfielders that can provide cover for overlapping full-backs. In that game, it was Johnson and Beasley getting forward to overlap Zusi and Bedoya. This summer, it could be Yedlin and Shea or Edgar Castillo overlapping Pulisic and Johnson.
Whether Klinsmann opts to start Pulisic or bring him off the bench to replace the likes of Zusi, who was impressive in the last World Cup qualifier against Guatemala, matters little. The teenager looks like the long-term answer in the position, and the domino effect has implications not just for this summer, but also for the World Cup in 2018.
Pulisic will be 19 in the summer of 2018, by the way, a year younger than Donovan was when he started for the U.S. at the World Cup in 2002.
Thank you for reading 5 articles this month* Join now for unlimited access
Enjoy your first month for just £1 / $1 / €1
*Read 5 free articles per month without a subscription
Join now for unlimited access
Try first month for just £1 / $1 / €1
Quizzes, features and footballing fun
Get the best features, fun and footballing frolics straight to your inbox every week.
Thank you for signing up to Four Four Two. You will receive a verification email shortly.
There was a problem. Please refresh the page and try again.