Demba Ba: There's no reason for Liverpool fans to hate me, but there aren't many reasons to love me either!
The Besiktas striker talks to FFT Turkey about his time in the Premier League, the Super Lig and his return to Anfield...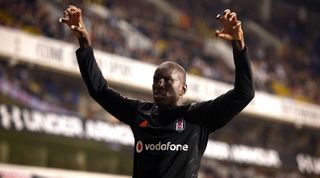 Before you signed for West Ham United, you were rejected by a couple of clubs because of a knee injury. It took time for you to get back on the top. How do you remember that process?
Those who made up stories about my injury at that time tried to benefit from my situation. I don't know whether it was worth it or not. They really bothered me until I signed a contract with West Ham but after that move, everything went well for me. I found a chance to play regularly and scored so many goals.
Who were those people?
Actually, there are two sides of the story. During the negotiations with Stoke City, the rumours came out but I never found out how that happened. There were some people that felt uncomfortable about my transfer.
Hoffenheim's sporting director at that time also told stories to the press which obviously confused other people. I really wanted to go to Stoke, but I was never disappointed because the West Ham option was easing my mind.
From West Ham, you went to Newcastle, then Chelsea, where you didn't play regularly. Did Jose Mourinho tell you why he didn't pick you for his first team?
He never spoke to me about that directly, but perhaps he thought my performance level, my potential to change a game, or my mental capacity wasn't good enough.
How do you see your time in the Premier League? Was it successful?
Very successful indeed. I have developed myself into a good player and met so many people who will stick with me to the end of my life. I have experienced so many great things, which hopefully will ease my life and give me peace.
You scored a hat-trick on your first start for Besiktas, that must have helped you adapt quickly to life in the Turkish Super Lig?
The first goal was the most important one. Of course, if you are a striker everybody expects you to score and after that goal, all the pressure had gone. It's really hard to catch that emotion but once you had it, you keep going.
Besiktas are top of the table with 20 matches played; what are your main advantages in this season's title race?
The quality of the players and the style of the team. And of course Slaven Bilic. I think he's the best manager in the Super Lig right now. I am aware of our supporters' expectations. So far, we are doing great things and hopefully we will get better next season. Beside Besiktas fans, no one consider us as favourites and I don't think they respect us in a way that we deserve. Considering the current situation about our stadium, I believe we deserve much more than that.
How do you feel about not being included in the Senegal squad for the Africa Cup of Nations. Don't you think you deserved a call-up?
As a player who scored 18 goals in 23 games, I'd say that the numbers tell you everything! I totally think I deserved to be called up but I'm not the one who selected the squad. This is a question somebody else must answer. It won't be easy though!
One of your Twitter followers wrote "Hey Demba. Can you help me? When you wake up to pray in the morning can you wake me up? If you call me I will pray" to you and you replied by tweeting "Send me your number." Did you call her?
Yes I did. I woke up very close to the morning prayer and she came to my mind right away. I got out of my house and as I was walking in a rush to the mosque, I kept calling the number she gave me but she didn't pick up the phone. I guess she sent me a wrong number!
How can you find so much time for the supporters?
It's not hard when you know that they care about you. They will never forget the moments that they spoke to me or made a connection with me. I am happy if they are happy. They ask about my opinion, make suggestions about anything, ask for my help. If we speak the same language and if I have time, I find a space for them. That's all.
You once said "I always laugh during games because football is a tool for entertainment." Since you signed for Besiktas, have you changed your mind about this?
Of course not! If I had, I wouldn't have stayed in Turkey. It has been six months since I came here and I have never lost my desire to laugh. If that day ever comes, it means I am so close to losing my job. I do not want that to happen ever.
The Europa League pits you against Liverpool. How much are you looking forward to another return to England? How do you think the Liverpool fans will react to you after your goal there last season?
I love the atmosphere in England and playing in that country, and Anfield is one of my favourite stadiums. There is no reason for Liverpool fans to hate me, but I can't say there are many reasons to love me either! That goal was completely part of this game, it could happen to any player. Now, going back there makes me very happy, very excited actually. I am looking forward to it.
Quizzes, features and footballing fun
Get the best features, fun and footballing frolics straight to your inbox every week.
Thank you for signing up to Four Four Two. You will receive a verification email shortly.
There was a problem. Please refresh the page and try again.