FIFA 18 World Cup Update review: free in theory, but makes a few expensive mistakes
The official game of the tournament costs nothing if you already own FIFA 18 – yet still has elements that leave you short-changed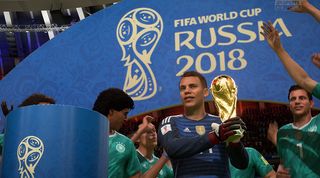 EA Sports' sixth World Cup game is the first made available free of charge, and as such can call itself groundbreaking before you've even lifted the controller. The small catch: you need to own FIFA 18 for it to automatically download. It's an essential diversion for anyone who does, but what about those considering a purchase just to sample a virtual World Cup? That's the main question we're looking to tackle here.
Modes wise, there are few surprises. You get a customisable World Cup finals recreation, and a bespoke version of Ultimate Team. 'FUT', as it's commonly known, is the biggest mode in sports gaming, and its international remix should appeal to players both hardcore and casual given how swiftly you nab elite players. There's no transfer market, but packs are generous, and within two nights' play, FFT had amassed a squad boasting Manuel Neuer, Jan Vertonghen, Laurent Blanc, Marcelo, Diego Maradona and Alexandre Lacazette.
Digne and bear it
The key to sustained success is maximising chemistry by linking players from the same confederation – we've found Vertonghen's fellow European Lucas Digne to work better at left-back than the more talented (but South American) Marcelo, and resolving those kinds of conundrums with no transfer market for easy fixes is the most fun aspect of the mode. With a smaller pool of players, depth issues are inevitable, but few are likely to care once they've nabbed Leo Messi, Cristiano Ronaldo and/or Mo Salah for nothing.
Visually, World Cup mode deserves plaudits for its comprehensiveness. The famous gold trophy is in, as are kits and crests for each of the 32 qualifiers – and all 12 Russian stadia set to host matches over the summer. Kaliningrad is compact and intense, the Luzhniki in Moscow is cavernous yet imposing; such attention to detail isn't as critical as on-pitch gameplay, but definitely makes the mode feel special. Updated player faces such as Salah (at last!) and Timo Werner are also welcome.
But dig beyond the cosmetic and you uncover design shortcuts that stifle enjoyment. The 23-man squad limit doesn't exist; get to the World Cup final with England and you can draft in Harry Winks or Luke Shaw regardless of having used 23 (or more!) players elsewhere in the tournament. Subs benches are limited to seven players, there's no reduction in fitness from playing matches, and even the 'customisable' World Cup disappoints – you're limited to swapping in national sides already on the FIFA 18 team list.
The latter issue highlights the biggest omission of all: World Cup qualifying. Going back to EA's first World Cup sim in 1998, a major pull has always been making the finals as Malta or Vanuatu after negotiating a comprehensive qualifying campaign. The PS3 and Xbox 360 versions of World Cup 2014 remained true to this tradition, but it's finally been axed. That's a huge loss for traditionalists.
Late equalisers
The positive we've left to last is a raft of small but important on-field improvements which freshen things up even if you've amassed 500+ games of FIFA 18. The action itself has been slowed down a step, reducing the effectiveness of teams built around pace alone, and many small annoyances from the club game are gone – for instance, keepers now miss the ball completely on occasions when coming for a cross under pressure.
A new running clock which displays added time on 45 and 90 minutes is also a little detail that smartly apes real TV presentation.
Such tweaks certainly bode well for FIFA 19 – and in areas this is a strong accompaniment to the real thing, worth a few pick-up-and-play FUT matches when you're done watching Australia vs Peru. But as a standalone purchase, made for World Cup mode alone? Sadly, lack of depth makes it impossible to recommend on that front. Despite abundant promise, this is only third-place play-off class.
4 things we love…
New faces
Werner, Salah, Ederson, Casemiro, Shatov: over 20 new or revised faces have been added, with EA clearly listening to fan demands even at this stage of FIFA 18.
Slow 'n steady
A significant reduction in game speed makes for a simulation where tactical nous finally amounts to more than '90+ PACE in every position'.
Russian atmosphere
Stadiums, kits, badges, stats overlays, even the occasional manager likeness such as Joachim Low: as you'd expect from EA, it certainly looks like the real thing.
Ultimate Team
The best mode in sports gaming gets an international makeover, and it only takes a couple of days to build a super team. Cool.
… and 1 we hate
Squad own goals
Whittling squads down to 23 is the most exciting element of any nation's World Cup build-up – so having no option to do this is an absolute travesty.
Score: 3 out of 5
World Cup Wonderland: stories, interviews and more
Quizzes, features and footballing fun
Get the best features, fun and footballing frolics straight to your inbox every week.
Thank you for signing up to Four Four Two. You will receive a verification email shortly.
There was a problem. Please refresh the page and try again.