Forgotten man Gillespie "can't understand" Class of '92 snub
Andy Greeves tracks down an allegedly elusive member of United's famous youth team...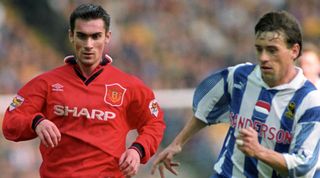 The premiere brought together former Red Devils Nicky Butt, Paul Scholes, David Beckham, Phil and Gary Neville as well as Ryan Giggs, still going strong at 40, to the red carpet last weekend.
The documentary charts the remarkable emergence of talent at Manchester United in the early 1990s, and in addition to the big names, lesser-known products of that academy side such as Andy Noone featured in filming earlier this year. 
There were some notable absentee, however, including Ben Thornley and former Northern Ireland international Keith Gillespie. The Larne-born winger made nine Premier League appearances for United between 1993 and 1995, and was a key component in Andy Cole's move from Newcastle to Old Trafford as he headed in the opposite direction. Yet film bigwigs claimed they couldn't track down the former winger for an invite, despite the fact he is currently promoting his autobiography.  
"I saw something in the newspapers this week with the film producers saying they couldn't get hold of me," Gillespie, who joked on his Twitter account that he wished the Inland Revenue had such difficulties, told FourFourTwo. "I can't really understand how it's so hard to get hold of someone in this day and age, what with Twitter and the like. It's just one of those things.
"It was a privilege to have been part of that team. The fact we are being talked about over 20 years on speaks volumes for the players and what the club went on to achieve with them. Being a part of that team is something I'll always carry with me."
The lost boys
But while Beckham, Giggs, Butt, Scholes and the Nevilles looked as close at the premiere as they had during their time in the same team, Gillespie admits to having lost contact with many of his former graduates.
"It's natural to lose contact with former team-mates, but I still see some of them now and again," he says.
"I bumped into Nicky Butt at a testimonial recently and I have a bit of interaction with Gary Neville on Twitter. Ben Thornley from that side is also someone I speak to from time to time. We're obviously talking about people I knew over 20 years ago, and I guess I moved on to pastures new at a relatively early age."
Gillespie is not alone. There were those in the Class of '92 who were 'lost'; winger Raphael Burke is now an academy coach at Bristol City while Lenny Taylor, a sub in the first leg of the 1992 FA Youth Cup final against Crystal Palace, plies his trade as an electrical labourer. Former striker Colin Telford is Head of Education at the Ireland Football Coaches' Association and the aforementioned Noone is an environmental consultant.
Had it not been for varying circumstances, Gillespie believes a number of those forgotten men could have enjoyed the glittering top-flight careers achieved by Becks et al.
"I think Ben Thornley would have gone on to be a top, top player if it hadn't been for his injury problems," he says. "He was very unfortunate and got a bad knee ligament injury that he never really recovered from. Chris Casper is another player that suffered a bad injury and retired in his early 20s. I think he'd have become a top defender. He was always a key component in our youth side."
On leaving Manchester United, Gillespie joined Kevin Keegan's 'entertainers' at Newcastle, via a loan spell at Wigan Athletic. He played 113 times for the Magpies between 1995 and 1998, scoring 11 goals in the process. In moving to St James' Park he was part of a then-British record transfer deal – £6m plus Gillespie going to the North East in return for Cole's signature at Old Trafford.
Gillespie has been unfairly labelled as a makeweight for his part in the Cole deal. But that doesn't do justice to a fine midfielder, who made 401 league appearances in England, and also played for the likes of Blackburn Rovers, Wigan (in two loan spells), Leicester, Sheffield United, Charlton (loan), Bradford and Darlington. His 86 caps for Northern Ireland put him sixth on the all-time appearance list for his country. He only hung up his boots a few months ago, too, playing in the League of Ireland for Longford Town. He also turned out for Belfast side Glentoran between 2009 and 2010.
 
"It was a part-exchange, but I had the final say in the deal for sure," recalls Gillespie, reflecting on his transfer to the Magpies. "If I'd turned the deal down, then Andy Cole wouldn't have moved to Manchester United. I was the deciding factor in the deal really, even though people always saw me as a makeweight.
"There was no pressure put on me to leave Old Trafford it has to be said. I was a month short of my 20th birthday and I felt Newcastle could offer me the regular first-team football that I wanted. By that age you want to be playing as regularly as you can in the top division. I wasn't doing that at United and Kevin Keegan gave me that chance.
"I left Manchester United with a heavy heart because I'd grown up as a United fan and had great affection for the club. But as soon as I signed for Newcastle, I was totally committed there. It's not really good to look back too much as a footballer. I had fond memories of my entire time at Manchester United but Newcastle was a new challenge. It was a great team Kevin Keegan had put together, playing great football and we came so close to winning the league. I have no regrets whatsoever leaving United."
Here and now
The two clubs involved in that transfer go head-to-head at Old Trafford on Saturday lunchtime, with both smarting from midweek defeats. Newcastle lost 3-0 away at Swansea City, while United suffered a shock 1-0 home reverse to Everton.
"Until Wednesday, Newcastle had been on a great run," says Gillespie. "Since the derby loss to Sunderland there has been a real upturn in their fortunes and they are playing some good stuff. They've put together a run of four wins recently, including two really notable wins over Chelsea and Tottenham. The supporters up there are absolutely magnificent and I'm really pleased to see them doing well. I hope they can keep it going.
"Manchester United? I think the best is yet to come from them, that goes without saying. They've started slower than they usually would do, but you're starting to see signs that they are improving a lot. Certainly at Leverkusen they were very good and a point at Tottenham is credible too because not many teams will go there and win. They are a team always capable of going on a run when they win six or seven games on the bounce and they'll be there or thereabouts come the end of the season for sure.
"Wayne Rooney has been outstanding," he continues. "There was some speculation about him leaving earlier in the year, but that's all been put to one side. He's been their player of the season without any doubt. You know what you get from Rooney. He's a world class player and he has shown that all season."
Gillespie himself has been in top form lately, dealing with countless media interviews as he continues to promote his excellent autobiography How Not to be a Football Millionaire, and still managing do so with warmth and enthusiasm. A "warts and all" story, as he describes it, the book talks candidly about his problems with a gambling addiction, a false rape allegation made against him and team-mates on a pre-season trip with Leicester, and being declared bankrupt in 2010.
"I started to put the book together in March 2011," says Gillespie. "I worked together with a ghost writer from Dublin (Daniel McDonnell) over a two-year period, getting everything written down. Some phases of it were quite tedious, others quite therapeutic. I wanted credibility and I think I've got that because the book is so open and honest. I wanted to cover the whole story and not leave anything untold, as tough as some things might have been to talk about."
How Not to be a Football Millionaire by Keith Gillespie is available in bookshops and online via Amazon.
Quizzes, features and footballing fun
Get the best features, fun and footballing frolics straight to your inbox every week.
Thank you for signing up to Four Four Two. You will receive a verification email shortly.
There was a problem. Please refresh the page and try again.