How Nemanja Matic shows up everything wrong with Jose Mourinho's reign at Manchester United
Apart from a two-month revival under Ole Gunnar Solskjaer, the Serb has shown a decline particularly untimely with the futures of Paul Pogba and Ander Herrera in doubt. He no longer fits, writes Richard Jolly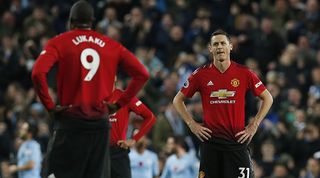 Take Jose Mourinho out of the Jose Mourinho derby and what are you left with? A lingering sense of acrimony, perhaps, and a sense that the past was preferable; a time of formidable feats, not bitter endings.
But also Nemanja Matic.
Manchester United and Chelsea meet on Sunday, linked by the only player Mourinho signed for both clubs. An unused substitute in the Manchester derby may feature for neither, but Matic may be the last true Mourinho disciple.
He assumed another significance last year, as an enforcer who seemed to shift the balance of power from Stamford Bridge to Old Trafford. His 2017 sale removed a pillar of Antonio Conte's title-winning formula, alienated the Italian and, indirectly, led Chelsea on their path to Jorginho.
Who won?
Perhaps, though, it was a tug of war that, in the long term, no one won. Chelsea seemed to have fiscal sense on their side when they replaced Matic with Tiemoue Bakayoko, reinvesting the £40 million proceeds of his sale in a player six years the Serb's junior. But the Frenchman is now out on loan after a traumatic debut year in England.
In 2017, defining a panic buy, Chelsea wasted a further £35 million on Danny Drinkwater – a player with more drink-drive charges than minutes of Premier League football this season. Factor in the divisive Jorginho, plus the misunderstood personification of Sarriball, and Chelsea have spent the best part of £140 million on central midfielders without creating an alliance anything like Matic and N'Golo Kante's.
But at Manchester United, Matic represents Mourinho's ticking time bomb; ageing and slowing when bought, but older and slower now. He will be paid to decline on United's watch, perhaps a man out of time amid Ole Gunnar Solskjaer's quest to be fitter and faster.
He highlights the problems of changing ethos with manager. Yet amid the talk of a summer cull at Old Trafford, Matic seems to stick around, guaranteed to survive by default. It is a United-esque mess.
By default
With the out-of-contract Ander Herrera and Juan Mata surely on their way, and Paul Pogba showing signs of wanderlust, United are stuck with the lumbering Serb in midfield. Elsewhere, others – Alexis Sanchez in particular, but also Matteo Darmian and Marcos Rojo – are more deserving candidates for a clearout.
Matic may stay because United can't get rid of everyone, and not merely because a club with their transfer market record would struggle to successfully replace them.
And yet the fact that a supposed cornerstone of the side (albeit one who has recently returned to fitness) wasn't required against City was telling. If a defensive midfielder is necessary to combat any team, it is Pep Guardiola's. Matic was a spectator.
He did, in fairness, have an excellent first couple of months under Solskjaer after regime change was implemented. A midfield triumvirate with Herrera and Pogba offered balance, solidity in front of the back four and a rampant scorer. Yet there is the question if that was an outlier for Matic and the new manager alike.
That central trio will be broken up; Herrera, younger and more versatile than Matic, and a man who could fit in more possible combinations, is going. Perhaps Herrera, as much as Solskjaer, revived Matic, but that improvement felt like a mirage at Goodison Park on Sunday.
Try honesty
United were overrun. They had an Easter Island statue at the heart of their midfield; Everton had an athlete. Marco Silva's rampant side ran 8km more than United – and it felt as though the relentless Idrissa Gueye ran 8km further than Matic.
It said something for the Serb's character that Matic took responsibility. His diagnosis was blunt but correct: "I was the biggest problem," he said.
Others should ape his honesty. Matic may be one of those with the character that United require, but not the footballing or physical attributes. The midfield seemed set in stone three months ago; now there are a series of question marks about how to populate a wasteland.
Fred and Scott McTominay at least have youth on their side. The Scot's career is on an upward curve and he can bound enthusiastically around the pitch, whereas Matic's increasing immobility may be a reason why he is making fewer interceptions than he used to. It renders him less of a defensive midfielder, but if he was an unexpectedly attacking one when he registered seven assists in his final season under Conte, the sense is that Solskjaer wants an all-action figure to fill a hole at the heart of his side.
So if Chelsea see a reminder of their last title-winning team when they meet up with Matic on Sunday, United may instead see an indictment of Mourinho's short-termism. The Portuguese seemed to neglect the future when moving for Matic. Now the future has arrived. United look ill-prepared.
Then read...
QUIZ! Can you name every German with 30+ Premier League appearances?
LIST 6 times teams tried to gain annoyingly petty advantages
Quizzes, features and footballing fun
Get the best features, fun and footballing frolics straight to your inbox every week.
Thank you for signing up to Four Four Two. You will receive a verification email shortly.
There was a problem. Please refresh the page and try again.