Jordan Morris: The speedy student who's been taken under Klinsmann's wing
By Kristan Heneage published
Kristan Heneage provides the lowdown on the American youngster turning heads across the pond...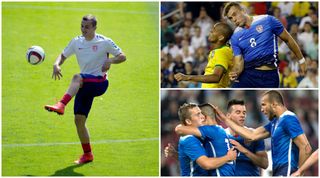 The 60-second story
FACT FILE
Date of birth: October 26, 1994
Place of birth: Seattle, United States
Height: 5ft 11in
Position: Forward
Club: Stanford University
International: United States (6 caps, 1 goal)
As the ball bobbled kindly into his path, Jordan Morris took one touch to get it out of his feet before calmly slotting it under the advancing Mexican goalkeeper. Wheeling away to celebrate, the youngster would have realised the significance of the moment: Morris was already the first college player to be selected for the U.S. national team in 20 years, and he had now become the first to score since 1992. An attendee at Stanford University, Morris was discovered after impressing in a match between the senior side and the U.S. youth team at Stanford's campus before the World Cup.
"They came and trained here for three weeks before the World Cup," Morris tells FFT. "I wasn't really going into it with any intention of making the team. I think we were all just really excited to get the opportunity to play against such great players." Initially invited to train with Jurgen Klinsmann's men ahead of a game against the Czech Republic last autumn, he continued to impress the German tactician and was eventually handed his debut in the 4-1 defeat to Ireland in November of last year.
Why you need to know him
A record-breaking player who has already courted interest from MLS, Morris is versatile and arrives with glowing reports from all who have worked with him. Now considered a major prospect in the U.S., Morris's incredible rise is highlighted by the fact he was infamously omitted from a list of the top 100 American soccer players conducted by American Soccer Now in July 2014.
Ideally suited to Klinsmann's athletic, transition-based game, Morris is reportedly able to run 40 yards in just 4.5 seconds.
He is about far more than just speed, however: technically gifted on the ball, his exposure to a higher standard of football at international level is quickly refining his game.
Some reports have suggested that Klinsmann is working closely with Morris in order to facilitate a move to Europe - the former Tottenham Hotspur striker has made no secret of the fact he prefers to see American players across the pond. Unsurprisingly, Klinsmann has been known to consult with players on their transfers as well as offer more general advice. Asked about European interest, Morris tells FourFourTwo: "No, not really. It's more I have some connections now with [U-23 coach] Andreas [Herzog] and Jurgen [Klinsmann] and they could set some stuff up over there if that's the path I want to take."
Strengths
Morris's pace is the attribute that immediately stands out. Joshua Gatt, widely believed to be the fastest U.S. footballer at present, would certainly be given a run for his money by the 20-year-old. His attitude is also first class, with those who encounter Morris often describing him as incredibly humble and eager to improve. Working with a famed poacher like Klinsmann will be invaluable for a quick frontman looking to exploit defenders and become a regular goalscorer. His coach at Stanford, Jeremy Gunn, also admires his positional versatility: "He's a very intelligent player," Gunn says. "He could play any number of positions. He's a wonderful human being, very smart and sensible in the way he sees the world."
Weaknesses
Morris may be rapid across the grass, but his speed of thought could be improved. While he is still gradually becoming accustomed to the pace of international football, Morris himself admits that speeding up his reactions is something he is constantly working on. Gunn is also attempting to develop him into more of an off-the-shoulder striker. "Growing up he really liked to drop to the ball and be able to run at defences," he says. "That's what he was happiest doing I think, [but] when you're looking at his physical attributes it makes sense for him to learn to be more of a No.9 rather than a No.10." Morris revealed that he was working on the issue with Klinsmann, starting from an offside position to make it harder for defenders to track him.
They said...
When asked about Morris in September 2014, Klinsmann was clearly excited at his potential. "Going forward, this kid can only improve more and more, better and better," he said. "He has the choice now to say, 'OK, am I jumping on the Sounders track in January [the month he will graduate from Stanford], or am I considering another year, or am I considering going to Europe?' He has those pieces on the table that he can discuss with his family and his dad and with his coaches to hopefully make the right decision for him."
Did you know?
Much like Seattle Seahawks hero Marshawn Lynch, Morris often brings bags of sweets with him to games. In the case of Morris, however, it is purely for medical reasons: the striker was diagnosed with Type 1 diabetes when he was nine and keeps the sugary snacks on the bench in case his blood sugar dips during a game. Morris was also prevented from collecting the man-of-the-match award in April's match against Mexico because the award sponsors were a beer company. At just 20, the forward is under the legal drinking age in the U.S., meaning he was disqualified from the running.
What happens next?
Once he has graduate from Stanford, a move to MLS is guaranteed. Seattle Sounders, his local club where his dad serves as the Medical Director, previously made Morris a substantial offer for him to join the first team immediately, but Morris declined so he could finish his studies.
At international level, Morris was selected for this summer's Gold Cup, but a stress fracture in his leg forced him to miss out. Given his fleet of foot and ability to play on the transition, the youngster will likely be involved in more friendlies and perhaps even World Cup qualifiers in the coming months.
Morris could still opt to turn professional early and swap Stanford for Seattle, but for the time being he seems happy to remain at university. Whichever path he takes, he's certainly one to keep an eye out for.
Thank you for reading 5 articles this month* Join now for unlimited access
Enjoy your first month for just £1 / $1 / €1
*Read 5 free articles per month without a subscription
Join now for unlimited access
Try first month for just £1 / $1 / €1
Quizzes, features and footballing fun
Get the best features, fun and footballing frolics straight to your inbox every week.
Thank you for signing up to Four Four Two. You will receive a verification email shortly.
There was a problem. Please refresh the page and try again.