Liverpool's midfield problem is very real for Jurgen Klopp – but looks to have a simple solution
The German says he has no problems with his men in the middle, but that surely isn't true. This Is Anfield's Matt Ladson on what might come next…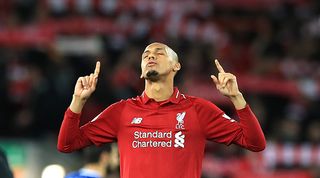 In the aftermath of Liverpool's Champions League defeat to Paris Saint-Germain, Jurgen Klopp was asked whether he felt there was an issue with his midfield and whether it had been overrun by the French club.
"We've conceded five goals [in the league this season] and you talk about how our midfield is 'overrun'?," responded a visibly irked Reds manager, who added: "Sorry, I didn't see that. We could have scored more goals, but I don't see any problems in midfield to be honest."
The midfield that lined up against PSG was the same one that started the Champions League final against Real Madrid, featuring Jordan Henderson, Gini Wijnaldum and James Milner.
Klopp's claim about having no problems with that midfield is dubious given that he signed Fabinho, Naby Keita and desperately wanted Nabil Fekir in the summer. The German effectively sought a whole new core, so is clearly aware of the need to upgrade in the middle of the park.
Of course, a manager's words shouldn't always be taken at face value, and Klopp was unlikely to have ever said he had an issue with his midfield in a press conference. Actions speak louder than words, just as they did in the summer when he publicly backed Loris Karius but then took the opportunity to upgrade his goalkeeper by signing Alisson.
The issues
The defeat in Paris was Liverpool's fifth European 'away' loss in a row, including the final in Kiev and semi-final in Rome last season. Of those defeats, Milner and Wijnaldum started all five, accompanied by Henderson in three, and Liverpool lost in Naples when Naby Keita went off early due to injury.
Liverpool have failed to score and mustered just four shots from open play in a trio of defeats on their European travels this season – all against Red Star Belgrade. Between them last season, Henderson, Milner and Wijnaldum scored just four goals in a combined 148 appearances. The issue comes when the front three of Mohamed Salah, Sadio Mané and Roberto Firmino don't score – it's difficult to see where the goals will come from elsewhere.
SEE ALSO Mo problems? The pros and cons of Jurgen Klopp using Mohamed Salah as a No.9
For many Liverpool supporters, those three aforementioned midfielders are too similar in style: none of them are known for their creativity or goalscoring prowess, and a trophy-winning team needs more than what they can offer. It's a fair appraisal.
According to football coach Simon Brundish, the Henderson-Milner-Wijnaldum triumvirate yields an average of 1.66 points per game when playing alongside each other, which equates to 63 points over a season. That stat backs up what many think: it's a mid-table midfield, lacking the quality to create and provide for the forwards.
Additionally, Brundish calculates that passes into the box per-90-minutes this season are most frequent when Naby Keita, Xherdan Shaqiri and Fabinho play together – in some instances, more than twice as many. The use of the 'passes into the box' statistic is far more representative than the oft-reported 'forward passes' stat, where short-range diagonals often skew analyses.
Missing men
Last season, Liverpool's top-scoring central midfielders were Alex Oxlade-Chamberlain, Philippe Coutinho and Emre Can. Shorn of all three, and with Keita and Fabinho seemingly not trusted fully by the manager yet, Klopp has most often turned to his reliable but one-dimensional trio so far this campaign.
Coutinho was key in the first half of 2017/18, providing creativity in the centre whether playing as one of the midfield three or on the left of the frontline. After Coutinho's January departure, Oxlade-Chamberlain excelled as the most advanced central midfielder.
Now there's a problem with the link between midfield and attack – something Klopp has sought to remedy with the use of Xherdan Shaqiri. But, having subbed the Switzerland international at half-time against Southampton when playing him in a central role, he has since used him only on the right of the attack.
Klopp wants and needs Shaqiri in the side, but doesn't trust him in the centre. So the summer signing goes to the right, which means moving Mohamed Salah to No.9 and dropping Roberto Firmino into the No.10 role. Liverpool then occupy a 4-2-3-1 shape – Klopp's trademark system at Dortmund, and which would likely have been his desired one this season with Fekir as a No.10 and Shaqiri more of a squad option.
SEE ALSO How Roberto Firmino is still proving himself to be Liverpool's most important player as a No.10
Solutions?
Having Shaqiri in the side makes sense, but in recent games Liverpool's forwards have looked off the pace – Firmino and Salah particularly, with both subbed against Everton. So perhaps in the short-term, Klopp would be best reverting back to 4-3-3, therefore enabling him to start three of his attacking quartet and rotate accordingly.
For instance, a midfield of Fabinho, Wijnaldum and Keita would provide better balance than the aforementioned Henderson-Wijnaldum-Milner combination. But there's another element to Klopp's conundrum: he seems to only trust Fabinho in a double-pivot midfield, joking after the home win over Red Star that it was a birthday present for the Brazilian to play in his preferred formation.
Meanwhile, Henderson has always struggled in such a midfield setup, going back to the days of Brendan Rodgers. The Liverpool captain became a new player when Rodgers moved to a midfield three and played Steven Gerrard in a holding role.
It's certainly a muddle at the moment. Perhaps it will remain that way until the new year too, when both Keita and Fabinho should be more settled and there could even be a January arrival to solve the issue.
Longer term there does seem one obvious solution: 4-2-3-1, with Fabinho and Keita as the two-man midfield. Both of the new signings have played that system at previous clubs and appear to have complementary qualities: Fabinho being the more holding of the two, with Keita the more progressive, box-to-box midfielder.
Signing a No.10 would let Firmino return to the No.9 role that he excelled in last season, and also restore Salah back on the right where he had the most productive season for any Liverpool player in the club's history.
How's that knee, Nabil?
Quizzes, features and footballing fun
Get the best features, fun and footballing frolics straight to your inbox every week.
Thank you for signing up to Four Four Two. You will receive a verification email shortly.
There was a problem. Please refresh the page and try again.