How Roberto Firmino is still proving himself to be Liverpool's most important player as a No.10
The Brazilian's adaptability has earned him high praise at Anfield and, as Jack Lusby explains, he's beginning to thrive in a new tactical role this season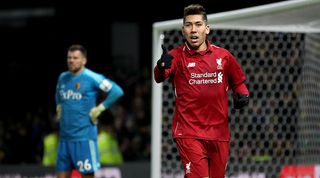 When Liverpool took to the field at the Allianz Arena for their friendly against Bayern Munich in August 2017, all eyes were on the forward line.
After the £36.9 million signing of Mohamed Salah from Roma, and the Egyptian's lightning start to pre-season, he was joined by Philippe Coutinho, Sadio Mané and Roberto Firmino for the first time. Mané, Salah and Daniel Sturridge got the goals in a blistering 3-0 victory over the Bundesliga champions, but the standout performer among Jurgen Klopp's attack was Firmino.
His transition to first-choice striker had already taken place in 2016/17 but, in adopting the No.9 shirt last worn by Christian Benteke that summer, he cemented himself as the focal point for a new-look Liverpool. Last season, he scored 27 goals and laid on a further 17 in 54 appearances in all competitions, including a remarkable 10 goals and eight assists in 13 Champions League games. No Reds player assisted more, and only Salah (44) found the net more frequently.
If it weren't for the freakish form of Liverpool's new talisman in the No.11 shirt, this would have been a landmark campaign for an individual at Anfield: the last player to have a hand in 40 or more goals in a single season was Luis Suarez (43 in 2012/13 and 50 in 2013/14), who is widely regarded as one of the very best to ever turn out for the Reds - and Firmino did so in a new role.
Tactical tweaks
After gradually moving up the pitch from midfield to attack following his arrival from Hoffenheim in 2015, Firmino took up duties as a targetman. Klopp paired the Brazilian's relentless pressing abilities with his creative prowess and surprising upper-body strength – and naturally, the goals followed.
While still defending from the front, Firmino could often be seen dropping deeper to pick up the ball, or shielding it with his back to goal. The pace of Mané and Salah offered outlets on the charge; of his 17 assists last season, eight (47.1%) were for Salah and five (29.4%) for the Senegalese speedster.
Now, though, Firmino is moving closer to the middle again. Klopp has made the surprise decision to start him as a No.10 in four of Liverpool's last six games, switching from a 4-3-3 formation to a 4-2-3-1. Salah is now the nominal striker in this system, and Firmino has reverted to the role that earned his move to Merseyside.
But despite his success as an attacking midfielder in the Bundesliga, a shortage of goals and assists this season led to criticism of Klopp's tactical plan. This is strangely characteristic of the Reds' campaign so far: though Klopp's charges have earned the club's best-ever points tally after 13 games in the Premier League, and their best defensive record in history, the feedback for many of their performances this season has been muted.
The effervescent, free-flowing attacking football of last term has been replaced by a more measured, dominant game – and though the perception may be that Liverpool are yet to hit top gear, it's remarkable that they've begun in such convincing fashion despite this.
Willing to work
In this sense, Firmino – who has just five goals and two assists in 18 appearances so far – is representative of this new approach. Compared to last season, he is creating fewer chances per 90 minutes in the league (1.8 down to 1.6), completing fewer dribbles (1.6 to 1.2), making fewer tackles (2.1 to 1.5) and interceptions (0.6 to 0.3), and taking fewer shots (2.7 to 2.1).
But, as with his outlook overall, Klopp has remained steadfast in his belief of Firmino - supported, as he told reporters in November, by "20 German coaches" who watched Liverpool's 2-0 win at home to Fulham.
"I'm not sure how the critics were but when I saw them and we had a drink together, they were saying 'Bobby Firmino! What a player!' because of the small things he's doing," he explained. "He's working so hard, he's here, he's there, he's got [five] goals but he opens 5,000 gaps for everybody. It's about how you see it. He will never come to me and say 'because people are writing something is missing, could I play my old position again?' He's doing the job – that makes him so unbelievably valuable for us."
This notion of the 'unbelievable' evokes praise from Firmino's old Hoffenheim manager, Holger Stanislawski, who gushed in 2011 that his supporting striker was "unbelievably good tactically".
Like last season, this change of role can be seen as being dictated by Liverpool's new signings: Naby Keita's best form at RB Leipzig came in a two-man midfield, as with Fabinho at Monaco (with Klopp describing his use of the Brazilian in a double pivot as a "birthday present" when he turned 25 in October). After initially trialling Shaqiri in a No.10 role, the Swiss has now shifted to his natural position on the right.
SEE ALSO How Xherdan Shaqiri went from summer afterthought to shining star in Philippe Coutinho's place
It's perhaps no surprise, therefore, that it could take time for Firmino to recapture his peak fluency; after all, Keita and Fabinho are yet to be deployed together as a pair and Shaqiri has only started in six of his 12 appearances for Liverpool so far. There is the added factor that Salah is also adjusting; despite his record-breaking season last time out he has not been allowed to get comfortable, and is now honing his craft as a striker.
Get in the hole
Liverpool's victory against Watford at the end of November highlighted the best and worst of this over two halves. In the first, Firmino was often seen dropping deeper than Klopp's central pairing of Jordan Henderson and Gini Wijnaldum, while Salah tussled with Hornets centre-back Adrian Mariappa with his back to goal. Both roles stifled what has made the pair so devastating together.
But a change in Firmino's duties restored him to the overlapping artistry of his Hoffenheim days, and it was no coincidence that all three goals – including Salah's opener, drifting in from a wider position – came in the second half.
Before the interval, Firmino touched the ball just once in the penalty area, but twice in the centre circle and nine times in his own half; in the next 45 minutes, he made another nine touches in the Liverpool half and one in the centre circle – but five in the box, including for the final flourish as he headed past Ben Foster to make it 3-0.
This shift changed the game in Liverpool's favour: Firmino's tactical understanding was crucial, and this will continue to prove central to the Reds' success as Klopp adopts a more flexible approach.
As Firmino recalled in 2016, he operated in defence until he was 17, as both a centre-back and a full-back. Running the positional gamut throughout his career serves as proof that this new role can be a success once again, and it is testament to the manager's belief in the Brazilian that he has effectively built his entire system around him while he's changing roles.
When Firmino was deemed fit enough only for the substitutes' bench for the 2-0 loss at Red Star Belgrade, for example, Klopp instead opted to utilise Sturridge in a two-striker system. After 45 minutes in the No.10 role during Liverpool's 3-0 victory over Southampton, Shaqiri is yet to be trusted there again.
Thanks to the collapse of Liverpool's high-profile move for Nabil Fekir, Firmino has effectively become Klopp's alternative. It's reasonable to suggest that the £52.75 million fee agreed for the Frenchman points to Klopp already plotting his change to a 4-2-3-1, particularly as this was the system that facilitated Fekir scoring 23 goals and assisting eight more for Lyon in 2017/18.
Liverpool could have considered another signing, taken a bigger gamble on Shaqiri or even promoted a youngster such as Ben Woodburn or Curtis Jones, but instead Klopp has opted for his most unique – and important – player for this role.
The early signs are that Firmino can settle again in the No.10 position. With Fabinho and Keita still in their infancy at Anfield, and Salah himself still adjusting, it could prove to be a masterful decision for Liverpool.
Quizzes, features and footballing fun
Get the best features, fun and footballing frolics straight to your inbox every week.
Thank you for signing up to Four Four Two. You will receive a verification email shortly.
There was a problem. Please refresh the page and try again.