Mo problems? The pros and cons of Jurgen Klopp using Mohamed Salah as a No.9
Eight goals in 17 games hardly point to a forward in need of scrutiny, but not all Reds fans are happy with their Egyptian king's move to a more central role this season. Matt Ladson of This Is Anfield evaluates...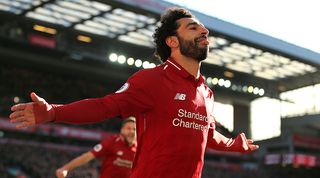 Jurgen Klopp's recent change of formation has brought about a new position for Mohamed Salah – and a divisive topic of conversation among Liverpool supporters.
Klopp has increasingly opted for the 4-2-3-1 formation that was his trademark during seven years at Borussia Dortmund, moving away from the 4-3-3 which he has used in the past two seasons at Anfield.
The change in shape first occurred in the home win over Southampton in September; Xherdan Shaqiri got his first start in the No.10 role, with Salah moving from the right of attack to centre-forward.
"We knew the two tall boys in the centre would play," explained Klopp post-match. "So [we] bring in Mo there."
Settling in
Klopp subbed Shaqiri at half-time, opting to protect a 3-0 lead and shore up the midfield, explaining that "offensively it was really good, but defensively we were not used to it".
Since then, when using 4-2-3-1, Klopp has instead used Roberto Firmino as the No.10 behind Salah, with Shaqiri operating from the right.
While the 'new' shape hasn't been used in every game – Klopp has emphasised the importance of tactical flexibility – its use did coincide with a run of three wins from nine games in all competitions, and the manager himself admitted that Liverpool were finding it difficult to get their "mojo" back.
The Reds haven't been at the free-flowing best they became known for last season, but substance is perhaps being prioritised over style. Results are ultimately what matter, and after their joint-best start to a Premier League campaign, it's results that are being provided.
Pro! Best for the new boys
It's been a slow start to life on Merseyside for midfield newbs Naby Keita and Fabinho, but each has played in a double-pivot midfield through most of their career – so this formation arguably suits them better. Certainly, it does in Fabinho's case.
"The present for his [Fabinho's] birthday was not that he was in the line-up, it was that we played his favourite system with a double-six," joked Klopp after the 4-0 home win over Red Star Belgrade, when the Brazilian was named man of the match.
Con! Adaptation for Firmino
While the formation fits for some, it's been a change in role for Firmino, who is dropping deeper and thus reducing his attacking output. Clearly, though, the Brazilian offers better protection centrally than Shaqiri, and that's the key difference since the first flirtation with this shape against Southampton.
Firmino's pressing became a key part of Liverpool's style of play last season: the 27-year-old earned widespread plaudits and bagged 27 goals in the process. It's unlikely that he'd hit that kind of figure while continuing in a deeper role.
Perhaps it just needs time: Firmino's adaptation to No.9 suggests he might have what it takes to mature into a world-class No.10.
Pro! Unpredictability
Being unpredictable in attack is key to breaking down stubborn, well-drilled backlines – a predictable attack just makes it too easy for defenders to perform their individual roles. But now, with Liverpool capable of changing their entire forward setup, defences can't be so well rehearsed.
Southampton were surprised by the change when it was first used, while Shaqiri's excellent display against Fulham showed the value of having another game-changing player on the pitch, which this formation allows. Insert your new Fab Four pun here.
Con! Is Salah better on the wing?
You may notice a lack of statistics here, but that's because cold numbers sometimes don't tell the full story. Salah operated as the No.9 against Fulham, for instance, but his two most threatening moments in the first half were when he picked the ball up wide on the right and was able to run at defenders. One of them resulted in the opening goal.
Defenders hate players dribbling at them, and Salah beating a full-back out wide before cutting inside was his trademark during that record-breaking debut season at Liverpool. Just ask Roma's defence, or Manchester City's, or Watford's…
Pro! Liverpool are more solid
When Liverpool use Salah in a 4-3-3, he isn't really a wide player; he drifts inside and does so effectively. But it does mean that there can be a weakness in front of the Reds' right-back – often Trent Alexander-Arnold.
In the recent game at Arsenal, the Gunners targeted Liverpool's right side – in stark contrast to a little over a year ago, when teams would often target Liverpool's left which had Alberto Moreno and Dejan Lovren on it.
So the 4-2-3-1 formation offers more protection and better overall solidity, with Salah relinquished of defensive duties. It could also be a tactic to ensure the Egyptian's fitness over the course of the season.
When playing with a three-man midfield, James Milner or Gini Wijnaldum have often had to protect the right-back, and the midfield has been exposed centrally. No formation is perfect, after all.
The future
Whether it was the plan all along or not, it certainly appears that 4-2-3-1 was Klopp's intended formation this season. The one that got away, Nabil Fekir, would have fitted perfectly into the No.10 role.
Klopp initially continued with 4-3-3 minus Fekir, but, perhaps noticing the difficult adaptation that Fabinho has gone through and how other players suit 4-2-3-1, the German has moved towards his original plan again.
Clearly it's a learning process, and perhaps why we've seen a less fluid Liverpool while they both mix between the two shapes. The long-term question is perhaps whether the manager seeks to sign a No.10, thus moving Firmino back up front and Salah wide; or even if he opts for a new No.9, keeping Firmino as No.10 but again moving Salah back wide.
We've seen Klopp edge towards the team looking like his Dortmund incarnation, where Mario Gotze operated behind Robert Lewandowski. Eventually, this Liverpool side could be even better with such a system.
For the time being, Salah, Firmino, Sadio Mané and Shaqiri are developing as a quartet. How they perform during the winter will likely form the decision of Klopp's plan going forward, but to truly succeed he'll know that he needs more signings to compete and strengthen.
Quizzes, features and footballing fun
Get the best features, fun and footballing frolics straight to your inbox every week.
Thank you for signing up to Four Four Two. You will receive a verification email shortly.
There was a problem. Please refresh the page and try again.