Manchester City drawn in murder mystery group
This season's Champions League will see Cityzens once again come face to face with death, Back of the Net can reveal...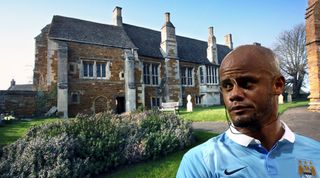 Premier League runners-up Manchester City will appear in a country house murder mystery alongside three equally suspicious teams, UEFA confirmed today. Manuel Pellegrini's men will decamp to Bloodthorpe Manor in Cumbria for a weekend of grouse shooting and high tea, hosted by the wealthy but frail Lord Percy Stabbington. There they will joined by the players and staff of Juventus, Sevilla, and Borussia Mönchengladbach, all of whom will have the means, motive and opportunity to arrange Stabbington's grisly murder.
Stabbington, a retired army colonel and antiquarian, is known to keep a large number of vintage firearms in each room of his regency mansion, and has tantalised society with rumours of his substantial fortune and lack of an obvious heir. Bloodthorpe Manor itself is located in the Cumbrian countryside, and frequently suffers from electricity blackouts, cutting phone lines and plunging the house into darkness.
This is the fifth season in a row that Manchester City find themselves placed in the Champions League murder mystery group, and club captain Vincent Kompany admitted that figuring out the identity of the killer while avoiding being framed themselves would be a tough challenge.
"It won't be easy, because they are all strong teams who could easily make a premeditated killing look like an accident," said Kompany. "Sevilla look particularly dangerous, but would their guilt perhaps be too obvious? We'll also have to make sure Gladbach's fresh-faced innocence – which recently won the heart of Lord Percy's estranged god-daughter, let us not forget – isn't merely a facade.
"Juventus are capable of anything, and I gather Lord Percy recently made them heir to his substantial fortune. So it's anyone's guess."
According to UEFA rules, two teams will progress to the knockout stages, while two will be eliminated and imprisoned for murder in the first degree, although one will later be allowed to join the Europa League on probation.
Quizzes, features and footballing fun
Get the best features, fun and footballing frolics straight to your inbox every week.
Thank you for signing up to Four Four Two. You will receive a verification email shortly.
There was a problem. Please refresh the page and try again.